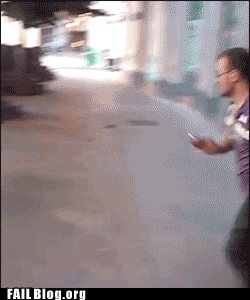 Not everybody succeeds in what they attempt. If you're finding yourself in that position, where you're failing (or flailing), have you had an honest look at why?
I get two types of feedback from subscribers to this site:  Some contact me to let me know about their successes, or to ask for advice on a particular deal that they've uncovered, or to let me know about a key contact they've made or to say "please upgrade me from the monthly to the annual plan."
The other set of people contact me to say: "Your program doesn't work" or "Nobody is selling." Each month I have people contact me before the end of their 30 days with a subscription to tell me that "this doesn't work."
What's the difference between the set of people who have been happy successful subscribers, some of them since this thing started in 2009, and those who sign up and then quit, telling me there's something wrong "with the program?"
Well, this is a software business, and so as you might guess I do have some statistics I can point to. And because I'm personally involved in support, I also have some anecdotal evidence from the many, many conversations I've had over these three years with both successful people and failures. Here's what the data says:
Personal Development
People who don't even bother to educate themselves with a completely free course that will help them understand the business they're undertaking are 3.4 times more likely to give up right away. To say that a different way, people who choose not to educate themselves are 340% more likely to "fail and bail."
Professionalism
This really goes along with "personal development," but its more than that. A professional makes the best plan possible with the information she has at hand. Then they work the plan, and work it, and work it some more. They take what they learn from the process and their successes and failures, they iterate, and they continue to work it until either they succeed or they've determined that the path isn't viable.
A failure tries a little of this and a little of that. They have no direction or strategic plan. Failures have no way to measure viability because they didn't start with a plan. A failure will do something just enough to get discouraged but never enough to discover and implement what will work. Failures hear "no" a couple of times, or are even afraid to get to the first "no"' and they bail.
The people succeeding have a real businesses. They have a plan. When you look them up they "look professional."
Look up the failures online and, well, it looks completely different…
Commitment
People who succeed do so because they're committed to succeeding. People who fail wish that they'd succeed, they might talk about success, but they fail to commit to it.
Failures chase shiny objects. Successful people pursue and penetrate (or develop) a market.
Failures can't wait. They want their success yesterday and they'd prefer if someone would simply hand it to them. Failures are looking for a magic bullet or an act of God. Failures don't understand that no success will come without sacrifice.
Successful people understand that success doesn't happen overnight. Successful people are willing to do whatever they have to now, even if it's hard, even if it's occasionally unpleasant, even if their friends and family think they're crazy in order to have the rewards later. Successful people are committed to their own success.
We're mostly interested in successful people around here.