If you are looking for information on a single property then here are a few resources that will help you find what you need.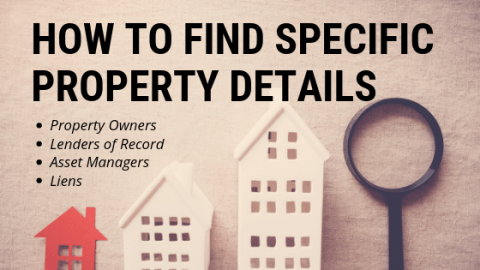 If this is a regular part of your business and you are a real estate or mortgage debt investor or broker then click here to find out how BankProspector can help you generate repeat REO and mortgage note deals
BankProspector (our software) doesn't provide access to specific property details but the resources below will help you find the lender of record, the owner, and any other details you need for a specific property.
---
How to find lenders, owners, asset managers, and liens on specific properties.
Find Owners of Distressed and Delinquent Property with Skip Genie
Skip tracing is the process of finding people's contact details based on past addresses and contacts. You can use this to find the owner of an abandoned house. Skip genie is a very easy to use tool that lets you search by name or past address and send you the phone numbers, names and current addresses that you need.
Find Liens, Lenders of Record, and more with ProTitleUSA
ProTitleUSA offers a Full State Statute Search that will give you the title's tax information, open mortgages, judgments against the property and it's owner, liens against the property and much more. Head over to ProTitleUSA to find out more
Find Asset Managers LinkedIn
LinkedIn can be a very effective tool for finding asset managers if you know how to use it. We have created a post that will show you how we find REO managers using LinkedIn which you can use to find out more about who's responsible for your target property.
Find Deep Property Details with CoreLogic
CoreLogic provides verified property records on 99.9% of all of the properties in the U.S. They have records that go as far back as 50 years on a single property, comparable properties, transaction history, the parcel map and so much more. If you are looking for a comprehensive property search service, go to https://store.corelogic.com/search .
Driving for Dollars – The Easy Way
Deal Machine is the fastest way to find the mailing address, mortgage information and contact details for any property. All you need to do is upload a picture of the property and then Deal Machine will find the owner's details, contacts, and the property's sale history. Check out this live review we made.