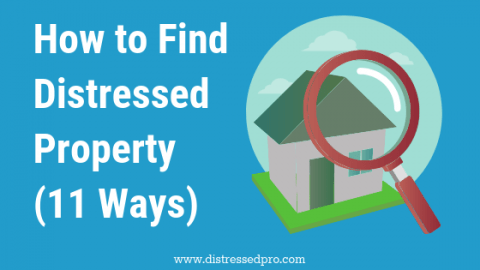 Distressed properties can be a great deal for the savvy investor. Offered at a discounted price, they give you an opportunity to add to your portfolio and accumulate capital for future real estate purchases.
Distressed property stands out as one of the top choices for both individual investors and funds seeking value and income growth.
11 Ways to Find the 8 Kinds of Distressed Properties
How to find distressed property can be challenging, though. You won't find this commodity through a standard MLS search, and most agents steer their clients away from distressed property. Moreover, with foreclosures down nationwide, it can be a challenge to locate suitable properties before competitors experienced in the "scratch and dent" real estate market move in.
In order to be a successful investor in this market, you have to do your due diligence.
Using advice gleaned from real estate professionals, this guide covers 8 effective search methods that you can use to locate distressed properties. While you'll still have to put in the time looking for properties in your target area, these tips show you how to think and act like a seasoned investor.
1. Foreclosure Listings
Traditional foreclosure listing sites, such as foreclosures.com *, are a good starting place to search for late-stage foreclosures from the major lenders.
However, these sites are unreliable for the following reasons:
Banks often have separate holding companies for properties that they acquire after an unsuccessful foreclosure auction, otherwise known as real estate owned (REO) properties. For that reason, when you look at the standard foreclosure listings, REO properties will be filtered out.
The sites only list late-stage foreclosures. You will miss properties in various stages of pre-foreclosure, where the borrower has already defaulted on their mortgage note but the bank has not yet officially foreclosed on the property.
BankProspector is proprietary software that helps you identify and connect with local regional and community banks in order to find REO properties that will not appear in ordinary foreclosure listing sites. The software also allows prospective investors to check on non-performing notes or loans — that is, it lets you identify properties where the borrower is already behind on their mortgage payments.
2. Auctions
Another good place to look for distressed properties is on an auction website. For local sales, you can check the daily newspaper; in many states, lenders are legally required to post notice of an impending foreclosure sale.
If you wish to cast a wider net, auction listing sites like Auction.com and Tranzon.com allow you to search for specific property types in your target area. Constantly updated to include the latest properties on the auction block, you can bid on properties through the site. And just like the world's most famous bidding site, Ebay, there is a "buy it now" option for selected properties.
3. Abandoned Houses
A creative strategy that can reap benefits is to look for houses that have been abandoned — i.e., houses no one is living in. These properties still cost the owners annual taxes and, in some cases, mortgage payments. You may be able to purchase a home by approaching the homeowner directly and making an offer. Alternatively, in cases where the borrower has already defaulted on their mortgage note, you can contact the lender.
Vacant House Data Feed is a useful site that allows you to locate abandoned homes in any community. The search platform allows you to select the property type, whether it is currently owned by the lender, and attributes like square footage and the number of bedrooms and baths. In some cases, even the owner's phone number is available.
4. Drive-Bys (Know Your Target Neighborhoods)
You may be able to locate vacant homes in your area simply by making yourself aware of the neighborhoods in which you want to purchase distressed property.
Houses where mail accumulates or the landscaping goes unmaintained for long stretches of time might be abandoned. They could also belong to the children of a homeowner who has either died or gone into assisted living.
Adult children are sometimes slow to put the family home on the market, either because they can't agree on terms or because they have an emotional attachment to the property. They may also be avoiding the need to make costly repairs in preparation for listing. Offering to take the property off their hands as is can seem to them an attractive solution.
Don't forget to contact local people who may be able to give you information about vacant homes, such as mail carriers or real estate agents that specialize in your target neighborhoods. Vacant homes are a liability for real estate agents because their clients don't want to live near them. They may be happy to share any information they have about which homes are not currently occupied.
5. Pre-Foreclosures
A pre-foreclosure is a home where the borrower has already defaulted on their mortgage and is typically at least 90 days delinquent. Though there is a process in place to assist homeowners make good on their notes, most mortgages that have not been paid for three consecutive months will go on to become foreclosures simply because homeowners who default cannot afford the even larger sum needed to make good on the note.
When you locate a distressed property at the pre-foreclosure stage, you eliminate a lot of the competition and, as a result, stand a better chance of securing the property. You also have the advantage of being able to negotiate directly either with the borrower or lender while there are still options on the table.
Although you might be able to find a delinquent homeowner who is willing to enter a short sale with you, your chances are better if you deal directly with the lender. Because the property is on the verge of repossession, they are in a greater position of power.
There are several tools you can use to identify properties that are in pre-foreclosure. Here are just a few of them:
The Federal Deposit Insurance Corporation (FDIC) is a free online resource that you can use to identify lenders with pre-foreclosures.
Most counties in the United States still require notices of default to be posted in the local paper.
This excellent software program helps individuals who sign up to find information about owners whose property is in pre-foreclosure.
6. Attorneys
Distressed properties come about for a variety of reasons. Foreclosure is just one of them. Some distressed properties becomes available due to the hardship of individuals who are no longer in a position to maintain ownership of their home.
It's not always a good thing to inherit property. You might find yourself suddenly responsible for back taxes and costly repairs. If mortgaged, the property might be underwater or have no equity. The previous owner could have taken out a reverse mortgage.
Heirs who are not in a position to afford the property they inherited may be happy to negotiate a short sale or sell the property to someone who is willing to settle the tax liability.
Making friends with some of the probate attorneys in your area can give you leads on individuals who may be looking to liquidate their new inheritance.
Divorce puts a financial strain on most people, and it is not uncommon for couples to be simultaneously filing for divorce and going through a foreclosure process.
Cultivating a relationship with a family law attorney in your area may help you to identify properties that are at risk of default at the early stages. If that isn't possible, you can still find leads by reading the divorce filings posted in your local newspaper.
One thing to remember: When a couple divorces, more may be at stake than just the family home. Sometimes, couples may have other real estate assets, such as a vacation home or inherited property. They may need to liquidate that property quickly.
Foreclosure attorneys work directly with the decision makers at the banks. In fact a workout officer, or special assets manager for a bank won't typically be able to make a move without consulting the bank's counsel first.
Take your local foreclosure attorneys to lunch. Help them get to understand the value you bring to a transaction and look for referrals into the banks the attorney serves int he foreclosure process.
7. Zillow
Joe McCall, a thought leader in real estate investment, recently discovered that the online real estate advertiser Zillow has been innundated with real estate listings posted by homeowners with little or no equity. These sellers are desperate because they do not have enough cash to pay the real estate fees associated with a home sale. And there are a lot of them in every real estate market across the country.
McCall or his associates approach the "sale by owner" listings of median-priced homes on Zillow to see if they are interested in a lease to own option. They then negotiate a wholesale price for the option and find an interested end buyer, who pays McCall a fee to get the lease.
The same principle can be leveraged to locate potential sellers of distressed properties.
8. Craigslist
Craigslist is a goldmine of real estate properties that are listed as for sale by owner (FSBO). Often what motivates sellers to forego using a real estate agent is they lack the standard six percent brokerage fee sellers have to pay. These homeowners may not be on the verge of foreclosure, but they are not going to profit from the sale, either.
By wading through the FSBO postings on Craigslist and contacting owners directly, you may be able to negotiate a sweet deal.
---
* We have an affiliate agreements with foreclosures.com and other providers which means that if you purchase something from them after visiting through our link we may receive some small compensation. This never costs you anything and we only link to providers we approve individually.