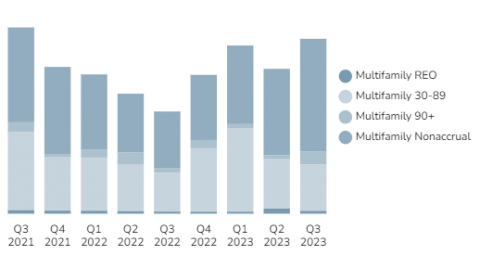 While banks seem to be reporting few new defaults on multifamily loans in Q3, we've seen another substantial increase in the volume non-performing multifamily loan mortgage loans moving into the nonaccrual stage.
Dive into the BankProspector dashboard to find out which banks are holding the most non-performing notes now.
Multifamily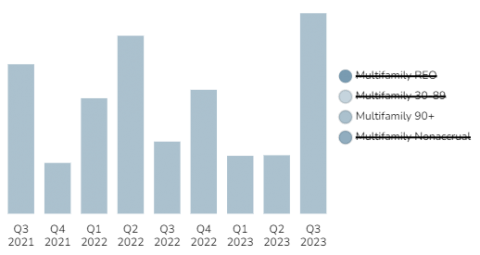 Fewer new multifamily delinquencies may be happening. Yet, nonaccrual, 90+ days late, and multifamily REO pools all seem to be growing.
This trend seems to be spreading across more institutions, with 258 banks reporting that they held nonaccrual stage multifamily mortgage loans in Q3, a trend we've seen growing over the past two quarters.
90+ late loans nearly quadrupled in the past three months, to almost $200M while nonaccrual stage loans increased by almost $4B in the third quarter.
Multifamily REO
After a huge increase in Q2, almost tripling from Q1, multifamily REO value almost halved in Q3.
This could be a sign that although banks do not seem to be successful in heading off defaults before this stage, the demand is still there for liquidating these non-performing real estate assets as REOs.
Looking Ahead
Multifamily debt and income properties are still highly desired by sophisticated investors and funds, perhaps even more so today given the outlook for other areas of the economy and other asset classes.
Yet, tenants are under increasing financial distress, and many of the best properties may have already been acquired.
Investors may look earlier on in this pipeline of distressed multifamily loans to spot the best properties. Then find banks they can work with to create win-win-win solutions for lenders, borrowers, and their partners.
Log in now to see which banks are holding the most distressed multifamily loan notes…