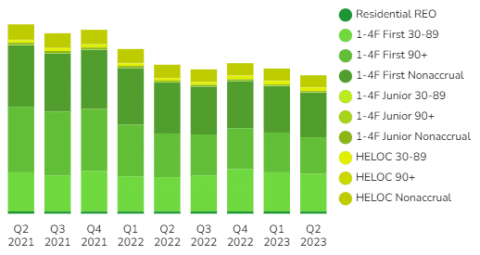 Distress in residential mortgages saw slight improvement over the past three months, with small decreases in REO inventory and most non-performing debt categories.
It's possible this stabilization is due to the tight residential property market, resulting in the most desirable debt and properties being cherry picked by investors, while consumers find they are unable to catch up.
Let's dive into the latest bank data from Q2 to see exactly what is going on…
Banks Hold Over $44B First Position Nonperforming Residential Mortgages
There are currently around $14B in first mortgages on 1-4 family properties which are in the 30-89 day late stage, down a bit from $14.5B in the previous quarter.
Already ahead of those are nearly $17B first position non accrual loans on 1-4 family residences, as well as almost $13.5B in 90 day plus late loans, which have not been classified as non accrual yet.
Residential REOs
649 banks reported that they held a combined $794M in residential REO at the end of the first quarter of this year, down from $850M in Q1.
This is still a very small percentage of the total volume of distressed residential loans being held by banks right now. Though, the data shows a trend which suggests that these non-performing assets are not being absorbed by the market, possibly due to lengthy legal procedures or to being overpriced.
JPMorgan, Bank of America, and the Fed's new outlook rescinds recession expectations, which could also fuel more inflation and soaring interest rates. This double-edged sword could instill more confidence in capital markets and investment activity, as well as increasing employment opportunities. It could also have negative impacts on affordability, while AI continues to eat more jobs.
Non-Performing Residential Loans
The largest percentage of non-performing residential mortgage loans is the nonaccrual stage, with 90+ day late loans right behind that.
As of Q2 the breakdown of non-performing first mortgage liens being reported includes:
$14.1B in 30-89 day late loans
$13.7B in 90 day plus late and still accruing loans
$16.7B in non-accrual loans
Discover the 3,000+ banks holding these non-performing loans inside BankProspector now.
Junior Liens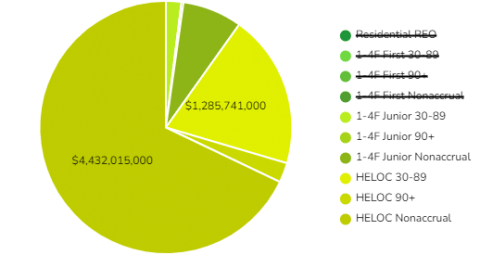 At the end of Q2 2023, there were over $4.4B in nonaccrual stage revolving lines of credit. There were around $1.5B in other delinquent HELOCs behind those, the majority of which are newly defaulting lines of credit.
Defaults on revolving credit lines (HELOCs) continue to be significantly higher than on fixed second mortgage liens.
Dive into the BankProspector dashboard to find out which banks are reporting the most distressed residential junior lien loans and HELOCS.
Looking Ahead
Bank data from the second quarter shows the residential loan market continues to parallel the housing market, remaining in a gridlock of sorts as borrowers, banks, and investors adapt to tight conditions.
Deteriorating business and consumer credit sectors suggest that more distress is coming. And although total non-performing loan volume in this sector may be down slightly, it is clear that a growing number of borrowers are unable to catch up on mounting second mortgages, and banks may not be able to help them get on track.
Log in now to see which banks are currently holding the most distressed loan notes…