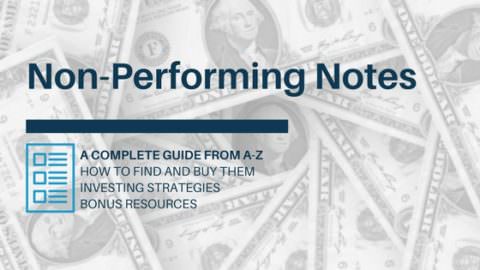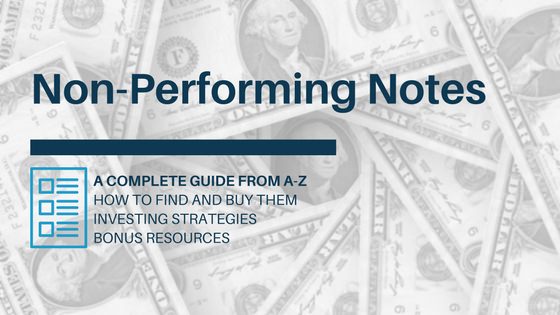 In this article I'm going to cover how to find non-performing notes, how to buy them, you'll learn some strategies that others take with non-performers and there's some downloadable bonus material.
The guide to how to find and buy non-performing notes is long… If you don't have time to read it all now you can download the PDF version!
Step-by-Step How to Buy Notes
If you're looking for a step-by-step guide on the mechanics of the actual purchase of the note buying process you can read about that here.
Here's what's on this page
For this article, we're referring to notes (which is to say "loans") that are not being paid according to terms. Technically speaking a non-performing note is 90 days late.
Wait… so if the loans aren't being paid… Why would you buy them!? …I'm so glad you asked!
Why Buy Non-Performing Notes?
You buy non-performing notes typically for one of two reasons (or both).
The Discount
Buy non-performing loans because they typically sell at a discount off the "UPB" or "Unpaid Principal Balance" which, if you intend to own the asset, is an even steeper discount. The unpaid principal balance is the amount or original principal that is still due to the lender. Note that this does not include things like default interest, penalties and fees which we'll get into later.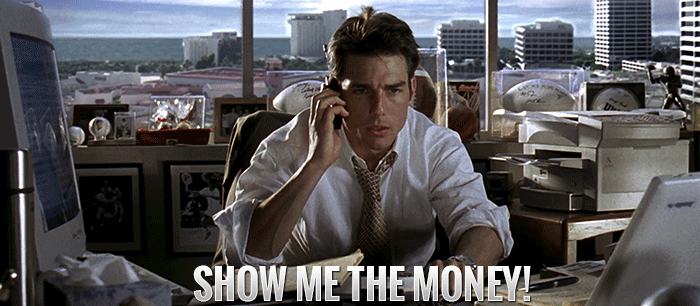 To Control the Asset
Buy non-performing notes for control of the underlying assets. When you buy a note that's in default you assume all of the powers, rights and responsibilities of the lender. When a note is in default or is no longer performing this activates the rights of the lender to collect. Depending on the nature of the note this could mean a lot of different things. I've been involved in non-performing note acquisitions that were made solely for the purpose of wresting control of the property and I'll give you examples.
Risks of Investing in Non-Performing Notes
It's important to make clear that I'm talking about non-performing real estate notes. If you're interested in non-performing auto, consumer, or C&I loans our software can help you find those but I'm only an expert on the real estate side of things and that's what this article is about.
Part of what makes note investing so desirable is that the lender, that's you when you buy the note, is secured in their position by the underlying collateral. The property.
Take a look at this simple capital stack and tell me where you'd want to be in the event of a market correction?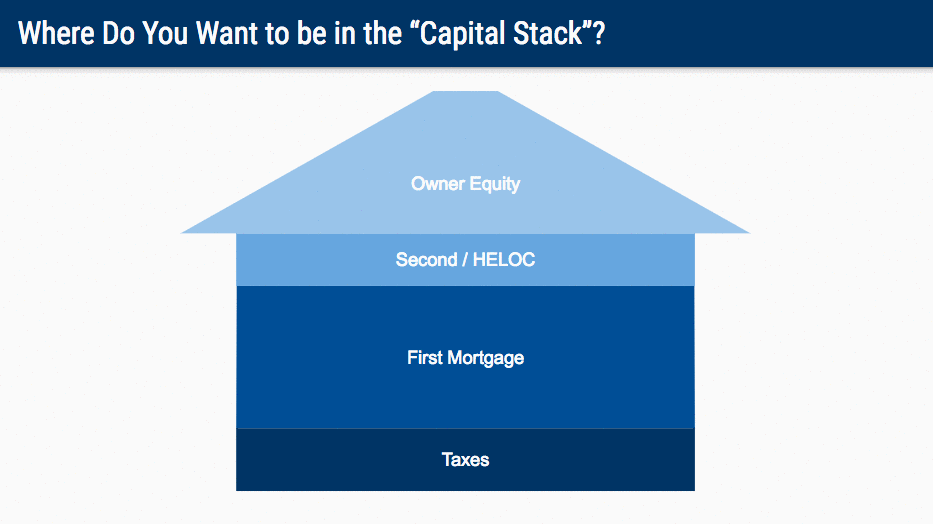 While the owner and operator of the property enjoys any of the upside from appreciation the lender, that's you when you buy the note, enjoy all the security.
If you own the debt position just above taxes are you more or less secure than the owner and their equity at the top of the stack?
The answer is obvious. You're much more secure. Let's take a look at some math on a on a fictitious deal (with easy math ;).
Let's call it … 123 Main St, Anytown CO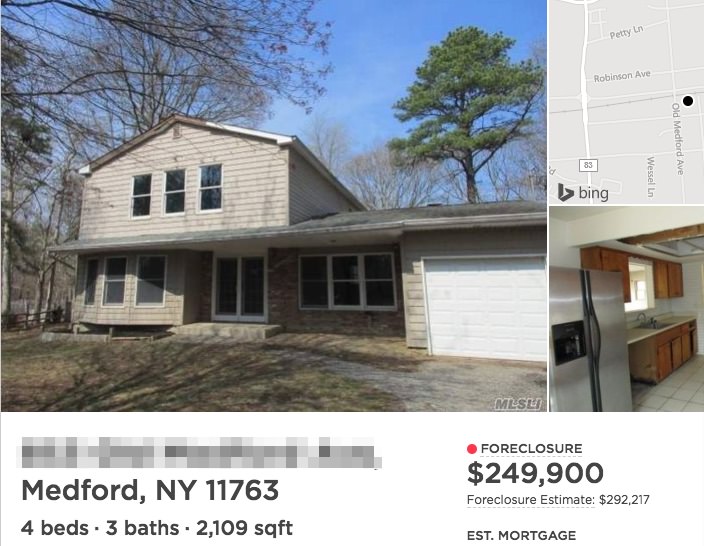 John Borrower put down 20% to buy a $250,000 home and took out one first position loan for the remaining $200,000.
| | |
| --- | --- |
| Purchase Price | $250,000 |
| Down Payment | $50,000 |
| Original Loan Amount | $200,000 |
| Interest Rate | 4% |
John has paid on his home for 3 years but then loses his job and he's stopped making payments for the last 6 months. Here's what it looks like now.
| | |
| --- | --- |
| Unpaid Principal Balance | $189,321.21 |
| Arrears (6 mos of payment missed) | $11,457.96 |
| Fees (Attorney etc) | $1,124 |
So now you have an opportunity to buy this non-performing note for, let's say 67 cents. That means that you'll pay 67% of the current UPB or unpaid principal balance. If you end up taking possession of the property the taxes "run with the land" so you'll be responsible for those.
Let's also assume there's some deferred maintenance to the tune of an estimated $13,000 and then we'll add 20% to that just to be safe so call it $15,600.
| | |
| --- | --- |
| Price (expressed as cents on the dollar) | .67 |
| Purchase Price | $15,600 |
| Deferred maintenance | $1,124 |
| Back Taxes | $1,235 |
| Total Purchase + Liabilities | $143,680.21 |
So now you can own the first position in this property and figure in the cost of repairs (deferred maintenance costs), the cost to bring the taxes current, and the purchase price all for $143,680.21.
Are there other costs? Sure, if you can't work something out you can expect about $2,500 to foreclose on the property. So now you own the property that John bought 3 years ago for $250,000, you just bought for $146,180.21.
Does that sound risky to you?
You might be buying the note at 67 cents but since you are also walking into all of the borrower's equity you're actually only in it for about 59 cents on the dollar.
Now let's say that the market goes horribly wrong and drops by 20%. Well, first off, boy are you glad you're not the borrower because remember his equity is wiped out just with that correction.
But what if it gets worse?
What if John gets crazy and takes the copper with him costing another $14,000. What if the title has issues – there's another $1,1000.
So now how does your position in the property on this non-performing note you bought look now?
| | |
| --- | --- |
| Market Corrected Price | $200,000 |
| Note Purchase Price | $126,845.21 |
| Total new costs and liabilities | $31,935 |
| All-In Worst Case | $158,780 |
| Profit | $41,220 |
Well heck you've got $41,220 of meat left on the bone. Maybe you rent or maybe you sell it. Let's say you sell the property, which is now REO because you foreclosed on your non-performing note and that costs you 6%. And you take a little haircut on the price to get the deal done.
| | |
| --- | --- |
| Sale Price | $195,000 |
| Realtor Fees | $11,700 |
| Net Proceeds | $183,300 |
| All-In Worst Case | $158,780 |
| Total Return | $24,520 |
In this simulation, you make $24,520 on your non-performer. That's still a return on investment of more than 15%.
So I ask you – does investing in non-performing notes seem risky?
Obviously this isn't legal or investment advice and you need to educate yourself to understand all the risks and how to conduct proper due-diligence but there are not a lot of investments that you can make that pencil out like this.
Investing in non-performing notes is probably less risky than investing in the stock market or even in leveraged real estate. But treat each deal with care and caution.
These are made up numbers and I'm sure we'll have folks wanting to correct me in the comments about the details but the point of this exercise is to illustrate an approximation of risk not to provide exact numbers and an exhaustive list of expenses.
Where to Buy Non-Performing Notes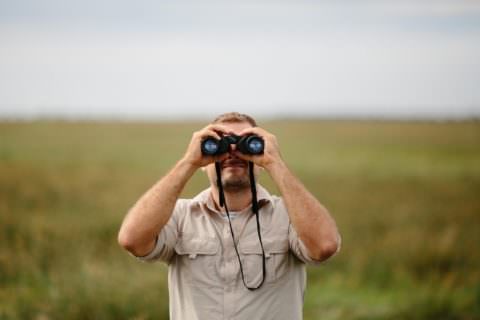 We have an entire article devoted just to where to find non-performing notes for sale and you should check that out.

If you don't know what I'm talking about when I say "tape" and if you don't understand how a transaction actually goes down then you should read this post which covers the mechanics of How to Buy a Mortgage Note.
Four primary sellers of non-performing notes:
Banks and other lenders or originators (credit unions)
Funds (hedge or private equity)
Independent investors (resale)
Servicers
I go into the ins and outs of who should or shouldn't be buying notes from each type of seller in the article linked above so read that for further details.
Here's a really brief recap:
Hedge funds or private equity funds might sell non-performing notes through exchanges or brokers or private email lists or other means but the result and the process is typically the same.
The fund or investor buys a pool of non-performing notes, they take the wheat, they sell the chaff. Funds sell assets after they've taken the best assets out of the pool or off the "tape". That doesn't mean that there's no money to be made buying notes this way. Just understand that you're trading convenience for cash.
Independent investors re-selling non-performing notes are doing the same thing as the funds. They might buy a piece of a tape from a fund or maybe from a servicer or a bank. They take the assets that are most desirable and then they resell the rest.
The benefit for you in each of the above cases is that there's no work in the actual sourcing or finding of the deal. The drawback is that a lot of the margin is gone and this adds risk and reduces profit.
A word about "Joker Brokers"
The more hands an asset passes through the skinnier the profit margin gets. Each subsequent hand takes a few cents off the deal.
Sadly the note business is rife with "joker brokers" and broker chains where a guy knows a gal who knows a guy who has some notes for sale and by the time they get to you, you are so far removed from the decision maker that not only is the deal marked up considerably you're not likely to ever close.
I can't stress enough how awful the broker chain mentality is. The LinkedIn and BiggerPockets communities suffer from this.
Its often not malicious or evil that's driving the jokers, its greed, excitement and desire – so we'll forgive them for that. But you should avoid wasting time with this foolishness.
At best you'll waste a lot of time.
At worst you'll wire money to someone and lose it forever.
Banks and servicers sell non-performing notes to clean up their books. Not all banks sell non-performing notes but hundreds of banks sell each quarter. So do servicers.
There are as many reasons for a lender or a servicer to sell non-performing notes as there are reasons that notes go bad.
Banks sell non-performing notes to recapitalize, to avoid owning the real estate (for a whole host of reasons), because a loan no longer "fits in their box".
There are lots of reasons why banks and servicers sell non-performing notes.
If you're someone who isn't afraid of doing the work and asking the right questions of the right people then you can buy non-performing notes direct from banks and servicers.
When you take this approach to sourcing product instead of paying retail through the funds and the online platforms you'll have an easier time raising money, you'll be better positioned to broker, resell, or flip your notes and you'll see higher profits from your deals.
How to Buy Non-Performing Notes Direct from the Bank
In this section I'm going to cover a lot of specifics with regards to banks and bank direct non-performing notes. If you're looking for one single note just to see how it goes for an investment then pursuing lenders isn't the right avenue for you.
Here's what's in this section
If, on the other hand, you're looking to grow in the note business and have a business that you can do from wherever you like buying, trading, and servicing loans from your phone and laptop then this section is absolutely for you.
I recommend that you approach this with a well thought out step-by-step process. In fact I have the 4 Steps to Bank Direct Notes and REO well documented and I recommend you read that but here are three of the key takeaways.
So here's the first question I want to answer for you.
Why Do Banks Sell Non-Performing Notes?
Banks sell non-performing loans for any number of reasons. Here are some of the reasons I've seen.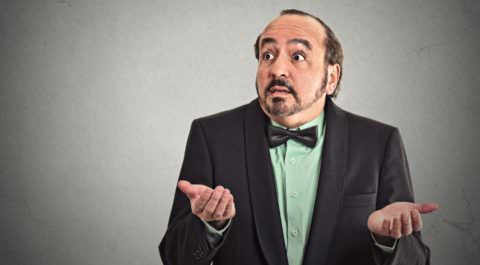 1. Banks sell notes to avoid unknown liabilities
Sometimes a lender will have a non-performing note on an asset, like a gas station or an old factory where they don't want to foreclose due to the possibility of the existence of environmental contamination of the land.
Once a bank gets into the "chain of title" there's the possibility that they open themselves up as a target for future liabilities, litigation, etc. A smart (and litigious) person goes after "the money". Obviously, that's the bank.
If you can think of reasons that the bank might not want to get into the chain of title then so can they.
A site could be clean but if the perception is that it might be a liability then the bank may choose to avoid a foreclosure.
2. Banks want to avoid excessive legal costs and long foreclosure processes
Different municipalities have different laws regarding foreclosures. If a bank has a pool of non-performing loans in an area where they're likely to have a long, drawn out foreclosure process they might deem it more advantageous to sell the note.
3. Banks don't always have the same flexibility and workout options as private investors
Banks don't always have the same kind of flexibility that you and I would have in terms of how we would approach a loan workout.
Remember, banks are highly regulated, that means that "the box" within which they must work to "rehab" or restructure a loan is not as malleable as that of a private investor or fund.
You or I can do any workout on a loan that we see fit. Banks and servicers have a much tighter controls.
4. Selling non-performing loans is faster and cheaper than foreclosing on and selling REO
A bank can sell and close on a non-performing loan sale in under a month. That means they're able to refill their coffers and eliminate man-hours, legal fees, compliance costs and months of effort.
Consider what's involved in foreclosing on a property, "booking it in" (meaning that they buy the note back at auction), then listing it and selling it.
Legal fees for notices
Auction fees
Property preservation costs
Municipal compliance costs
Realtor fees
Market price risks
Vandalism
The list goes on.
Once a bank adds up all the costs and time that it can take to deal with foreclosing on a lot of non-performing loans you can see pretty quickly what the advantages are to simply selling notes.
There are other reasons banks and servicers will sell non-performing loans but I think you get the point.
So knowing that lenders and servicers do sell non-performing notes that leads us to the next question.
Which Banks Sell Non-Performing Notes
We cover this in depth in a number of places on this site so I'm going to give you an overview plus some links to additional resources.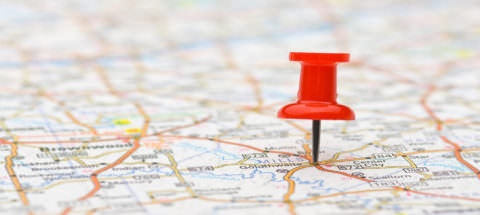 Start with Local and Regional Banks
Since you're reading this article I'm going to assume that you're just getting started. Since that's the case I'm going to ask you to focus on your local, community, and regional banks first.
Banks like Bank of America, Chase, Capital One, Wells Fargo… these are the major players. What are you going to be able to offer them? They are so big that there are no deals you're going to be able to put together that will move the needle for them.
They have layers of bureaucracy and management.
The people you'll be able to speak with will not be decision makers.
How do you get a deal done in an environment like that? You won't.
With few exceptions, I strongly suggest that you start small.
Identify the Banks that are Most Likely to Sell Non-Performing Notes
When I first started out selling non-performing assets for banks I used the shotgun approach. There were more than 330 banks headquartered in my area at the time and I simply smiled and dialed.
Waste.
Of.
Time.
It wasn't until I discovered how to properly research my prospects and identify the most likely sellers that I finally had a breakthrough.
We have a free training that you can jump on here where you can learn about how to see what a bank has in their portfolio, whether or not they have motivation or capacity to sell at a discount and much more.
Identify and Call on the Decision Makers at the Banks
Deals get done between people. When folks are just getting started they'll often look for an easy button. They want to be able to call a department at the bank where someone answers and says "Yep! I'll sell you our non-performing notes at pennies on the dollar!". That's not how it works.
Your local and community banks are small business and that's how they're run. There are decision makers, processes, meetings, and lots of staff involved. Your job is to identify and then connect with the right people.
That's all I'm going to cover in this article but check out the two resources above to go deeper on this.
What kinds of non-performing notes will banks sell?
Banks sell all kinds of non-performing notes.
The most successful note investors that I know tend to focus on individual asset types.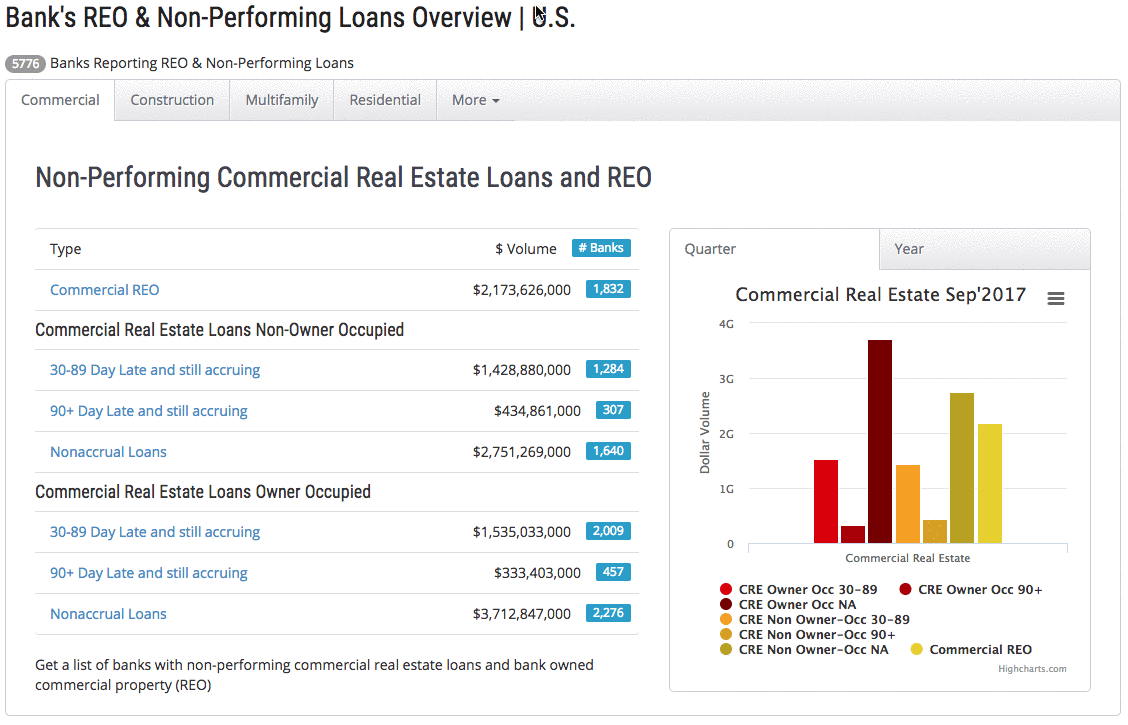 The workout on a non-performing note on with a single family homeowner who lost his job and is behind on his payments is completely different from working with a business owner who is struggling to pay the note on a commercial property where he runs his business which is completely different from auto loans, which is different from unsecured credit cards etc.
You may also find that it makes sense to limit your search geographically. Its hard to be an expert everywhere. When you have an area that
Some "niches" where I've seen investors be successful are:
First position residential notes
Junior or second position residential notes
Gas station and convenience stores
Office properties
Hotel and other hospitality properties
Owner occupied commercial – where the owner runs his business from the property
Consumer credit cards
All of these and more can be profitable its all a matter of what assets and areas you understand or you're willing to learn about and the systems and processes that you setup for your business.
Will banks sell individual non-performing notes?
This is probably the number one question I get from new people.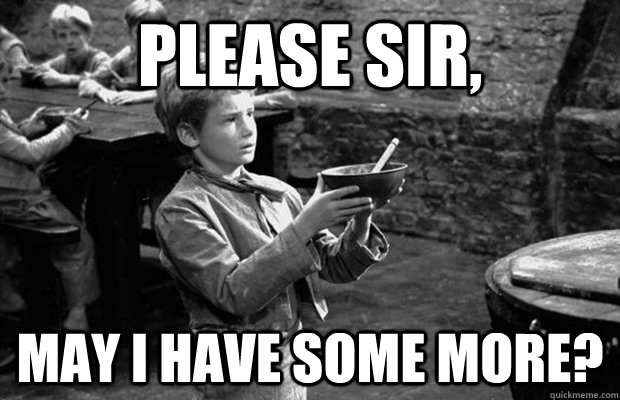 The answer is "it depends".
When you're buying non-performing notes from a bank you have to ask yourself – "what's in it for them?"
If you're trying to buy a single residential note from Bank of America, Wells Fargo etc., ask yourself why would they do that? Your purchase won't move the needle for them. It will require that they do things that are not part of their normal business routine. There's no benefit to the bank whatsoever.
If you're talking to a small local or community bank, the equation changes. A small pool of residential notes, a commercial property note, or even a single residential note might actually make a difference to them if they can get it off their books.
But maybe you need to change your thinking.
There is virtually endless demand for non-performing notes from investors out there today – so why would you go looking for one note!?
What if instead of cramming yourself into this tiny box with the limiting belief that you should be looking for one note, what if instead you found a pool and you kept the best one and flipped or sold the rest to other investors?
The truth is that if you're going to bother picking up the phone or sending emails to find non-performing notes from banks you should be looking for as big a pool as you can find. If you find yourself for some reason unable to move the ones you don't want to keep you can just let us know… we have literally billions of dollars of appetite for these assets as do many other companies in the space.
If all you want to do is buy one note for your self as an investment calling on banks isn't the right approach. Use one of these other sources.
Well you're just going to have to contact them and find out!
But I can give you some clues to help you speed up your search.
Banks report a couple of indicators that can help us make sense of what's happening in their portfolios and what levels of motivation they might have to sell. The key indicators that we look at are:
Non-Accrual Loans Sold – Banks report the nonaccrual loans that they sell throughout the quarter. Wouldn't you think that banks that have a history of selling nonaccrual would be more likely to sell in the future? At the very least we know that they have a process in place.
Late and Non-Accrual Loans Held for Sale – Banks report the total volume of late and non-accrual loans that they're holding specifically in a "bucket" for sale
There are other indicators we look at like the non-performing loans to loans ratio, whether or not they're taking charge-offs, and more.

You can go deeper on this with our free training or if you're really serious then you might checkout the Academy.
Who are the decision makers at banks that sell non-performing notes?
The exact titles of the decision makers vary from banks to bank.
Smaller banks could have decision makers all the way up to the president involved in the sale of certain non-performing notes. I worked with one community bank in Massachusetts where the president was involved in a $5MM commercial note that had gone sideways on them.
Bigger banks have entire departments assigned to their note sales.
The main things to keep in mind when you start calling banks for non-performing notes are:
Call as high up in the organization as you feel is reasonable. At big banks you obviously won't be talking to the president. At smaller banks, you will. Wherever you're calling – call as high up as seems reasonable.
Call with a name. Don't call in and ask for the person in charge – please. This shows that you have no idea what you're doing. You'll get endless voicemail at best. Do your research up front to get a name, an email, and hopefully a direct line for the person you suspect is the decision maker.
Know that almost everyone at a bank gets a VP title: AVPs, EVPs, SVPs – they've got VPs on top of VPs.
Titles you might find attached to the VP are secondary marketing, workout, credit… one bank I worked with set up a whole other organization with different business cards and all with the company name "Global Restructuring" and their VPs carried similarly obtuse titles that wouldn't actually tell you what they do.
Non-Performing Notes Aren't Publicly Listed
The first thing people start looking for online when they get excited about finding non-performing notes at banks are listings of the actual notes. This just doesn't happen. Banks will report when they have filed a Notice of Default but by then its often too late to get at the note.
The only way to get a list or a "tape" of notes is from the seller.
This is a people or a relationships business. That means that you are going to have to find and connect with the right people if you want to do deals. There's no way around this. Over the last decade, I've heard from countless people who are frustrated that they're not getting a list of notes from our software or elsewhere on the internet.
There is no such list – anywhere.
You must connect with the decision makers if you want to do deals. Period.
How to Value Non-Performing Notes
Finding the value of non-performing loans is one of the most often ask questions we get and to be honest the answer isn't as easy one. We cover this more in depth on Step 2 over here. My friend Pat created the Loan Acquisition Suitability Evaluation and Rating (LASER) system to help note investors answer this question.
The difficulty in finding the value of non-performing notes is 3-fold.
The note
The collateral
The borrower
First you need to understand the nature of the note.
What is the UPB or unpaid principal balance?
What is the interest rate?
What's the default interest?
What covenants are there?
What other liens are there and in what priority?
Second, you need to consider the collateral
What do we know about the value of the property (assuming this is a non-performing real estate loan)?
Where is it located?
What is happening in the local market?
Third, what do we know about the borrower?
If there's recourse is the borrower someone you can collect from?
Is the property used for the borrower's personal business or residence?
Are there mitigating circumstances for the borrower that lead you to believe you can get it quickly re-performing?
As you can see the number of factors in finding the value of a non-performing loan get complex quickly.
Additional questions that you need to ask about a non-performing loan if you want to assess its value have more to do with you and your investor's needs.
What strategy are you using?
Are you aiming to own the collateral?
Will you try to get the loan re-performing or do you aim to own the real estate?
Answers to these questions will drive the answer to "what is the value of this non-performing loan… TO ME".
Which is key.
The best answer that I have with regards to value comes from my friend and advisor Pat Blount. He put together a program called LASER, the Loan Acquisition Suitability Evaluation and Rating system.
In this system the goal is not to answer "what's the value of a non-performing loan" as much as to answer what is the value to you as the buyer or even should you buy the note at all.
I know that some people won't be happy with this answer so let me say that you can and should also be looking to the market to see what active participants are paying and for which types of loans.
The FDIC lists the strike prices for their pools of assets and you should join the bank direct group on LinkedIn to discuss the matter with your peers.
So as to not leave you hanging completely I'll tell you that we've seen as little as 6 cents on the dollar on non-performing junior residential notes and as much as par on commercial non-performing notes ('par' means face value).
It's not uncommon to hear high 50s on pools of residential 1st position notes and even in the 80s on non-performing commercial notes but none of these are hard and fast rules and each acquisition should be evaluated independently based on what you know about the asset(s) in question.
7 Non-Performing Note Investing Strategies
Rehab non-performing or sub-performing commercial notes.
One private client, I had only bought small balance non-performing commercial real estate notes with owner-occupied property. That means that the owner is running their business out of the property. They have a small group of workout officers who then work with each borrower to get them re-performing through modifications and (rarely) forgiveness. When it's not possible to get the assets re-performing they foreclose.
Workout non-performing junior residential liens. A lot of non-performing 2nd position, or junior lien, buyers I know approach buying non-performing junior liens with the following strategy. Offer some principal forgiveness to the debtor, modify the terms, assist with refinancing.
Government programs for rehabbing or paying off residential notes.
My friend and associate uses these strategies for his 1st position, or senior, residential non-performing note buyers. They can be used on Hardest Hit Funds and other government-backed refi programs.
"Loan to own" on non-performing commercial notes.
I've sold commercial notes to investors whose sole goal was to own and control the collateral and buying the mortgage note from the bank was simply the best strategy for achieving that goal. I've seen this note buying to property-owning strategy succeed on retail strips, office parks, and construction projects.
"Flip" residential notes
My friend Mike Ruscica, a full-time note investor in non-performing junior liens, sometimes uses what amounts to an assignable contract approach to flipping notes.
"Flip" re-performing notes
Just like you can buy a distressed property, you can buy non-performing notes from banks, get them re-performing, then sell the newly performing cash flow note to an investor. If you want to go the next level you can just sell part of that note to another investor (a partial) and you get a small windfall now and an income stream until the debt is extinguished (my friend JD calls this a "soft flip").
Buy unwanted special purpose non-performing commercial notes.
I had another private equity client with a background in the oil and gas business and they focused on buying non-performing notes on gas stations and other properties in the fuel distribution chain. Why? Because banks generally don't want to get into "chain of title" on a potentially "dirty" piece of real estate it's more advantageous for the bank to sell the note and wash their hands of it and since this investor knew the business he didn't share the same fear. We had one transaction with this investor where we sold the gas station at the foreclosure auction within 60 days of the investor taking ownership of the note and they made a quick $300,000 – without ever getting into the chain of title. How'd he do that? He's got a note buying strategy. He knows his collateral, works with the borrower and focuses on assets and areas that he truly knows.
Start Investing In Non-Performing Notes
Investing in non-performing notes can mean a lot of things.
To be sure, like any investment, you need to make sure that you educate yourself and that you've got the "lay of the land" before you start putting your money or your investor's money at risk.
If you're brand new then the fastest most profitable way for you to get started investing in notes without putting any of your own money at risk is to be the one who sources the deals.
If I were to lay out a roadmap for a new note investor in terms of the skills and activities that would that bring the fastest and most secure returns the order would look something like this:
I hope you've found the A-Z Guide on How to Find and Buy Non-Performing Notes to be really useful for getting started in the note business. More importantly I hope you'll get started ;)
If you're already in the business and you just need to find more deals try BankProspector. If you're looking to get started in the business apply to the Academy.
Continue Reading