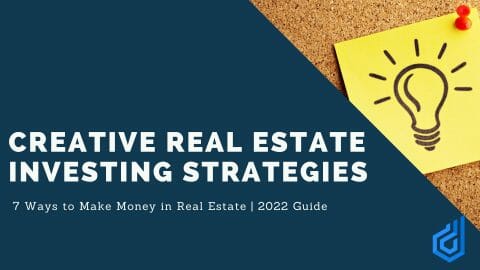 What is Creative Real Estate Investing?
Traditional vs. Creative Real Estate Investment
7 Creative Real Estate Investing Strategies
Creative Financing for Real Estate Investing
Creative Investing FAQs
What is Creative Real Estate Investing?
Creative real estate investing refers to the various methods people profit from property purchases and investments without going the traditional route.
Instead of getting a standard mortgage to buy and then sell a home or commercial property to make money, creative investors pursue unconventional ways to find real estate, fund purchases, and turn profits.
Traditional vs. Creative Real Estate Investment
Traditional Investing
When a real estate investor goes the traditional route, they typically follow the standard property purchasing process, which involves:
Getting standard mortgage financing through a conventional lender
Working with a real estate agent to find investment properties within budget
Going through the bidding and subsequent closing processes with the existing property owner
Holding and establishing a rental property with cash flow or making updates and building property value to sell for a profit
Creative Investing
A successful creative investor seeks out ways to improvise every step of the traditional investment property buying process.
These alternative investing strategies could involve:
Finding properties with seller financing, lease option, or other flexible purchase options that don't require a standard bank loan
Working independently to find real estate deals that aren't on the market to minimize competition and maximize profit potential
Finding deals for other real estate investors who don't have the means or time to source new properties
Buying mortgage loans instead of properties to curb market corrections and avoid rental overhead and property manager responsibilities
7 Creative Real Estate Investment Strategies
Real estate investors can gain a ton of ground and boost their competitive edge when they work outside "the box." And in this case, "the box" is the cookie-cutter, finance-bid-buy-sell method that many first-time real estate investors follow.
Downside? There's not a lot of room to excel with the standard process. It's not necessarily the best way to build a real estate investment business.
Sure, if you come across the right deal in the right market with the right financing, you might land a winner from time to time. Might.
But if you want consistent, predictable passive income from real estate investing, creativity is the key. The good news is the sky's the limit here, and it's up to you to carve out a strategy that works for you.
Seasoned, successful real estate investors achieve their goals and financial freedom by developing a creative investment strategy that they can repeat again and again without the constraints of traditional financing and market shifts.
Read on for a list of some of the best creative real estate investment methods and how they can provide you with the edge you need to make progress in this high-stakes, potentially high-profit landscape.
1. Buy and Hold
The buy-and-hold strategy is a long game. If you're looking for fast returns on a real estate investment, this is NOT the option for you.
But if you have the time and resources to hold on to an investment property for years and you're open to renting to tenants and keeping up with property maintenance, the buy-and-hold option could work for you.
Returns Timeline: 5-Year Minimum to Sell, Ongoing Rental Income Potential
Buy-and-Hold Considerations:
Property prices don't have to be rock-bottom to benefit from this creative strategy – investors can hold until the property value is high enough to turn a profit.


Buy-and-hold properties need a plan. Investors should expect regular maintenance and repair costs, property tax overhead, and expenses and risks associated with income property and renting to tenants.
2. Note Investing
Some successful real estate investors excel by finding and buying non-performing mortgage notes. This distressed debt is purchased directly from a bank or lender and tends to be an investment strategy that's lower risk than traditional real estate investing.
Non-performing notes tend to be the best way to make money in mortgage note investing, though a few variables like how and where you find notes to buy will determine your earning potential.
Finding and buying mortgage notes is one of the most lucrative, profitable ways to make money using creative investing methods. If you can establish a solid system to source, fund, and buy them, you can go far FAST in this industry.
Watch our webinar to learn about investing in notes, where we cover successful investor case studies, proven processes and strategies, and provide some valuable industry insights.
Returns Timeline: Months or Years – Depends on note status and investor goals
Note Investing Considerations:
The most valuable (and often most profitable) aspect of note-buying is finding note deals. Even if you don't have the money to buy notes right now, if you can develop a way to find them, you'll have investors calling you (it's real, it happens!). Talk about a creative investment funding strategy. A lot of note investors start with zero or limited capital and grow their funding this way.


Note investing enables investors to hold rights to a property without having to maintain it. The debtor is responsible for all repairs, property taxes, and upkeep, and the note holder collects the mortgage payments. If a debtor defaults (or the note is already non-performing), the note holder has the right to foreclose on the property tied to the note.
3. Distressed Property and REO
Buying REO as investment property is a good way to get the most for your money. Real Estate Owned (REO) or bank-owned property has been repossessed by the lender.
Since most banks aren't in the property management business and don't have good home-selling resources, they often offload REO at lower-than-market prices to get them off their books. Typically, they work with real estate agents to list REO properties, who usually list them on the local MLS or offer to interested clients.
So what's the best way to get creative with REO investing? Scoop up these properties before they hit the MLS. Real estate investors who get REO deals direct from banks can often nab properties at below-market prices.
Pro Tip: By working directly with the bank, investors can also negotiate owner financing (since the owner is a bank) as part of the purchase deal. The lender wants the property off its books, you need funding. Win-win, all in-house.
Returns Timeline: Months-Years, Depends on property condition and investor goals
REO Investing Considerations
Properties that haven't gone through the foreclosure-REO process yet but are still distressed are often sold as "short sales" to sell the property for what's owed on the mortgage loan, not for what it's potentially worth. Short sales, pre-foreclosures, foreclosures, and REO are all considered "distressed" properties, and investors can often buy them at a discount.


Lenders don't usually advertise pre-foreclosures or bank-owned real estate. You'll have to find distressed or bank-owned properties through online sources like foreclosure.com or your local MLS. Watch for terms like "bank-owned," "REO," "foreclosure," and "short sale" in the property descriptions. Or, you can use software like BankProspector to find regional and local lenders with nonaccrual loans and REO on their books.


Banks aren't the only places to find REO property for sale. Various government institutions provide financing for residential and commercial real estate, and at times, need to foreclose on them. Government foreclosures are listed in a few places; investors purchase with the help of a government-approved agent, and seller financing is often an option.
4. Bird Dogging
Bird dogging in real estate refers to the act (art, really) of finding and delivering deals to investors. Finding real estate investment deals is arguably the most important part of the process; without a property or mortgage note, there's no profit potential.
If you learn how to bird dog, you can develop a network of investors looking for specific properties or notes. It's probably the easiest way to make money in real estate without owning property and lots of people build up investment cash using this creative strategy.
Returns Timeline: Days-Years, depends on deal flow and investor appetite
Bird Dogging Considerations
Bird dogging requires diligence, comprehensive industry and market knowledge, and a solid network of buyer and sellers.


Connecting buyers and sellers with real estate deals requires exceptional selling skills. This means assessing each party's needs, negotiating, and making sure the process runs as smoothly (and profitably) as possible.
5. Fix and Flip
Fix and flip real estate investing involves purchasing a property that needs repair, renovating it, and then quickly selling it for a profit.
This type of investing can be profitable, but it's also high risk. To be successful in fix and flip investing, it is important to carefully assess a property's potential before purchasing it. This includes considering the location, the condition of the property, renovation and repair needs, and estimated After Repair Value (ARV) price.
Returns Timeline: Months-Years depending on market and repair needs
Fix and Flip Considerations
Fix and flip buyers need to be familiar with the local real estate market conditions and variables that could affect rapid changes to it.


Purchasing pre-foreclosure, auction, or REO property is a great way to get the best price for a fix and flip investment; however, extensive due diligence research is a must due to the additional liabilities and unexpected title and property conditions associated with real estate in distress.


It may be difficult to fund a fix and flip property and renovation costs with a traditional bank loan, so creative financing options might be necessary to make it work.


Fix and flips are not necessarily hands-off investments. There's no passive income here, unless you hire a contractor to manage the renovation.
Pro Tip: Accredited investors can also tap into some high-yield returns as hard money lenders for flip projects through Fund that Flip. Learn more about how the platform works here.
6. Flip Notes
Flipping notes involves buying mortgage notes at deep discounts and selling them to other investors for a profit.
The key to successful note flipping is finding notes that are undervalued and have the potential for a high return on investment. We've said it before and we'll say it again: The ability to find deals is the most valuable part of this business. If you master this, you'll have investors seeking out your skills and you can build a network of repeat buyers pretty rapidly.
Returns Timeline: Days-Years depending on investor appetite and specific note variables
Note-Flipping Considerations
Note investors have to move quickly to secure purchases before someone else does. The best way to get ahead in flipping notes is to establish relationships with bank decision-makers before they have notes to sell, so they know who to call when they do. We go over how to get in touch with lenders and find banks selling notes in our webinar.


Some lenders will make better deals if you buy notes in pools or groups for one price. This can be a good way to maximize purchase value and allow you to boost profits by selling each note individually.
7. Real Estate Investment Trust (REITs)
Real Estate Investment Trusts (REITs) are a popular investment option because they offer investors the opportunity to own a diversified portfolio of real estate assets without having to directly purchase and manage individual properties.
REITs own and operate income properties such as apartments and other multi-family dwellings, office buildings, and retail stores and centers. They are required to distribute a minimum of 90% of their taxable income to shareholders as dividends, which makes them a good source of regular income for investors.
REITs can be purchased through a brokerage account, and they are traded on major stock exchanges just like regular stocks. This makes them easily accessible to individual investors.
Returns Timeline: Months
REIT Investing Considerations
Investing in REITs gives investors access to a diverse range of real estate assets, including properties in different locations and asset classes.


It is important to carefully research and evaluate REITs before investing, as they can be subject to the same risks as other stocks, such as changes in economic conditions and interest rates.


REITs may not offer the same potential for appreciation as directly owning physical real estate and often have high fees and expenses, which can eat into returns.
What is creative financing for real estate?
When you're a non-traditional real estate investor, you'll probably have to seek out alternative funding. There are quite a few ways to raise capital for real estate and note investing out there and it's common to tap into different sources depending on the type of investment you're making.
5 Ways to Get Money for Real Estate Investing
Private money lending: When an investor borrows money from a private individual or group to finance a real estate investment. Private money lending can provide a more flexible and personalized financing option than traditional forms of lending.

Hard money lending: A type of short-term financing that is often used by real estate investors. Private investors or companies provide the funding for hard money loans, which are usually based on the value of the property being purchased instead of the borrower's creditworthiness.

Crowdfunding: A method of raising capital by compounding small investments from numerous people, typically through an online platform. Real estate investors can use crowdfunding to finance a project by offering investors a share of the property's potential profits in exchange for their investment.

Seller financing: When the seller of a property provides financing to the buyer, either by offering a loan or by accepting a down payment and letting the buyer make monthly payments to pay off the balance. This can be a good option for buyers who may not qualify for traditional lending. A lot of banks selling REO will work with investors on financing options; they get to move the property off their books, plus they get to initiate a new loan.

Joint ventures: This is when two or more individuals or companies come together to invest in a real estate project. Joint ventures can provide a way for investors to pool their resources and expertise to finance a larger or more complex project.
Creative Real Estate Investing FAQs
Can you make money in real estate without buying property?
Yes, finding deals is the most lucrative, valuable part of real estate investing. If you know how to find deals and deliver them to the right investors, you can grow fast in this industry.
How can realtors benefit from creative real estate investing strategies?
Realtors can benefit from creative real estate investment strategies in various ways, including:
Increased commissions: Creative investing strategies often involve the purchase and renovation of properties, which can lead to higher commissions for realtors.
Expanded client base: Realtors who are knowledgeable about creative investing strategies and able to get off-market note and REO deals direct from lenders may be able to attract a wider range of clients, including investors looking for unconventional opportunities.
Personal financial growth: Realtors who successfully implement creative investing strategies may be able to achieve financial growth and stability, regardless of market fluctuations and economic conditions.
Lender relationships: Realtors who want to diversify and expand market availability also benefit from having on-going business relationships with lender decision-makers who can reach out to them when they have REOs and notes to sell.
Want to expand your network and track banks with distressed assets? Subscribe to BankProspector and get access to real-time data and 75,477 lender contacts now.