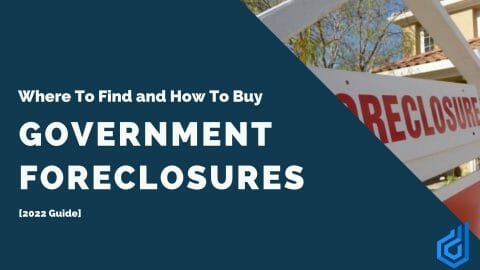 Government foreclosures can be excellent low-cost, high-potential property investments. They're often sold at below-market prices, earning investors instant equity, fix-and-flip flexibility, and long-term rental property opportunities.
But it's not always easy to find government foreclosure deals, especially if you don't know where to look. In this guide, we'll give you a rundown of how government foreclosures work and offer up some of the best sites to find and buy them.
What are Government Foreclosures?
Where to Find Government Foreclosures – 6 Sources
How to Buy Government Foreclosures
What are Government Foreclosures?
Government foreclosures are residential properties that a government agency has repossessed, auctioned off, or put up for sale. The reasons houses get foreclosed on by the government vary but are often because a property owner has defaulted on a government loan or a government-sponsored mortgage that they obtained to buy real estate.
What is a government-sponsored mortgage?
A government-sponsored mortgage is a loan backed (insured) by a government institution like the Federal Housing Administration (FHA), the Department of Veterans Affairs (VA), and the U.S. Department of Agriculture (USDA).
Government-backed mortgages enable borrowers who don't qualify for a traditional loan to acquire financing for a home purchase through an institutional lender. Often, these loans offer affordable interest rates with minimal money down, though they also come with some stipulations, such as resale limitations, property condition standards, and mandatory Mortgage Insurance Premium (MID) fees tacked onto the mortgage payment each month.
Does the government lend the money for loans they insure?
No. When a home buyer pursues a government-backed loan, approved institutional lenders like banks typically write the loan and lend the money; the government agency (FHA, VA) insures the loan. If a borrower defaults on a government-backed mortgage, the bank receives payment for some or all of their losses from the government insurer. That insurer then has the legal right to foreclose on the property securing the debt.
Some government agencies offer direct loans as an alternative to insured private mortgages. These loans are usually structured like traditional loans though borrower qualifications and downpayment requirements are more lenient. Government direct loans are funded by the federal government – if a borrower defaults, the agency gains rights to the property and can proceed with the foreclosure process.
Where to Find Government Foreclosures – 6 Sources
1. HUD
2. IRS
3. USDA-RD/FSA
4. Department of Veterans Affairs (VA)
5. FDIC
6. Freddie Mac and Fannie Mae
1. HUD
The U.S. Department of Housing and Urban Development (HUD) is a top source for government-owned property listings. Most government foreclosure lists can be accessed via the HUD Home Store. FHA foreclosure properties are listed directly on the site, though you'll need to navigate to other agency sites to find additional listings.
HUD Home Store Foreclosure Listings Site
Buying Hud properties: tips and considerations
HUD foreclosure property types range from 1-4 units in size.
Only real estate brokers, non-profits, and government agencies can bid and buy HUD properties and must complete a Name Address Identifier (NAID) through HUD to get approved. Buyers without a NAID must purchase through a selling broker.
HUD properties move through various listing periods. These buying stages are determined by the property type, how long it's been on the market, and the Bid Open Date. Investors aren't allowed to buy during certain periods but may bid on properties in the Extended listing status, usually reserved for listings open for more than 180 days.
HUD-approved buyers (brokers, non-profits, and government agencies with active NAIDs) place bids electronically. Real estate agents who aren't approved HUD buyers must work with a registered selling broker.
2. IRS
The Internal Revenue Service (IRS) is another agency with government-seized real estate for sale. These properties are repossessed due to tax payment defaults and debts. Properties are typically sold by sealed-bid auction. Sales ads and auction dates are posted on the IRS auction site.
Buying IRS-Seized Properties: Tips and Considerations
Properties are typically sold by sealed-bid auction.
Sales ads with property details and auction dates are posted on the IRS auction site, organized by state.
IRS-seized real estate may have encumbrances, which are liens or judgments attached to the asset. If a lien is recorded prior to the auction sale, the buyer is responsible for the repayment of these existing debts. A Notice of Encumbrances (Form 2434-B) list is included with each property listing and shows possible encumbrances so potential buyers can place bids accordingly.
3. USDA-RD/FSA
The United States Department of Agriculture Rural Development Division (USDA-RD) is the largest provider of direct government loans in rural areas. The USDA Farm Services Agency (FSA) handles policies and lending programs on a local level. USDA-RD/FSA foreclosure property lists are typically made up of farms, ranches, and rural single and multi-family dwellings.
Buying USDA-RD/FSA Foreclosure Properties: Tips and Considerations
USDA rural property foreclosures are a bit few and far between compared to real estate in urban settings.
Buyers or agents work directly with the local FSA service office to purchase a USDA foreclosure property. Each property listing page includes a link to the local office's details and account manager contact information.
Property availability can change rapidly – it might be best to contact the local office to confirm that the status and sale dates listed are still accurate.
Buyers may be able to use a USDA loan to purchase a USDA foreclosure property.
4. Department of Veterans Affairs (VA)
The Department of Veterans Affairs (VA) offers direct loans and insurance to U.S. military veterans. VA foreclosure properties are managed by Vendor Resource Management and can also be found on the Multiple Listing Service (MLS) database.
Buying VA Foreclosure Properties: Tips and Considerations
Seller financing through the VA Vendee Loan Program is available for most VA foreclosure listings. This financing option is open to veterans, non-veterans, and investors who qualify.
Buyers, investors, and real estate agents must register for an account to make offers.
5. FDIC
The Federal Deposit Insurance Corporation sells and auctions off properties it has acquired from failed lending institutions. FDIC foreclosure property types vary from single-family and multi-family dwellings to vacant land, commercial structures, and bank buildings.
Buying FDIC Foreclosure Properties: Tips and Considerations
Buyers must come up with their own funds; the FDIC doesn't offer seller financing options.
Local real estate agents and brokers handle FDIC foreclosure property listings.
The FDIC also occasionally holds scheduled auctions. Upcoming sale dates and details are posted on FDIC.gov.
6. Freddie Mac and Fannie Mae
Freddie Mac and Fannie Mae are government-sponsored enterprises (GSEs) that purchase mortgages from banks and back various types of conventional loans. Over half of U.S. mortgages pass through one of these companies, so it's no surprise that Fannie and Freddie have their fair shares of foreclosed properties and real estate auctions, which are posted on their home sites.
Freddie Mac Home Steps Site
Fannie Mae Home Path Site
Buying Freddie Mac or Fannie Mae foreclosure Properties: Tips and Considerations
Buyers and agents work with approved Freddie Mac or Fannie Mae listing agents and brokers when purchasing a property.
Investors may not make offers on real estate listings with a "First Look" status – properties in this stage are reserved for owner-occupants and non-profits.
Offers are typically accepted, countered, or rejected within 48 hours.
Want to learn more about how to source off-market REO and mortgage note deals? Check out our free training for tips, case studies, and investor strategies.
How to Buy Government Foreclosures
Not all government agencies manage their repossessed properties the same way, so some parts of the purchase process will vary by seller. However, if you nail down the basics and you understand the agency's system, you should be able to navigate pretty easily.
Here are three primary aspects to consider when buying government foreclosures:
Real Estate Agent Guidance
Most government agencies hire local real estate agents and brokers to handle their foreclosure listings. While you may be able to work directly with the listing agent to handle your purchase, it might be a good idea to enlist the help of your own agent to oversee your interests throughout the process.
If you plan to invest in multiple foreclosure properties, it's best to bring in an experienced REO listing agent well-versed in the various government agencies.
Funds
No money, no deal, right? Getting money to invest in a government foreclosure may be a bit challenging due to property condition, appraisal values, and other variables associated with repossessed real estate. But it's not impossible, and really, it can be quite simple if you zero in on the right funding for the purchase. Here are a few sources to consider when you're weighing your options:
Seller financing – some agencies offer loans specifically for buyers and investors purchasing their foreclosed properties
Hard money loans – these loans are funded by private investors and could be a good option for fix-and-flip projects, rental investments, and other acquisitions where long-term loans aren't necessary
Conventional loans – if you plan to buy government foreclosures in good condition, a conventional loan might be the best route
HELOCs – Equity loans are a great way to fund a foreclosure purchase
Partners – bringing in additional investors to pool their resources can boost your buying power
Self-Directed IRAs – using retirement accounts to invest in government foreclosures is also an option, though there are some strings attached (e.g., can't be used to purchase personal-use or vacation properties)
Due Diligence
When you're buying a government foreclosure (or any foreclosure or auctioned property for that matter), due diligence is a must. Basic real estate due diligence involves researching all aspects of a purchase or sale and assessing potential risks, losses, and costs associated with a transaction.
Government Foreclosure Due Diligence Checklist
Neighborhood Type and Condition
Surrounding Property Values
Property Condition (and potential repairs)
Real Estate Breakeven Analysis
Deed and Tax Histories
Easements
Existing Liens
If you're an experienced investor, no doubt you've run through this process before. But if you're just starting out or you simply don't have the time to cover all of the bases, consider consulting with an agent or hiring an attorney experienced in real estate to help you check off all of the boxes.
Want to learn more about how to source off-market REO and mortgage note deals? Check out our free training for tips, case studies, and investor strategies.