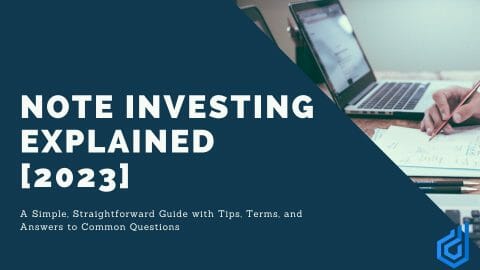 Note investing is an excellent way to profit in the real estate market without maintaining physical property and minimizing your risk exposure in market corrections.
In this guide, we cover how to determine which type of note investing is for you, common note investing strategies, how to get funding for your deals, and more.
Whether you're just getting started in mortgage note investing, you're a real estate investor, or you're a veteran note investor, there's something you can learn from this note investing guide.
What is a Note?
A note is short for the term "promissory note," which is the note or paperwork that describes the loan or mortgage or deed of trust that binds the borrower to pay and gives the property or the real estate as collateral.
In real estate promissory notes are also called "mortgage notes" or "real estate notes."
A real estate note can be traded, bought, and sold just like any other asset that provides regular payments and other rights with regards to the collateral.
So when we talk about investing in real estate notes, we're talking about buying "the paper," the loan on the property. This paper binds a borrower to pay the debt they've taken against the property for acquisition, refinancing, or even cash-outs in the case of second mortgages and home equity lines of credit.
In absence of payment, or in the case of default, a promissory note gives you – as the real estate note holder – the right to collect which can be done by taking a deed-in-lieu of a foreclosure or by actual foreclosure.
What is Note Investing
Note investing is the method of gaining ownership of a debt or loan, secured by a physical asset in the case of real estate. Note investors buy loans from private lenders (seller financing), banks, credit unions, or note brokers.
Once a note purchase is complete, the note investor controls the debt and and the right to repayment according to terms or else has the legal rights to repossess the collateral property that secures it if the borrower defaults.
Note Investing vs Real Estate Investing
When you invest in real estate you're typically buying the property.
When you invest in real estate notes you are buying the debt on the property.
The owner of the note and the owner of real estate each have different rights and responsibilities with regard to the subject property and we cover this more in detail below.
Why Invest in Real Estate Notes
Real estate mortgage note investing is an excellent way to invest in real estate without buying a property.
When you invest in notes instead of real estate, you won't need to stand in a crowd at a foreclosure auction and risk overbidding under pressure…and you don't have to worry about the "3 T's" – Trash, Tenants, and Toilets.
Benefits of Note Investing
Reliable, consistent monthly income
Creative exits
Opportunities to invest in bulk (note pools)
No property responsibilities
Various ways to profit
Capital stack security
How Investing in Real Estate Notes is Different than Investing in Real Estate
Investing in real estate typically means owning a physical, titled asset. The real estate investor has the right to use the property and participates in any appreciation or loss of value in the asset. Additionally the real estate investor can collect rents and is responsible for the upkeep, maintenance, and taxes on the the property. If the owner has a loan on the property and defaults on the loan payments, the lender (note investor) may foreclose on the property in order to recoup capital to cover the debt owed.
Investing in real estate notes, aka mortgage note, means owning the debt on a property. When you invest in real estate notes there is a legal agreement between you, the lender, and the borrower outlining the terms and amount of the loan. The note investor does not have any right to use the property, cannot collect rents, and is not responsible for upkeep, maintenance, or taxes on the property (except in special default situations). The face value of a note investment is not impacted by a change in market value and as such a note investor does not enjoy the benefits of appreciation, however, they do minimize market risk.
When you invest in mortgage notes rather than real estate you may invest in senior or junior liens. We won't expand much on this market here, though – check out our podcast interview with expert distressed second mortgage investor Sándor Lau to learn more.
Real estate notes can provide reliable, consistent monthly income, but that's really just the beginning of what's why people invest in notes. To understand the difference between real estate note investing and real estate investing, you need to understand what a capital stack is.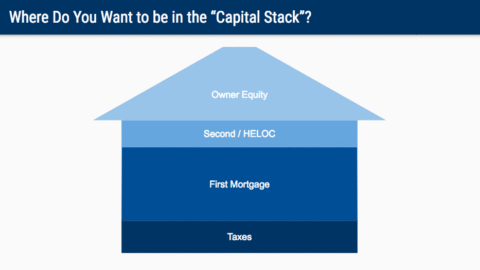 Debt investors or real estate note investors are at the bottom of the stack while the owner of the property or the real estate investor is at the top of the stack. In the event of a market correction or a loan default, it's better to be at the bottom.
Even though the real estate investor enjoys all of the appreciation in a property they are also exposed to market downturns and the loss of equity in a correction impacts the real estate investor much more deeply than the real estate note investor.
Investing in Non-Performing Notes vs. Performing Notes
Performing Notes
A performing note is a loan being repaid according to its terms – lenders consider loans in this status "performing."
When you invest in performing real estate notes, you get the monthly loan payments. Think regular cash flow from a rental property. But instead of dealing with tenants, evictions, property maintenance and upkeep, your only obligation is to receive the money.
You have no rights or reason to contact the borrower or any of the occupants unless there's non-payment or if the note or if covenants in the note are violated.
Otherwise, owning performing real estate notes is very much a passive investment.
Non-Performing Notes
If a real estate note is non-performing, that means it hasn't been paid according to terms. Typically, a non-performing loan is defined as one which is 90 days or more past due.
When repayment on a note has ceased or is disrupted the note investor (lender) has a few methods available for resolution and collection:
Workout and Modification – This is where the lender (note investor) works to adjust the balance, terms, or both in order to restructure the debt.
Note Sale – the note investor may choose to sell the debt to another investor
Deed-In-Lieu – This is where the borrower acquiesces and hands over the collateral (the property) to the lender (note investor). Often this is done with "cash-for-keys."
Foreclosure – If, as the note investor, you cannot satisfactorily modify the note, you won't recover enough when you sell the note, and the borrower won't hand over the property in a "friendly foreclosure" (deed-in-lieu) then its time to move onto a foreclosure in order to collect.
Investing in non-performing real estate notes is a different skill to learn and provides different (read: MORE) opportunities than a performing note.
Investors buy non-performing real estate notes for the "upside" meaning that you buy the note (loan, mortgage) at a discount and employ one of the four methods above to create additional profits.
It is true that you do take on additional risk when you invest in a non-performing rather than a performing real estate note but depending on the position of the loan , senior or junior, and the underwriting… buying a non-performing loan can still be less risky than real estate investing.
Who Invests in Real Estate Notes
Private investors
Institutional lenders like banks and credit unions
Brokerage companies
Real estate agents and brokers
Individuals seeking alternative real estate investing opportunities
Private Equity and Hedge funds
Family Offices
Self-Directed IRA Investors
Lenders, aka banks and credit unions, are essentially investors. They have capital, and they're investing in a borrower paying back their loan. In addition to these lenders, lots of other individuals and entities are in the mortgage note investment arena, like mom and pop IRA investors who are looking to grow their IRAs and seek a more secure and more predictable return than you can get in something riskier. Like the stock market, family investment offices will invest in mortgage notes, so hedge funds, big institutional investors, and similar groups invest in mortgage notes.
If you think about mortgage-backed securities (think Fannie and Freddie), mortgages are a large part of all investments in the United States. Really, the world is largely driven by US mortgage debt – that investors own. And the reason they buy it is because it can be very secure and predictable.
3 Ways to Make Money Investing in Mortgage Notes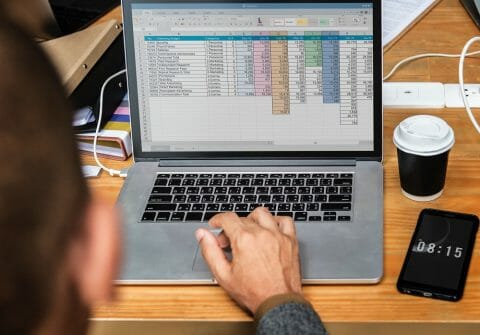 1. Loan-to-Own Note Investment Strategy
Loan-to-Own investors buy distressed mortgage debt at a reduced cost to gain ownership of the property or asset through a credit bid during the foreclosure process.
Example: A commercial property's non-performing loan balance is $1M and a loan-to-own investor negotiates with the lender to purchase the note (debt) for $500,000. During bankruptcy or foreclosure proceedings, the note holder can leverage the total debt value ($1M) to make a credit bid to purchase the assets securing the loan.
2. Note Rehab Strategy
In this strategy, note investors buy a non-performing note at a discount and then build value in the note by negotiating new terms with the borrower and getting the loan re-performing – meaning getting the borrower to pay on time for a number of consecutive months. At this point the investor can choose to enjoy the monthly payments or can sell the newly rehabilitated note to another investor for more than the discounted acquisition price.
Did You Know? Often, banks and other institutional lenders sell notes because regulated institutions don't have the same flexibility to modify terms as private note investors.
3. Buy and Hold Strategy (Clipping Coupons)
Simply owning a performing note (or part of one) note which is paid on time every month can be an excellent strategy especially for risk-averse or more passive investors.
For example, I invest in fix and flip loans via Fund That Flip and enjoy consistent monthly returns on par with the stock market but with less risk and volatility.
5 Easy Steps to Get Started Fast in Note Investing
If you've decided that you might want to get started with note investing, then there are a few things you should do next.
1. Decide whether you are an opportunistic or a more passive investor.
This will determine whether you're pursuing performing or non-performing notes.
If you're simply interested in passively investing your own capital, then you should register here as an investor, check out Papersource, which is an excellent online resource and offline newsletter, and have a look at Paperstac (as long as you don't mind paying retail).

If you're interested more in the business of notes, including sourcing, brokering, rehabbing, flipping notes, then read on.
2. Learn about the actual process of buying a note.
Buying notes is a bit different than closing a real estate deal – it helps to learn the mechanics of a note transaction before you start looking for deals.
3. Learn how to source notes.
Once you've decided that you're pursuing discounted non-performing notes, the most important thing you can do next is to learn how to find deals. It is THE most important job and the first step in making a deal happen. We have a free online training course that covers sourcing notes in some depth.
4. Learn how to fund your deals.
Investing in notes requires money. Don't be put off if you haven't got your own capital to start -you're not alone. Lots of folks start with almost no money of their own. We also offer our members a database of verified investors with whom they can partner and get funding for note deals.
5. Learn how other note investors built successful note businesses.
We have a whole library of interviews packed with stories and insights from successful note investors – start here. And, remember, no two journeys to success are exactly the same.
 How two note investors broke into the business using the Distressed Pro system to buy notes directly from banks. 
How to Fund Your Note Investing (6 Ways)
Unlike traditional real estate, you likely won't be able to get a loan to buy mortgage notes. Investing in real estate notes is capital intensive which means that you will need cash to do it. The good news? There are lots of options when it comes to raising capital for note investments.
1. Focus on brokering or flipping notes first.
When you broker or flip notes, you don't have to find funding at all, you just need to find an end-buyer for the notes you source. There are private investors like Amerinote and even institutional investors like First National Bank of America who will be happy to put some money in your pocket just for brining deals to them.
2. Find an individual with money with whom you can partner.
You do the work, they have the money, a match made in heaven! Here's a great example of how to put together a note business plan and how to structure a joint venture.
3. Get a loan that's not specifically for notes.
Have a business already? Consider taking a business line of credit. Have a bunch of equity in your home or another property? Why not take out a second mortgage or refinance and take some equity out and put it to work in mortgage notes.
4. Tap into your own Self Directed IRA or raise money from others who have IRAs.
5. Borrow against your stock portfolio.
You can borrow against your stock portfolio at really low interest rates.
6. Ready to take it to the next level? Start a fund.
Put together a PPM like PPR Note Co did – they quickly amassed hundreds-of-millions in investment. Problem solved!
Real Estate Note Investing Terms and Definitions
Accredited Investor – an entity or individual with annual income and a net worth that meets certain parameters set by the Securities and Exchange Commission (SEC). Investors with this classification are approved to invest in securities that aren't registered with regulators (and are often considered higher risk).
Acquisition Costs – the total price of an asset purchase (excluding taxes) after factoring in discounts, overhead expenses, and other costs incurred when acquiring the asset
Cash for Keys – another term for "deed in lieu," an arrangement in which a lender establishes a foreclosure alternative to encourage a borrower to vacate a property in exchange for its deed. Lenders often include cash incentives to expedite the process, hence the "cash" (incentive) for "keys" (deed).
Contract for Deed – a legal agreement for a property purchase in which a buyer takes possession of the property and makes payments directly to the seller. In this arrangement, the seller holds the title until the buyer pays the purchase price in full.
Credit Bid – the bid that the lender makes at a foreclosure auction, which in most states can be up to the full amount owed to the lender including fees, penalties, and default interest.
Default Interest – an increased amount of interest which is triggered when a loan is not paid according to terms
Deed of Trust – a legally binding agreement between a borrower and a lender that grants the asset (property) to a trustee, typically a neutral third party who holds the asset until the borrower pays off the debt
Due Diligence – The process of researching and reviewing all aspects of a purchase or sale and assessing potential risks, losses, and costs associated with a transaction
Note Broker – a financial "middleman" or agent who connects investors with mortgage notes that are for sale. A note broker typically has connections on both sides of the market and maintains relationships with lenders and buyers interested in real estate note investing.
Note Fund – a pool of money group-funded by passive investors with interest in a company's investments and acquisitions
NPL / NPN – non-performing loan (NPL) and non-performing note (NPN) in each case refer to a loan that is more than 90 days past due.
Re-performing / Re-performer – a loan that was non-performing but is now paying once again.
Tape – an industry term for a list of assets typically delivered in a spreadsheet.
UPB – Unpaid Principal Balance (UPB) is the face value remaining on a loan.
Workout – the process and also the name of the department in a bank for working out troubled loans.
Check out our glossary for more industry definitions. 
Common Myths about Note Investing
You have to know how to foreclose when you buy a note.
FACT: You should be understand the basics about foreclosure laws in the states where you're investing but you'll end up hiring an attorney for the actual work.
Non-performing notes always sell for pennies on the dollar. If they aren't "cheap," don't buy them.
FACT: NPL pricing varies with the market and the property and each investment opportunity should be assessed on its own merit.
Mortgage note investing is complicated and high-risk.
FACT: Once you understand the lender/borrower relationship, rights, and obligations, note investing is quite simple. Moreover, in most cases note investing is LESS risky than real estate investing. All investments carry some risk but understanding the capital stack and lien priority should assuage most fear.
Only investors with deep pockets can really make money investing in notes.
FACT: Most folks who got started in this business did not do so with piles of their own capital.
Banks won't sell notes to small, independent investors.
FACT: Performing, conforming mortgage notes are largely sold to Fannie and the GSEs. However non-conforming, Non-Qualified Mortgages as well as "out of the box", jumbo, non-performing loans and other portfolio loans are fair game for investors.
What does it take to be successful in note investing? Listen to this interview with a Distressed Pro member discussing how he landed his first bank-direct note deal.
Note Investing FAQs
What are the costs of note investing?
You'll need to invest first in finding the notes, which often includes software or buying lists. You'll need to invest in due-diligence before making an investment. You'll then likely want to hire a loan servicer.

If you need to foreclose, you'll need to hire an attorney, and you may want to hire an attorney to help you close transactions. If you're raising money from others, then expect more attorney fees for those contracts. This is by no means a comprehensive list of note investing costs, but should give you some idea of what to expect.
How much money do I need to start investing in mortgage notes?
Zero. But that means you'll need to put in some sweat equity. Check out this interview with Mike Ruscica about how to get started with no money.
What's the difference between a secured note and an unsecured note?
A secured note means that there's collateral that the lender can repossess in the event of default.
An unsecured note means there is no collateral that the lender can repossess. Unsecured notes are riskier and usually have higher interest rates. For a lender to collect on the debt in default, they would have to pursue the borrower in court and get a judgment against the borrower.
What's the difference between investing in notes and investing in REO?
REO means we're talking about real estate, not notes. REO is short for "Other Real Estate Owned" (OREO), which is a line item on a bank's balance sheet for the property that it has acquired through the foreclosure process. So, REO is just another term for bank owned property and is the result of a lender collecting on a non-performing real estate loan.
Can I invest in real estate notes for retirement?
Yes! You can do this with a Self Directed IRA.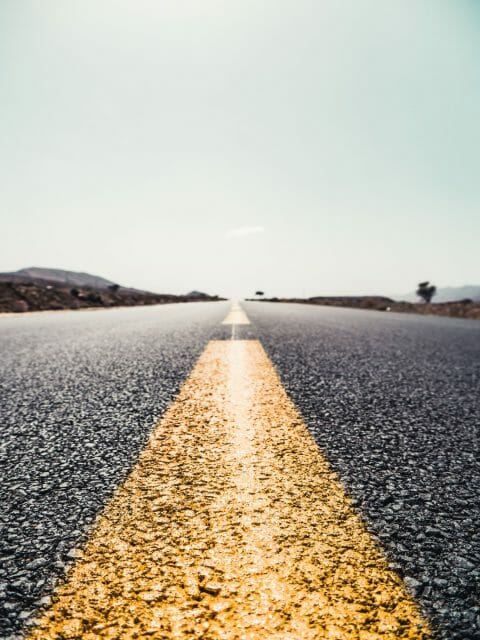 Mortgage Note Investing: Build Your Portfolio Today
Congrats! You've graduated from Note Investing 101.
Now you know:
Buyers large and small can benefit from investing in the note market.
Notes are popular among investors looking for ways to invest in real estate without owning property.
Note holders can enjoy security, creative exits, and in some cases, monthly cash flow.
You don't need your own money to invest in real estate notes.
Note investors can use several strategies to profit from notes.
Most people can have success investing in mortgage notes as long as they understand the process, have the right tools, and know where to find deals.
Sound like note investing is for you? Hop on this web class to learn more about how to launch your mortgage note investment business.
Already a note buyer? Grow your business by getting your hands on some quality software. With BankProspector, you can dig into lenders' data and filter your searches for those who have the notes you want, eliminating hours and saving thousands of dollars a month. Get instant access to BankProspector today!