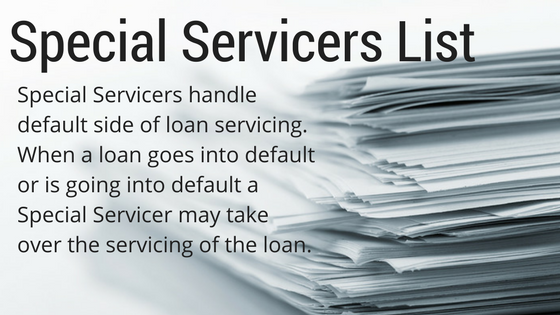 Mortgage Servicers service loans for investors. Mortgage servicers are responsible for collecting payments and holding escrows etc.
Special Servicers handle default side of loan servicing.
When a loan goes into default or is going into default a Special Servicer may take over the servicing of the loan.
This is always the case in CMBS (Commercial Mortgage Backed Securities). Most local and regional banks however handle their own loan workouts or special servicing in-house.
Certain residential special servicers are notoriously difficult to work with.
If you are a Realtor brokering a special servicer's inventory you're very often out of pocket for a significant amount of repair and maintenance costs on the properties you're assigned.
If you're an investor seeking to buy REO (bank owned real estate) you must work through the proper channels. If you are a note investor, however, special servicers can be a great source of non-performing notes.
In the case of REO servicers will direct you the brokers who have listed the property for sale.
Still, making money working for as a broker for a residential special servicer is a high volume low margin game. There's certainly be money made but it is not without it's headaches and risk.
Working direct with decision makers at your local and regional lenders should be a much more rewarding and profitable experience.
Commercial Mortgage Backed Security Servicers
Most CMBS default is controlled by a very small group of special servicers. And while these servicers control some 70% of the commercial real estate default business I would suggest to you that the remaining 30% that sits with your local and regional lenders is where you should spend your time.
Below is a list of CMBS special servicers.
BankProspector subscribers have access to a growing list of nearly 200 special servicers, BPO companies, asset management companies and more.
See the Complete Servicers List
Here's a short list of some of the top special servicers.
---
BNY Asset Solutions, LLC
Bank of America
CBRE Loan Services
Key Commercial Mortgage
Lument
LNR Property LLC
Midland Loan Services, Inc. (now part of PNC)
Ocwen Financial Corporation
Prudential Asset Resources
Situs Servicing, Inc.
TriMont Real Estate Advisors
Wells Fargo Commercial Mortgage Services
Got a Question About Special Servicers? Ask it below.