Overall multifamily loan performance continued to improve in Q3.
Although this follows a 50% spike in 90+ day late multifamily mortgage loans at the end of Q2 2022, total distressed loans have fallen every quarter for the past year.
Dive into the BankProspector dashboard to find out which banks hold most of these non-performing notes.
Multifamily Loans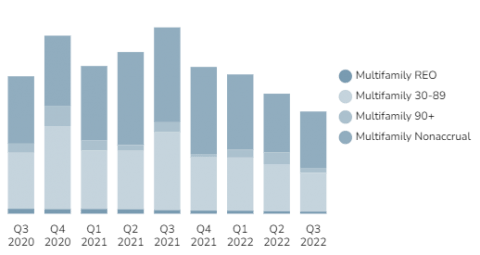 The incredible demand for multifamily assets over the past couple of years appears to have kept this space solid. In fact, more and more investors seem to be stepping up and into the multifamily space.
Even though interest rates are high, Airbnb has been struggling and the economy has been a roller coaster, demand for multifamily income properties is certainly helping to absorb any distress on bank balance sheets.
Multifamily loans now appear to be healthier than ever, with the lowest amount of non-performing loans and REOs we've seen in at least two years.
Just 260 banks report that they currently hold a combined $792M in non-accrual stage multifamily loans.
Following that is just over $600M in newly defaulting 30 to 90 day plus late loans, which are still making their way through the process.
Multifamily REO
The volume of multifamily REOs on bank books have also continued to shrink, now down to around just over $29M. That's less than half the volume seen in Q3 of 2020.
Investors and funds continue to favor loading up on MF income properties to recession-proof their portfolios and boost income, especially in more affordable regions which makes it unlikely we'll see a huge surge in defaults in the short term. Though anything can happen.
Looking Ahead
Multifamily income properties and debt still seem to be some of the most in-demand assets. There are few REOs available, with even fewer defaults coming behind those.
Demand for these assets and the high prices many funds are still paying for them is giving any landlords in distress an exit.
Of course, more seasoned investors report that they are being ever more selective about the assets they buy and the prices that they are willing to pay for them. Though there do seem to be some value-added opportunities for those with the capital and financing to take on big projects.
However, another year of similar rate hikes or a new global recession could bring some new distress to landlords who have overpaid for properties in high-cost markets.
Log in now to see which banks are holding the most distressed multifamily loan notes.