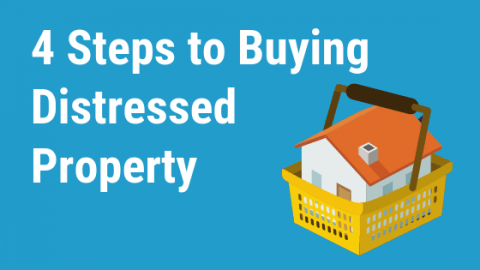 Finding banks with REO property is only one part of the equation.
The other part is actually getting an offer accepted and closing the deal. In this article we'll walk you through how the process works, the most important factors to watch out for, and well as how to make an offer, negotiate and finance distressed property.
How do you actually buy a distressed property?
Buying distressed properties from banks and other institutions isn't too different from any other home or commercial real estate purchase. There are a few quirks and potential oddities for those new to it, but the mechanics and pieces are essentially the same as buying a home or apartment building through a Realtor or John Doe down the street.
In this article, we will take you through the process of buying distressed property. At first, you might be intimidated by the thought of buying distressed property but we have broken it down into 4 easy steps.
You will learn:
Step 1 – Find distressed property
The first thing you need to do is to learn how to find what you are looking for, not all distressed properties are created equally which is why you should spend some time finding the right property before putting in an offer.
Finding the right properties isn't as easy as walking into a bank and asking to see all of their distressed property, which is why we have created this guide that will show you how to find distressed property.
Step 2 – Make an Offer
How Much Should I Offer on a Distressed Property?
All too often buyers offer far too little, or far too much when it comes to buying distressed properties. So how much should you be offering?
When you're making an offer to purchase bank owned property you should be very aggressive in your discount. REO asset managers aren't going to be offended and don't have any "skin in the game". The thing that matters most, in my experience, to an asset manager is that you perform and there's no "re-trade".
When you're buying a distressed property from a private seller who's in trouble, that's a different story.
In some scenarios, you'll want to go in with almost your best offer upfront and justify your offer with facts.
For example; if you know the property, have an estimate of repair costs, or know of other factors which could impact the value, and the seller may not know about – document it with your offer and show the seller how you arrived at your price.
Most importantly; make sure you satisfy what is most important to the seller. Often this has nothing to do with the top line purchase offer price at all. A private individual may be most worried about having time to move. And about having the money to move out of a property in foreclosure, to a rental, or anywhere else for their family.
A bank is normally concerned with the net proceeds and a definitive timeline.
Seven Tips for Negotiating Distressed Property Deals:
Have a power contact that can make decisions and exceptions
Understand the most important factor to the bank
Understand the exact format they require offers to be made in (and follow it)
Minimize contingencies with a clean straightforward contract
Accompany your offer with a supporting price information
Offer the tightest timelines within which you're able to perform
Demonstrate your ability to pay
Check these boxes and you may find that you can negotiate very substantial discounts.
Step 3 – Due-Diligence
Distressed property can have surprises.
Your due diligence process will be the difference between buying very profitable distressed properties and finding yourself underwater on your deals. The due diligence process can be split into two parts, there is the preliminary due-diligence that you do before you make an offer then there is the formal due diligence process that starts after you have made the offer.
During the preliminary due-diligence period you will be gathering all the information that you can to tell you what to bid.
Here are a few strategies you can use to help you determine the value of the distressed property that you want to buy:
Find three "after repaired value" similar comps in the area
Verify the property condition and occupancy
Pull the jacket at the town or city hall (the building department has one for every property)
Use Zillow for value estimates
In the case of private sellers, you may want to perform title due diligence
Check Pacer for Bankruptcy in the case of private sellers
Don't skimp on your due diligence. Investing some time and money before you purchase the property is the only way to ensure you're making the best investment.
Step 4 – Fund and Close
Financing Distressed Property
There are many financing solutions for buying distressed properties. The right choice is really about finding the right fit for your goals and transaction.
Frequently, however, distressed property won't be financeable with a traditional mortgage. This is typically the case if the property needs significant repairs, for example, doesn't have a stove, has had copper plumbing or heating removed, doesn't have a certificate of occupancy, etc. The list of damages a foreclosed homeowner can inflict on a property is long and any number of things can prevent you from getting traditional financing.
Here are a few financing options you should investigate:
Hard Money – Hard money is private, short-term, money that is typically lent on the merits of the deal rather than relying on more traditional factors like a credit score. You can easily find hard money lenders here. Terms will vary lender to lender.
Credit Lines – If you're in the real estate business you should have a credit line that you can use for difficult acquisitions. Find out about 5 alternative funding options for distressed property here.
203(K) Rehab Loan – Is for homebuyers rather than investors but can be an excellent option if you plan to live in the home. Here's the top article on that.
In conclusion, buying a distressed property isn't much different than buying any other property with these exceptions:
You need to be sensitive to your seller's situation and identify motivating factors.
You need to invest in your due-diligence and document price rationale
You may need alternative financing if the distress is physical and not just financial in nature.
That's it. Now go find yourself a discounted distressed property.
You may also be interested in reading our guide to pre-foreclosures here.