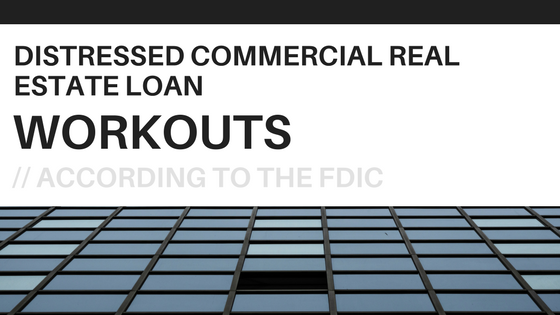 On Friday the FDIC issued guidance to banks in the form of a policy statement on how to workout distressed commercial real estate loans entitled Prudent Commercial Real Estate Loan Workouts . The stated purpose of the document is
It is intended to promote supervisory consistency, enhance the transparency of CRE workout transactions, and ensure that supervisory policies and actions do not inadvertently curtail the availability of credit to sound borrowers.
But it goes on to talk about accounting principles in dealing with distressed commercial real estate loans in determining their reporting status – accural vs a non-accrual loan. If you're working with banks' distressed commercial real estate loans then it is fair to say this is a must read. This document should give you insight into what bank's need to take into consideration knowing that reporting is tightening up. I'm going to try to hit the highlights for you in this post since this is a government produced document and I don't want my readers falling asleep.
I'll break it down with excerpts section by section:
III.  Loan Workout Arrangements
Loan workout arrangements need to be designed to help ensure that the institution maximizes its recovery potential. Further, renewed or restructured loans to borrowers who have the ability to repay their debts under reasonable modified terms will not be subject to adverse classification solely because the value of the underlying collateral has declined to an amount that is less than the loan balance.
So in short, if the borrower and guarantors of a distressed commercial real estate loan can write the check and you'd rather extend the loan, restructure the loan or what-have-you, the fact that the property is worth less than is owed is not the determining factor for whether or not the bank has to action on a CRE loan in technical default (default for reasons other than non-payment). It also say that bank's must do whatever will allow them to maximize capital recovery (essentially).
A.  Analyzing Repayment Capacity of the Borrower
Basically look at the whole borrower and the guarantors. If they have the ability to continue to pay and their future ability to pay is defensible then carry on.
B.  Evaluating Guarantees
A good guarantor with a solid contract means you can keep reporting the loan is in good standing.
C.  Assessing Collateral Values
A new appraisal may not be necessary in instances where an internal evaluation by the institution appropriately updates the original appraisal assumptions to reflect current market conditions and provides an estimate of the collateral's fair value for impairment analysis.
I think this is important because it seems like it's realistic appraisals that determine liquidation potential. If you're in the transaction business this is important for obvious reasons.
The documentation on the collateral's market value should demonstrate a full understanding of the property's current "as is" condition (considering the property's highest and best use) and other relevant risk factors affecting value.
If you were thinking you were making condos but there is no condo market so now you have apartments you've got to say it. This is a big one because with some $90+ billion in bad construction debt out there there are a lot of projects that are not going to take the shape that was originally envisioned for them.
…if the institution intends to work with the borrower to get a project to stabilized occupancy, then the institution can consider the "as stabilized" market value in its collateral assessment for credit risk grading
Huh? Are projected stabilized values anything like reality today? If you're a borrower this is great if you're a bank you're probably just delaying your troubles. This looks like a big get-out-of-jail-free card for a well funded borrower. I think it shows that if you can put together a real plan that looks good on paper you can buy yourself a lot of time.
Examiners generally are not expected to challenge the underlying valuation assumptions, including discount rates and capitalization rates, used in appraisals or evaluations when these assumptions differ only in a limited way from norms that would generally be associated with the collateral under review.
Make it believable and the borrower gets a pass.
B.  Classification of Renewals or Restructurings of Maturing Loans
Many borrowers whose loans mature in the midst of an economic crisis have difficulty obtaining short-term financing or adequate sources of long-term credit due to deterioration in collateral values despite their current ability to service the debt. In such cases, institutions may determine that the most appropriate and prudent course is to restructure or renew loans to existing borrowers who have demonstrated an ability to pay their debts, but who may not be in a position, at the time of the loan's maturity, to obtain long-term financing. The regulators recognize that prudent loan workout agreements or restructurings are generally in the best interest of both the institution and the borrower.
READ: as long as we're in this credit crunch if your CRE loans are due and a refi is not possible for whatever reason, as long as the borrower can pay, you work out how you see fit, we understand and we'll be patient.
The next few sections don't provide us much insight as distressed asset deal makers but I think it is informative to see how the FDIC would like the banks to be thinking.
C.  Classification of Troubled CRE Loans Dependent on the Sale of Collateral for Repayment
This section speak specifically to how to classify the loss or potential for loss with a CRE loan. Specifically it indicates that when the sale of CRE is necessary to repay a loan the amount that that property is under water should be classified as "doubtful" but use that term sparingly.
D. Classification and Accrual Treatment of Restructured Loans with a Partial Charge-off
When you restructure a loan and charge off a piece the remainder of the loan is at worst substandard (rather than 'doubtful'). It goes on to say that one workout strategy might be to separate the loan into two enforceable loans, and then you put the senior piece on your books as 'accrual' in many cases (meaning 'its all good').
A. Implications for Interest Accrual
If you restructure a loan that is not already in nonaccrual keep it out of there but document everything. If the restructuring happens after it hits nonaccrual then you're going to need 6 months more of good history before you move it back to accrual.
I think the lesson here is that if you're a borrower with a distressed commercial real estate loan then you should be working hard to modify or restructure your loan BEFORE you get into trouble.
Why?
Because its much easier for the bank to deal with. They can keep your note in a nice safe warm accrual place and they don't have to be all over you for months. One interesting side note in this section is that it says:
A sustained period of repayment performance generally would be a minimum of six months and would involve payments of cash or cash equivalents.
If anyone can tell me what the cash equivalent is I'd love to hear about it in the comments. Do interest reserves count?
The paper goes on with about 14 pages of commercial loan workout examples and several pages of attachments. Anyone working to restructure CRE loans for borrowers or those working with banks should read these.