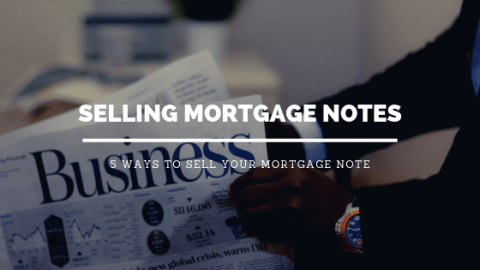 There comes a time in every note investor's life when it's time to sell.
In this article we layout all the options for how you can sell your mortgage note.
Whether you seller financed a real estate sale and held the note on the property or you're a note investor who is looking to divest, this note sellers guide will help you determine the best disposition strategy so you can sell your note.
Here are your the top 5 options for selling a mortgage note in 2019.
1. Hire a Note Broker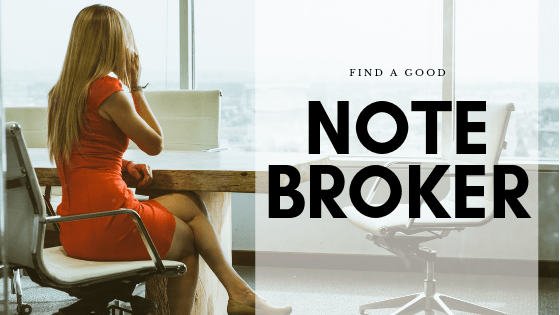 Unless you're in the note business full time you probably don't have a list of ready and willing note buyers in-hand.
That's OK because other folks do and they're called note brokers. In addition to finding a note buyer for you a good note broker should help you package your note to sell and get all your details and documents in order for the sale.
A good note broker should:
Represent you in the sale of your note as a fiduciary representing your interests
Have an active list or vetted note buyers
Help you package, price, and sell your note(s)
Be prepared to pay a percentage of the sales price and understand that many brokers will price their commissions based on the size of the sale where lower dollar deals incur higher percentage commissions.
One caveat, most note brokers are also note investors and since there's virtually no licensing for note brokers there are very few regulations protecting you as a note seller.
In fact some in the note business say that you should never call the note seller your client. If a note broker does not consider you to be their client that means that they have no obligation to get you the best price or terms.
Make sure you vet any note broker you're considering hiring to sell your note.
If you have a note you're looking to sell right now and you're interested in hiring a note broker but not sure how to start click the light blue beacon on the bottom corner of this page and reach out to us at support at distressedpro dot com.
Pros
Can be very fast
You do very little work
Cons
Pay a commission
Unregulated field, shady characters
2. Sell Your Mortgage Note to an Institutional Note Buyer
There are plenty of private companies that claim to buy mortgage notes only to end up brokering your note to another buyer and ending up in a long daisy chain.
You want to avoid this if at all possible.
What you could look for instead is an institutional note buyer, a large company that has a track record of consistently performing, closing deals.
First National Acceptance Corporation is one of the premier institutional note buyers in the United States. In fact they're a division of an FDIC insured bank!
If you've got a straightforward real estate note or Trust Deed at a traditional rate then going straight to FNAC to sell your note could be a winning solution.
I actually have an interview with Gary Watkins from FNAC that you can listen to right here.
In fact I'll make a personal introduction for you if you have a note to sell. You can email us at support at distressedpro dot com and we will be happy to make a personal referral.
Pros
Fast
Virtually guaranteed to close once under contract
Cons
Narrow purchase "box" means your note might not be of interest
Fixed return demands could mean that you need to take a haircut to close the deal
3. Sell Your Mortgage Note to an Individual Note Investor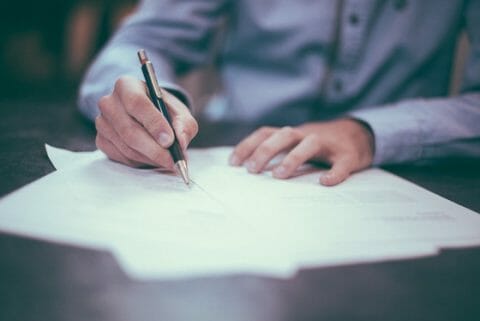 Selling your note to a local note investor is one way to get the most money for your note.
There are note buyers in your area who are likely to pay more for an asset in a locale that they understand and already do business in.
If you're in the business of regularly trading notes then there is no question that you should be building your own list of note buyers, especially local note buyers, so that you can sell notes on your own when you need to.
If, however, you're looking just to sell the one note then it doesn't make a lot of sense to invest your time in this channel.
If you don't already have a list of local note buyers there are a few ways to find them including:
Attend local real estate meetups
Post on real estate forums like BiggerPockets
Post on LinkedIn groups
Post in Facebook groups
Contact local realtor and estate agents
Craigslist
Google Ads
Facebook Ads
Content marketing (if you have a note investor website)
The important thing is to put your note buyers into an email list so that the next time you have a note to sell you can find your buyers in just a few clicks.
There is no excuse for not building your own note buyers list if you're serious about the note business.
Pros
Probably the second best way to get the most money for your note
Dealing direct means you won't lose some of your value to commissions
Cons
So many jokers who will say they're buyers but really they're going to flip your deal
Time consuming going back and forth with the nimrods
Finding them is up to you
4. Sell Your Note to One on Our List of Vetted Mortgage Note Investors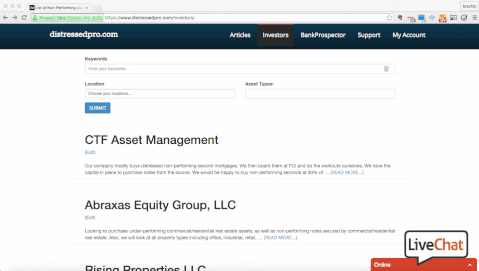 Distressedpro.com is a pretty high-traffic site for this tiny industry. The result is that we get a lot of investor visitors.
One of the things that we do is maintain a list of vetted, verified investors. This list is updated on a regular basis. At this moment we have over 100 verified investors in the market for a variety of assets including both performing and non performing notes. Demand is nationwide.
Our Verified Investors apply to be listed in the Verified Investors Database.
Once they've answered some questions and verified some past deal information we allow them to get listed.
Each investor has their investment criteria and contact information listed. You can see what kind of assets they buy, where they buy them, and who to contact about your note sale.
If you're selling just one note and you're not in the regular business of trading notes then reach out to us and we'll help connect you with the right investors.
Pros
Very easy to find real note buyers
Dealing direct means you won't lose some of your value to commissions
Fast
Cons
$199 annual fee for access
Only available to subscribers
5. List Your Notes for Sale on Paperstac's Notes Marketplace
List your mortgage notes for sale on Paperstac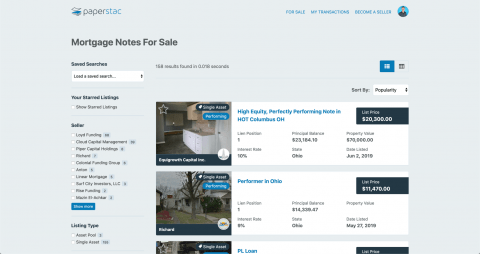 Paperstac is hands down, the best online marketplace for selling your mortgage notes.
They have a very clean user interface with easy-to-use menus and upload options. Unlike, a lot of competing websites that promise to sell your note but have very little traffic, Paperstac is gaining momentum as the leader in attracting daily users, all looking to buy your mortgage notes.
On top of the modern design and active buyers, every Paperstac transaction comes with a helpful to-do list that guides you through each step of the sales process in the most efficient order. They also have a notary and shipping solution so you can be secure that all of the necessary documents are securely passed between you and your buyer.
Pros
Guides you through the entire sale
Makes your note available to a wide range of buyers
Cons
You'll pay a (modest) fee for a successful sale
What if I'm just Selling a Single Mortgage Note?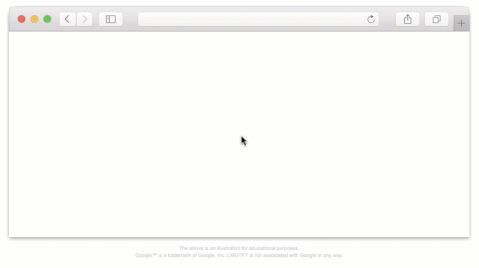 All the work I mentioned above is required if you're in the regular business of trading notes.
If you're just selling one single mortgage note, don't do all that. Do this.
Google is smart enough to know where you are when you're googling so go ahead and type in "local note buyers" and see what the results are.
You may find that all you need to do and you've identified your buyer.
Bottom Line When You're Selling Your Notes
If this is not your regular line of business then feel free to contact us at support at distressedpro dot com> You should consider hiring a note broker to sell your note, calling on an institutional note buyer, or listing your note for sale on Paperstac if you're going to do it yourself.
If you're in the note business (or want to be) then you should continually build your own list of note buyers and get acquainted with the bigger institutional buyers of notes.