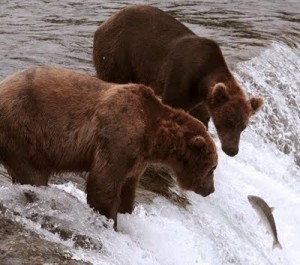 Commercial foreclosures aren't the same as residential foreclosures. While the foreclosure process varies from state to state the process also varies depending on whether the property is residential or commercial.
In Massachusetts, for example, you can find early info on residential properties by tracking the Servicemembers Civil Relief Act notices that are filed and recorded with the registry, not so with commercial.
Over the last 5 years most of my transactional work has been non-residential foreclosure and REO sales for banks. By non-residential I mean commercial, multifamily, and construction loans that went bad.
Once we start advertising an auction I get all kinds of calls from people who want to buy the property pre-auction, or who want to stop the auction by buying the note. Most of the time if I'm running ads then you're too late for that and your best bet is to show up at the auction.
Some investors, however, go upstream. It's not uncommon for me to be talking to potential bidders who knew that the sale was coming before I even got the file. The number of files that I never even see because a deal was done before it reached me, I can't say.
There are several reasons for a lender to sell a note to you:
Reduced liability, any errors in the foreclosure process are now yours.
Uncertain pricing, at auction the eventual sales price is unknown
Immediate capital, foreclosures can take a while especially if the borrower files bankruptcy
Reduced headache,if the lender forecloses and takes the property in as REO the management and foreclosure expenses can be significant, they're not set up to own real estate
Clean hands, some community bankers would rather avoid the publicity especially if the borrower is well known locally, they're not the bad guy if you have the note
Going Upstream for Commercial Foreclosures
#1 Distressed Owners
Nine times out of ten an owner is going to market his property if he's in trouble in an effort to avoid foreclosure. Often the listing will be overpriced because he's under water. Most of the time when I hear from a private seller who's considering an auction he'll have had the property marketed both for sale and for lease, sometimes for extended periods, almost always over priced.
There's a possibility you can find your way through a short-sale with an owner in a position like this but there's a lot of work involved for a single deal that's, let's face it, not likely to happen. If your negotiations fail, however, it doesn't mean it has to be all for not.
If you can learn who the lender is (in some states the recording mechanism makes that easier than in others) you could parlay your short-sale attempt into a note purchase from the lender by using your knowledge of the property and the market to get an audience.
#2 Lender Counsel
Some attorneys just process paperwork and some are actually deal makers. Attorneys who represent banks don't tend to represent just one.
If the practice is heavy into commercial foreclosure representation you can bet that they have a number of close bank relationships. In fact you're very likely to see the same few firms' names on most of the notices of default published in your local paper. If the firm a is a foreclosure factory pumping out notice after notice for the largest lenders you're wasting your time.
If, however, you see the same names repeatedly representing banks for commercial foreclosures for credits at community and regional banks then you might have someone you should talk to.
Commercial workout officers depend heavily on the bank's counsel. If you find someone who is a deal maker and you prove yourself to be a much needed source of capital who can perform in sticky situations you could find yourself pretty busy with a few of the right connections.
#3 Community or Regional Bank Commercial Workout Departments
Unless you're looking for high 8 and 9 figure deals you're probably wasting your time trying to pursue the top 10 or 20 banks. Fear not, there are still some 3,500 plus banks with commercial foreclosures most of which are your more accessible community and smaller regional banks.
If you can find out who your target banks are and who you should be talking to inside a handful of banks you are in a position to develop a serious pipeline where you will get a call (or an email) when the lender has loans that are going south. If you're a commercial REO broker this is when you'll be called upon for a BPO.
You may have noticed that all three of these routes end with the bank, and that's no mistake because as you know, the bank is in the driver's seat these days.
The way banks handle their CRE defaults internally varies. In some banks there are dedicated departments named 'Commercial Workout' , 'Special Assets', or something more sneaky like 'Global Restructuring' (that's a real one), also 'Special Assets'. Sometimes the REO asset manager isn't involved in the workout process at all. Some small banks use the 'Line', the commercial loan officers, to handle their own problem (not a good idea in my opinion, but common) loans.
If there is an obvious entry point then start there, if not then you can avoid a lot of the guessing by calling high. If you're not comfortable calling the president then call an SVP of Commercial Real Estate or 'Commercial Lending'.
When you call high you're going to get bumped down eventually but at least you'll know you're in the right place. A word of caution, it seems everyone that's not a teller or a branch manager is a VP at a bank so you shouldn't be under the impression that you're talking to a decision maker (necessarily) if that's contact's title.
Commercial foreclosures will be with us for a while and this is most certainly the best opportunity since the RTC days. Start looking for ways to upstream your deal sourcing now and get yourself positioned to win.