2020's third-quarter numbers are in. Multifamily loans and REO show stability. But distress is brewing…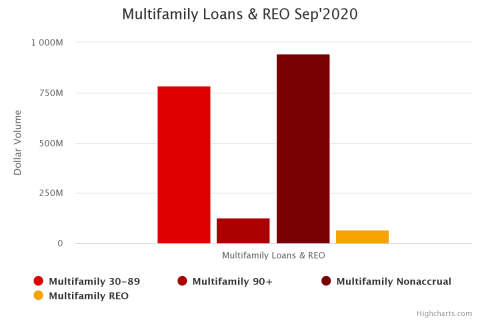 Distressed Multifamily Loans and REO
On the surface, it seems to be slim pickings for multifamily investors this quarter, with just $69B in multifamily REOs, and less than $1B in non-performing multifamily loans in the nonaccrual stage.
However, digging deeper into the data, it is clear that there is quite a bit of built-up distress in the pipeline. While newly delinquent multifamily loans are only up a little over $150M this year, nonaccrual stage multifamily loans almost doubled by the end of the third quarter.
What to Expect
REO investors should prepare for a major uptick in multifamily REOs in the coming months. Rent forbearances and on-going tenant payment delays due to economic distress will continue to take a toll on apartment owners' cashflow.
Log in to BankProspector to find new multifamily REO investment opportunities.