Commercial REO figures are in, and the numbers are relatively stable on most fronts.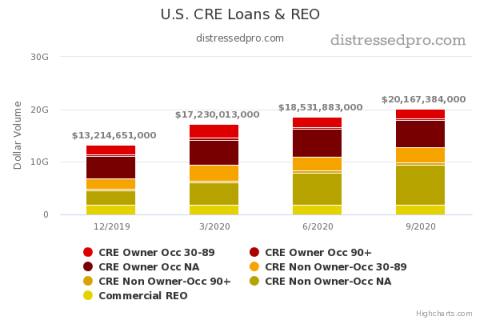 Commercial
Despite all the talk about stress in commercial real estate, retail, and office, there is surprisingly little reporting in terms of commercial REO yet. Across 1,255 banks, just over $1.8B in CRE REO was reported in the third quarter.
Newly defaulting CRE loans that are 30-89 days late are also small compared to loans in the non-accrual stage.
Non-owner occupied commercial loans represent the largest share of distressed CRE loans, with more than $7.5B of loans in this category. Almost triple the dollar value from the beginning of 2020.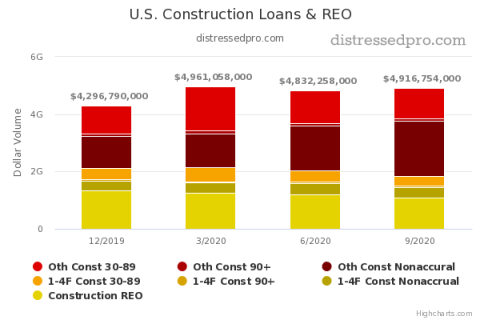 Construction
Similar trends are seen in construction loans. There were just over $1B in construction REOs at the beginning of the fourth quarter. Just over $1B in 30-89 day late commercial development and land acquisition loans and almost $2B in nonaccrual loans were reported by 905 banks.
Business (C&I) Debt
Non-performing C&I debt soared by almost 30% in the first six months of 2020. While that settled a little in Q3, banks had still given up on collecting over $21B in non-real estate secured business debt.
Lockdown Impacts
With a fresh round of lockdowns, there could be far more defaults coming. Not just in retail and office, but hotels as well. Via the LA Times, in November, the California Hotel & Lodging Association reported almost 60% of all properties were late or in default on their loans, and half of the industry's employees had been laid off.
Looking Ahead
Stay tuned for Q4. As COVID-19 restrictions persist and CARES Act funding subsides, defaults loom for numerous industries. 2020's third quarter may be the calm before the storm.
Find out which banks have the most commercial REO now inside BankProspector.