The real data is in, and banks are reporting growing amounts of distress among residential mortgage loans.
Just how big is this crisis, and where are its opportunities?
Let's find out….
Residential Non-Performing Loans Surpass $85B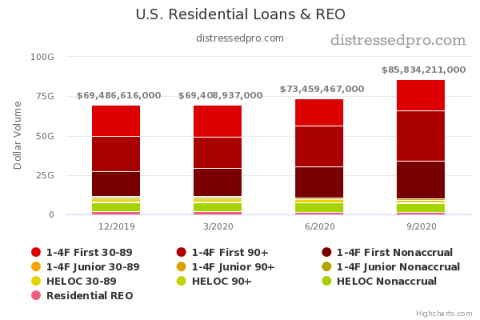 According to the data being reported directly by US banking institutions from Q3, distress is only growing in the second half of 2020.
From June to September, the total dollar value of 1-4 unit residential non-performing loans and REO rose by more than $12.3B to over $85.8B.
That's up from $69.4B in Q1 2020 when the first wave of COVID lockdowns was hammering the US.
Residential REOs
REOs remain a very small part of overall distress. This status is likely a combination of forbearance agreements, foreclosure moratoriums, banks purposefully holding off on foreclosures, and the lag time between new defaults and this stage of distress.
In fact, there was less than $1.4B in REO value as of the end of the third quarter, compared to $2.2B at the beginning of 2020.
Non-Performing Residential Loans
The majority of distressed properties are now in the early stages of default among first-lien mortgage notes.
As of Q3, this includes:
$19.9B in 30-89 day late loans
$31.8B in 90 day plus late and still accruing loans
$23.9B in non-accrual loans
Junior Liens
HELOCs considered in the non-accrual stage are the next largest area of distress in the residential space, far surpassing any defaults in non-revolving second mortgage loans. There was almost $6B in non-accruing HELOCs as of the beginning of October 2020.
Consumer Debt: Auto Loans & Credit Cards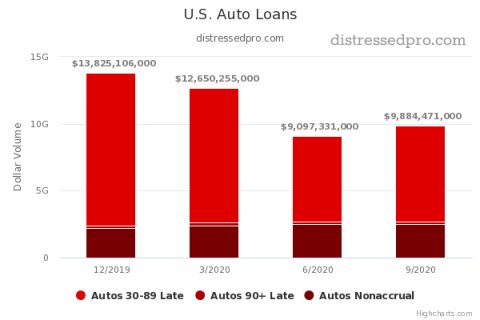 New 30-89 day late auto loans stand at over $7B. Over $8.2B in credit card debt has also recently defaulted by 30-89 days late.
Both auto loans and credit cards seem to have improved in performance as the year has progressed. This shift appears to be a result of stimulus checks and moratoriums on rental evictions and home foreclosures. Consumers appear to have been using these funds to stay on top of credit cards and car loans.
However, as these programs expire, and consumers have burned the money instead of saving it for this moment, and have loaded up on debt and spending during the end-of-year holidays, we could easily see far more loans of all types dip into distress in the first few months of the year.
Especially before tax refunds come through.
Agricultural
Of special note is almost 1,200 banks reporting just shy of $1.8B in nonaccrual agricultural and farm loans.
Factors To Watch
Manipulated Headlines
A lot of effort is being put into downplaying mortgage defaults and distress in the housing market. Many headlines proclaim the worst is over, and delinquencies are shrinking. Those stats don't seem to be telling the whole story. In fact, you may discover that defaults and delinquencies during COVID have far surpassed the peak of 2008, with the potential for 2x or more in foreclosures if they are not cured.
Dig into the raw data for yourself on BankProspector to find out what is really happening.
The K Shaped Market
The wealthiest added close to $1T in wealth through the crises and chaos of 2020. Billionaires saw their wealth grow from 30% to over 100% in a matter of months. We've seen a few companies soar and add billions in value, while millions of others are filing bankruptcy or are on the brink, with little hope of getting back on track.
The same is happening in the real estate market. Dense urban centers like NYC and San Fran are seeing rents drop and inventory stack up, while some property types in other areas have risen by 50% or more in value in the past year.
Expect more divergence in wealth and markets over the next 12 months.
Government Intervention
Q1 2021 will likely set the direction for the next four years. From taxes to lockdowns to regulation and housing subsidies, many new policies could accelerate or throttle trends and performance of mortgage loans.
What These Stats Mean for Investors
Distress in the mortgage market appears to be surging. While there is plenty of uncertainty, fortune has greatly favored those who continued to take action and invest through the mayhem of 2020.
According to Bill Gates, we are probably in a new era of viral pandemics that have already laid the foundation for a new normal. Yet, we may have never before seen conditions so well aligned for real estate and note investors, with an incredible supply and demand split between both highly motivated sellers and highly motivated buyers.
Log in to BankProspector now to see which banks are holding the most distressed loan notes.