While the total pool of non-performing residential mortgage loans appears to have declined slightly in 2022, REOs appear to be on the rise.
Still, during Q1 2022, banks reported they held around $45B in 90 day plus late and nonaccrual stage first-lien residential mortgages and lines of credit.
While a hot housing market in 2021, along with a backlog of foreclosures from eviction moratoriums certainly helped to mute a crisis, there are still a substantial number of non-performing loans in this space.
Higher interest rates, waning demand for homes from retailer buyers, and hints of a dip in values could snowball this quickly.
Let's dive into the latest bank data from Q1…
$21B First Position Residential Mortgages Fall Into Non-Accrual Stage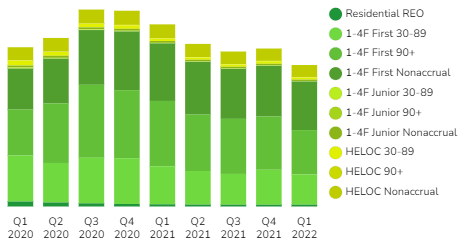 There are currently over $21B in first mortgages on 1-4 family properties that have been classified "non-accrual" by lenders, which is down marginally from Q4 last year.
Behind this are over $19B in 90 day plus late loans, which have not yet been reclassified as nonaccrual loans.
This is followed by another $13B in newly delinquent and residential first position mortgages in the 30 to 89 days late category, a small decline from the previous quarter.
Residential REOs
802 banks have reported that they were holding $788M in residential REO at the end of the first quarter. That's up from $779M in Q4, which was up $6M from Q3 last year.
This is just a portion of the entire pool of distressed loans being reported, though it is certainly a data point to watch as gas prices, insurance rates, utility bills, and other expenses soar with inflation and squeeze homeowners.
If home prices begin a more serious decline, banks may be more motivated to foreclose and liquidate non-performing debt. At least until the decline gets steeper.
Non-Performing Residential Loans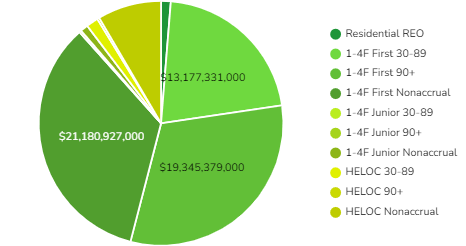 As with most of last year, the majority of non-performing loans remain in the 90 day plus late stage of default among first-position notes; for most borrowers, the point of no return.
As of Q1, the breakdown of non-performing first liens being reported includes:
$13.2B in 30-89 day late loans
$19B in 90 day plus late and still accruing loans
$21B in non-accrual loans
Discover the 4,700 plus banks holding these non-performing loans inside BankProspector now.
Junior Liens
As of the end of Q1 2022 there were still more than $5.2B in nonaccrual revolving lines of credit. Over $1B more 30-90+ day late lines of credit are in the pipeline.
Currently defaults appear much higher on revolving credit lines compared to fixed second mortgages.
Dive into the BankProspector dashboard to find out which banks are reporting the most distressed residential junior lien loans and HELOCS.
Looking Ahead
The total value of non-performing 1-4 family mortgages seems to have continued to decline slightly, after peaking at the end of 2020. Still, with over $40B in distressed loans on banks' books there appear to be plenty of potential and upcoming opportunities for investors.
Even veteran investors have been stunned, and pleasantly surprised at just how high property prices and rents have gone up. This has mitigated the number of distressed loans and REOs. It is also creating fast returns for those who can flip these properties and notes.
However, there do seem to be some cracks appearing in the market. REOs continue to sneak upwards. There are rumors that a couple cities may be seeing home prices float downwards. Interest rates and inflation seem to be determined to force more into distress.
Log in now to see which banks are holding the most distressed loan notes…