Total non-performing commercial mortgage loans appear to have again hit a new low point, now down to the least dollar volume of distress in at least the last two years.
Still, banks reported holding around $10B in non-accrual stage CRE loans at the end of Q3 2022.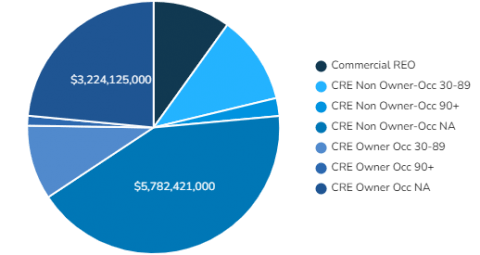 Commercial REO
At the end of Q3 2022, 617 banks reported that they were holding commercial REOs, which is a further decline from Q2 this year and the second half of last year.
Commercial Real Estate Loans
Perhaps with the exception of multifamily, which we've separated into its own report, all CRE sectors seem to have had their challenges over the past couple of years.
Even Credit Suisse and Deutsche Bank have reportedly recently sold off ultra prime properties, including the Savoy in Zurich and Deutsche Bank's new headquarters in London.
The improvements in this data could suggest that some reports stating that we've now exited a recession are accurate. Though almost 100% of CEOs in the US and Europe have reported that they are preparing for a recession over the next 12-18 months as well.
Moving into Q3 2022, non-performing loans held by banks included:
$1.3B in 30-89 day late owner occupied loans
$5.8B in nonaccrual stage non-owner occupied CRE loans
$1.5B in 30-89 day late non-owner occupied loans
$3.2B in nonaccrual stage owner occupied CRE loans
All of these categories, except newly defaulting owner occupied loans, which saw a slight uptick from the previous quarter, have seen declines in volume over the past three months.
Note there are around $2.8B in newly defaulting loans in the 30-89 day late range.
Find out which banks have the most non-performing commercial loans inside BankProspector.
Construction Debt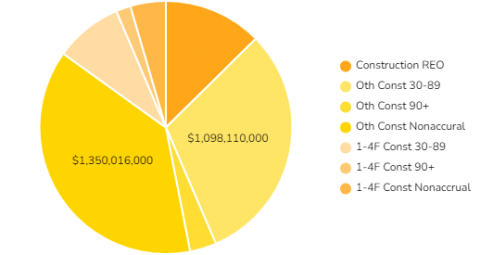 Distress among construction debt seems to have subsided, following a significant spike in Q2, during which the market erased all improvements from the previous year.
We are now at a new two year low for distressed loan volume.
Banks are still sitting on just under half a billion dollars in construction REO, with 445 banks reporting holding these properties.
The largest portion of this debt is among commercial development and land acquisition loans, which are 30-89 days late – a pool which is now over $1.3B.
Extreme inflation, supply chain issues, never ending crises, slowing price growth, and the potential for over supply of new construction may be at play here.
Other Debt
Agricultural
Farmland loan performance seems to be mimicking the continued improvements in health as the rest of the real estate debt categories this quarter, now featuring the least distress since Q3 2020.
The largest part of this pool is $800M in non-accrual debt, followed by $260M in newly late loans and just $71M in REO.
Business / C&I Debt
Business debt performance has continued to deteriorate over the past year, with a new spike in distress in Q3.
Newly defaulting 30-89 day late debt surged by over 10% in the past three months to almost $12B.
There is another $13B of debt in this category that is even further along in default, suggesting that while mortgage debt performance has remained healthier than many expected, there are still issues lurking in the shadows.
Consumer Debt: Auto Loans & Credit Cards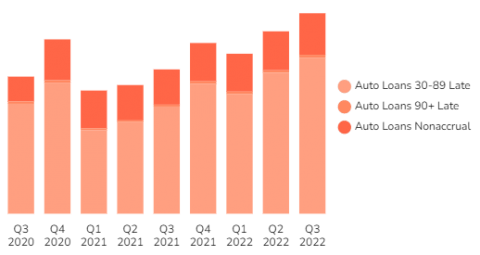 Both auto loan and credit card debt have seen continued surges in distress and default, continuing to build up since early 2021.
Over $10B in new 30-89 day late loans piled up in Q3.
Similar trends can be seen in credit card performance which has continued to deteriorate over the past year, making almost two straight years of compounding distress.
It's worth noting that the majority of this non-performing debt is among newly 30-89 day late lines of credit, with over $10B in debt in this category.
Looking Ahead
Commercial mortgage loan performance once again seems to be surprisingly strong, making it appear that the US property market as a whole is in far better health than expected.
However, business, auto loan, and credit card debt have continued to deteriorate in performance over the past two years, with even more falling behind on their payments in the past three months.
This has not yet impacted mortgage debt markets though it could just be a matter of time.
Log in now to see which banks are holding the most distressed notes.