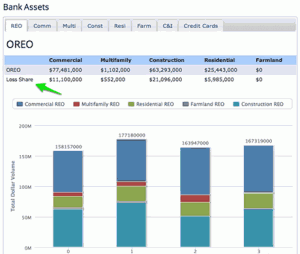 This is the second in a 3-part podcast interview series with John McCaffrey an SVP and Managing Director with REDC (Auction.com) and a BankProspector subscriber. In the first of the 3 we talked about the non-performing loan sales process at auction.com and the steps that John's team goes through in bringing non-performing loans to the market.
In this episode John (a former Wall St banker and mortgage backed securities trader and investor) talks with me about the FDIC Loss Sharing Agreements and how these agreements will affect the flow and sale of distressed assets to the market. We discuss:
The ins-and-outs of what the loss share agreements say
How loss sharing agreements will affect the flow of distressed assets to the market
Some tips on how to satisfy the FDIC and get assets covered under Loss Share's sold
This episode runs for about 20 minutes.
As I mentioned in a previous post there are new reporting requirements that demand that banks with loss sharing agreements report in detail on the assets covered. We're anticipating having all of that 'loss share' data available in BankProspector within the next 7-10 days.
If you're an expert in your field we'd like to hear from you. If you have opinions or information about loss sharing agreements in particular please leave a comment below. If you work with banks in some capacity servicing, selling, or buying their distressed assets and you feel you have something to offer the distressed real estate community contact us about being featured on our site.
Thousands of distressed property professionals and bankers visit this site every month.
This post has member only content. Learn more about how you can get access.