While the total volume of non-performing residential mortgage loans seems to have continued to decline throughout 2021, there is still a sizable pool of distressed notes on banks' books.
While a hot housing market in the first half of 2021 certainly helped to keep a lid on distress in the mortgage sector, there are still enough non-performing loans to make some waves and generate great gains for investors.
Let's dive into the latest bank data from Q3…
$21B First Position Residential Mortgages Fall into Non-Accrual Stage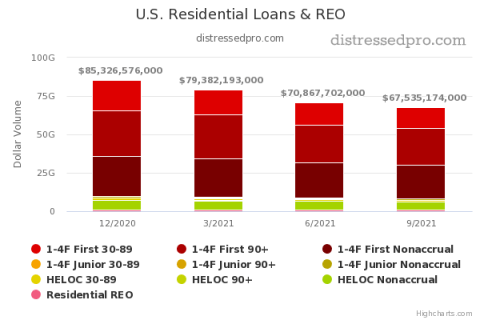 While defaults appear to have been falling across all categories since Q3 2020, there are now still almost $21B in first mortgages on 1-4 family properties that lenders have shifted into the "non-accrual" category.
This is in addition to almost $24B in 90 day plus late loans which have not yet been classified as non-accrual.
Behind that are another $13.5B in newly delinquent and defaulting residential first position mortgages between 30 to 89 days late. That makes about $45B in 1-4 family first-lien loans that have fallen into default this year alone.
Residential REOs
933 banks reported that they held nearly $800M in residential REO at the end of the third quarter.
That's just over 1% of the entire pool of distressed loans being reported at the moment.
As eviction and foreclosure bans fade, this pool could become supersized in the quarters ahead, though providing demand continues, expect REOs to be snapped up by investors quickly.
Non-Performing Residential Loans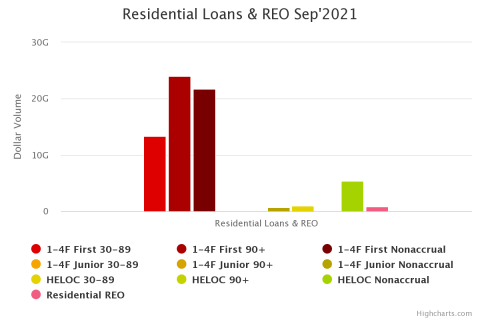 The bulk of distress remains in the 90 day plus late stage of default among first position mortgage notes. A position from which few borrowers may recover.
As of Q3, non-performing first liens being reported include:
$13.5B in 30-89 day late loans
$24B in 90 day plus late and still accruing loans
$21B in non-accrual loans
Discover the 3,000+ banks holding these non-performing loans inside BankProspector now.
Junior Liens
Starting Q4, there are still over $5B in nonaccrual revolving lines of credit. And $1B more 30-89 day late HELOCs are coming behind those.
Already a member? Dive into the BankProspector dashboard to find out which banks are reporting the most distressed residential junior lien loans and HELOCs.
Agricultural
Agricultural loan performance has also seemed to have mimicked residential and commercial trends, declining in Q2 and Q3. Total non-performing agricultural debt reported by banks fell to around $1.74B last quarter…
The largest part of this pool is the $1.2B in non-accrual debt, followed by $326M in newly late loans and around $82M in REO.
Consumer Debt: Auto Loans & Credit Cards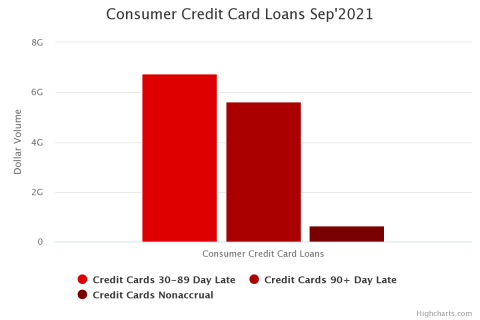 Non-performing auto loans spiked again by more than 10% in Q3, representing a reverse trend of the residential mortgage market.
Rising by over $1B, this pool seems to have been mostly driven by new 30 to 89 day late auto loans in the past three months. The value of these loans rolling over into the 90 days plus stage also grew slightly, suggesting this trend is not over.
While credit card performance seems to have improved this year, most of the issues also appear to lie in newly defaulting debt. Over $12B in debt sits in the 30 to over 90 days late category in Q3.
These factors could suggest more financial weakness is out there in the shadows than is being admitted. Borrowers often let their credit cards and cars go before their homes. If this continues, we could see more late and defaulting mortgages in the next two quarters.
Looking Ahead
The total value of non-performing 1-4 family mortgages seems to have continually declined through the first three quarters of 2021. Yet, there is still close to $70B in distressed loans on banks' books.
While the number of loans in forbearance may have been going down this year, there have still been tens of billions of dollars of first mortgages defaulting. The majority now seem destined to be either sold off to new investors who can provide workouts or to be sold through REO sales.
Rents have been growing dramatically, which is great for landlords and will probably support increased transition of units to being rentals.
How things play out from here may depend a lot on whether home prices continue to grow so quickly or whether the recent decline in pending home sales and contracts continues.
Log in now to see which banks are holding the most distressed loan notes…