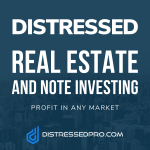 Tranzon Auction Properties' Senior VP of Sales Mike Carey covers various real estate auction aspects and explains how his expert team helps investors and sellers navigate the process.
Tranzon is a nationwide real estate auction network that connects buyers with sellers of delinquent, default, and foreclosure properties. Visit https://www.tranzon.com/ to learn more.
In this episode of the Distressedpro.com Professional Podcast series, Mike and I discuss 2020's unique commercial real estate market, property-buying due-diligence, and working with institutional sellers.
Distressedpro.com is home to BankProspector, a platform for finding off-market non-performing notes, including mortgage notes, and REO. Find investment deals now at https://www.distressedpro.com/bankprospector/