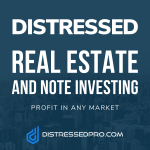 Note investing is one of the easiest ways to create passive income. In this episode of DistressedPro.com Professional Podcast series, veteran investor and repeat guest Mike Ruscica of NoteConference.com and Brecht Palombo discuss how to develop a successful note buying strategy. They also talk about current market conditions, common note buying mistakes, and how investors can bolster their networks and seller relationships.
Check out NoteConference.com for Mike's note investment coaching, insights, and tools.
Learn more about note investing, non-performing notes, and distressed properties at DistressedPro.com. Our innovative BankProspector software provides investors with the tools to effectively and efficiently build a note portfolio.