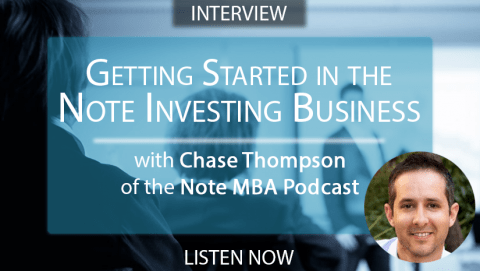 In this episode of the DistressedPro Professional Podcast we switch things up, and are interviewing the co-host of another popular podcast, Chase Thompson (of the Note MBA Podcast).
Discover the inside story of how two guys got started in the note business, and have created an expanding community of investors.
Tune in, find out how he got started, where he is at today, and how he is helping investors like you…
Getting Started in the Note Business
Chase Thompson graduated to note investing from the insurance and mortgage origination business. Chase found himself excelling in the mortgage business just as everything fell apart. Although now seen as a blessing in disguise, he was laid off, right around Christmas time. Having found an adeptness for understanding and navigating secondary marketing, and knowing distressed mortgages intimately, he pushed ahead to make things work.
Click here to Download the Chase Thompson Transcript PDF
Chase Thompson met Robert (Robby) Woods. Woods became an instant accountability partner and soon a business partner in launching the podcast. The Note MBA Podcast leverages both of their industry experiences in mortgages and investing, but also showcases the lifestyle design side and the freedom note investing can provide. For Robby that is traveling the world. For Chase that is the freedom to be there for his family and to be engaged in his children growing up.
The Chicken & The Egg
Getting started in the note business for Chase meant beginning with the traditional 'chicken and the egg' story. It was finding clients looking to invest and finding the note deals to match them up with, and vice versa. Anyone who was looking for help, he found a way to do it. It was a scrappy, bullish approach to just making it happen.
Click here to Download the Chase Thompson Transcript PDF
Perhaps most notable is the due diligence tool that Chase just rolled out for evaluating real estate and note opportunities.
Since then, Thompson's business has become far more systemized, with more clearly defined parameters for clients, diversifying into larger projects, multifamily, JVs, and even building a fund.
It's a proprietary tool that can provide all the numbers on an asset in just minutes. That includes evaluating the area, bringing in online appraisal data and comps, info from RealtyTrac and Rentometer Pro, tax data, and more.
Listen In & Find Out:
The 3 top books you should be reading this year
What "Getting Started" involves
How to run a thriving business, while traveling full time
Why Chase got fired
Key due diligence steps to make sure you aren't overpaying for notes
How to get Chase's due diligence tool and make better offers in minutes
Download The Transcript & Get All the Details Here:
Click here to Download the Chase Thompson Transcript PDF