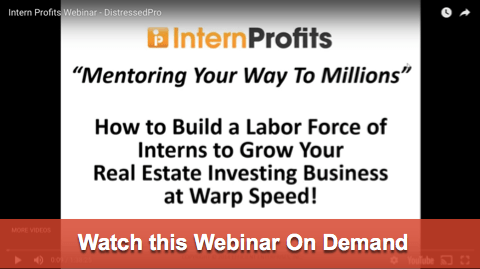 Distressedpro.com Professional Podcast Series: An expert in free, high quality labor.
A couple of years ago I was marveling at a friends search marketing strategy and implementation and the business he was generating from it.
As a 1 man band he had a site that was performing exceptionally. I asked how he had time to do it all himself and have such high quality work- the answer?
A college intern.
Recently I had the opportunity to talk with this week's guest about a foreclosure opportunity in Las Vegas. As we talked more I learned that he was strategically using college interns to grow his business.
Being someone who's always interested in growth, and in particular cost effective (read:cheap) strategies to grow I had to know more.
Here's what we talk about in this episode:
Why would you want to hire and train an intern in the real estate or note business?
What tasks as an investor or broker can I have an intern do (well)?
What are the advantages of using interns over virtual assistants?
At what point can your real estate or note investing business justify you keeping an intern busy?
What to expect from an intern
What you'll have to pay an intern
How to hire your interns
How to Use Interns to Help You Find Non-Performing Notes and REO
The first place my thoughts went in this discussion is
How would my distressedpro.com subscribers benefit from this?
You'll learn the answer in this podcast… but imagine for a moment that you eliminated your research and instead spent all of your time actually contacting prospects…
How much time are you spending on research and gathering information? More than you'd like I'd wager.
Its powerful.