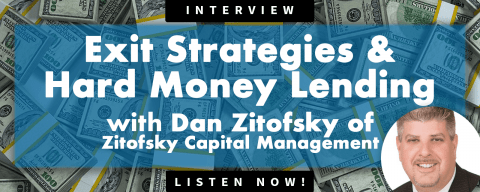 In this interview in the DistressedPro Professional Podcast Series I sit down with Dan Zitofsky of Zitofsky Capital Management.
You'll learn about his exit strategies, find out what hard money lenders are loaning on today, and how they are using their own capital to build long term wealth.
Click here to Download the Dan Zitofsky Bonus PDF
Whether you've been hunting for notes to buy, cash flowing rental homes, or funding, you're going to want to hear all the details… perhaps the most noteworthy tip is how he creates his own notes!
Hard Money Lending For Your Investments
Dan Zitofsky has been investing in real estate and originating and funding hard money loans for 16 years. To date the firm has done over 400 fix and flip deals, 650 rental property deals, and over 1,000 private money transactions.
For those that have been searching for a new financing partner Zitofsky Capital Management provides access to attractive hard money at up to around 70% of BPO. The firm will want to see comps, know what your exit plan is, who your contractor team is, and see some skin in the game.
Dan's company also provides valuable consulting advice to help investors find ways to structure their deals, and loves building long term relationships, and they've even created a course for Chase on how to put hard money deals together.
Unlike many other hard money lenders Dan tells us that his firm really doesn't want to take properties back. Their due diligence ninjas will do their homework to make sure it is something they would invest in themselves, but they have only had to take back one out of 1,000 assets so far. Even that was after trying hard to keep the borrower in the game.
Creating Deals
One of the biggest challenges out there today is finding deals. There are a lot of newbies out there who either don't have a realistic handle on how to source them, or act ethically, as well as many who are simply far overpaying for mortgage notes and properties; trying to make numbers work, where they really don't.
Then there are a few people, like Dan Zitofsky who have the higher up relationships and reputation to connect with funds and sellers, and who know how to generate supply. In this podcast episode Dan unveils some of his strategies and sources, as well as how he creates his own solid new notes for long term passive income.
Now, instead of being one of a team of people working full time to simply collect checks as a landlord, and hand them off to the bank and repairmen, Dan is able to head up a growing firm, and enjoy more passive income as a result of his wealth building strategies.
Listen in here:
For those wanting to scale their investments, streamline them, and realize attractive returns without taking on unnecessary risks, you have got to listen in to how Dan is helping others to maximize their portfolios with private lending and seller financed notes.
Tune in to hear about all the above, plus:
How to get more out of your 401k and IRA investing
How to build wealth without relying on appreciation
Working with tax liens and hedge funds
The types of properties Zitofsky Capital funds
How to make money while sailing around the Greek islands
Click here to Download the Dan Zitofsky Bonus PDF