If you don't have a prospecting plan then you will fail. Period. Today, more than ever before, the decision makers you are trying to reach are in their email. Often times all day every day. You need to be able to reach the decision makers where they are.
What You'll Learn in the Cold Email Webinar
You will learn how to use a proven cold emailing template that is proven to generate a response rate of up to 80%
You will learn how to obligate decision makers and advocates to reply to you – without being "pushy" or "too much"
You'll learn the exact strategy that Bryan, our guest, has used to generate 10s of millions in business
You will get a link to download the exact cold email template discussed in this webinar
You need a prospecting plan if you're going to succeed in institutional sales. In today's world that plan MUST include the phone, email, and LinkedIn.
Watch this webinar now and learn how be effective with email prospecting.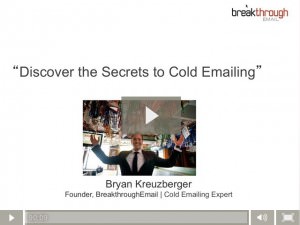 Get Instant Access