We Update Banks' REO and Non-Performing Loan Reports On A Daily Basis. Here's How to Make Sense of What You're Seeing.
Above is a quick video where I wanted to show you how you can get the most out of BankProspector during certain periods in the year.
If you can see over here, we've got the banks reporting and there's just a very small number of banks on this meter, there are only 139 banks.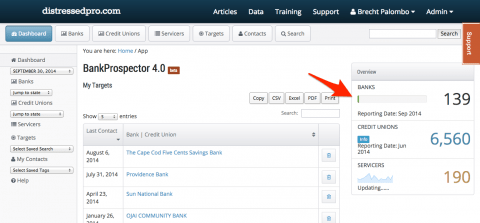 The reason for that is that right now, we're in what we call a "reporting month". We're at the beginning of a reporting month. This means that, so far, only 139 banks have reported any data for the most current period which is September 30th 2014 (at this writing).
BankProspector defaults to always showing the most current data.
Now, if you want more banks than this, if you want to go back and you want to get a bigger data set, it's very simple. Over here, you just select one period earlier.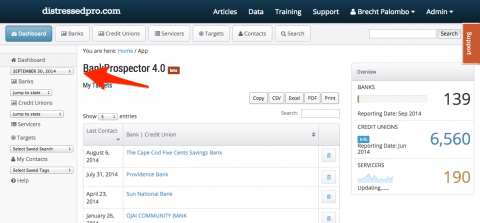 Now, you're going to be looking at the full set of banks and then you can move one period forward to the current set if you want to see whatever the most current reporting period is.
Right now, today, 139 banks reporting doesn't mean that's all the banks that were reporting on. That just means that so far this month (it's the 8th day of the month) in this reporting month, there are 139 banks that have filed new reports. So if you need more than that then go back one period and get the full set of 6,722 banks.