Learn How to Do More Lender Direct Non-Performing Note and REO Deals
Since 2009 we've been helping professionals and beginners alike to do more lender direct non-performing note and REO deals.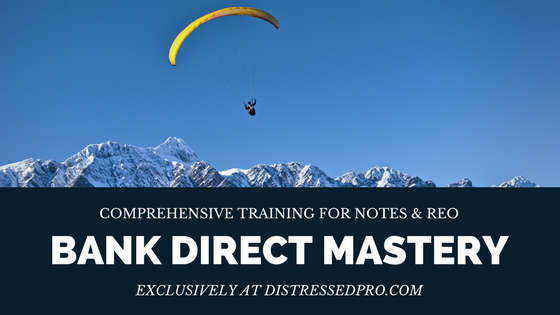 #1 Training for Sourcing Bank Direct Deals
A comprehensive training for anyone who's sick and tired of broker chains, dead ends, and overpriced deals. When you're ready to change your business forever, try the Academy.
The Academy training is currently only available through our free web class.
---
Bank Direct Mastery Courses
Once you complete the 6 courses in the Academy training you'll be able to find the lenders and the decision makers you need for your deals. If you take the actions assigned in each course you'll have a list of prospects and a system for contacting them. You'll also understand all of the opportunities available and how to structure your deals. This training is designed to be completed over 6 weeks, with the practicals, ensuring that you're making progress right from day one.
Additional Training
We are continually building out our training library. These specialized courses will help you do more distressed asset deals faster. Click on any course card for more details.
Other training resources: