Completely revamped core training for sourcing non-performing note and REO deals.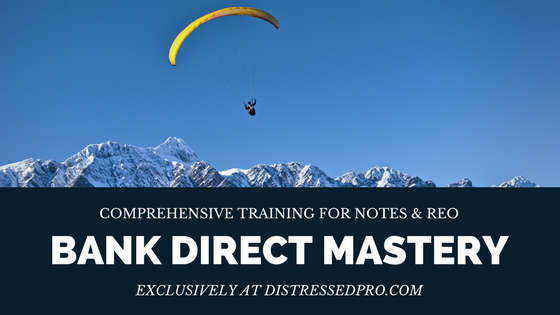 We surveyed hundreds of past and future (prospective) students to find out what they needed.
We received over 320 responses and we learned a lot about what you need to be successful.
Here's what you said in the survey:
You wanted a more complete "end-to-end" solution.
When we first started offering the Academy and the RainMaker program we assumed that those who were enrolling we're adding bank direct deals to their existing business.
We didn't realize how many people were getting started from scratch.
One of the things we found is that people weren't sure about what paperwork to use and when and where to get it. This uncertainty led to prospecting reluctance because they weren't sure what would happen once the got a live one.
That's why we've added a comprehensive "Doing Deals" course section that goes over, in depth, the various ways that parties will interact and work with each other.
Now students get a complete forms library and video training on how and when to use all of the available resources.
You wanted to feel more confident.
One of the things I hear a lot isn't so much the exact words as it is the sentiment of "I'm not sure I'll be taken seriously"
"I'm not in charge of anything"
"I don't have a business"
"How do I make sure I'm credible?"
We've answered this with a whole new training module. In it we cover a checkbox step-by-step approach to maximizing your credibility and getting your business setup right so that prospects will see what you need them to see.
You wanted more due-diligence.
When you're evaluating a lot of assets at once, in a tape for example, you need to be efficient and you need to be able to have the confidence that you're making a good decision, or in the case of brokering, that you're offering good advice and making solid recommendations.
That's why we've included in depth training on  evaluating a tape, including all the resources you'll need, in the new Bank Direct Mastery training where we walk you through a tape step-by-step and provide checklists and cheatsheets to make sure you don't miss anything.
You wanted more case studies.
I get it. Case studies are probably my favorite thing too. That's whey we're adding case study interviews every month. There are already dozens of experts represented but now we're adding more and we're scheduled to continue to add more every 3 weeks or so at least though the end of the year.
Here's what you'll learn in the new Bank Direct Mastery training
Week 1: How Banks Sell and Finding Opportunities
You'll learn how the business works including the different types of opportunities and how to be there for them when they happen. You'll learn all about the rules for lender direct REO; how to find assets from failed banks; how to answer key qualifying questions to make sure you're not wasting your precious time.
​Week 2: Zeroing in On Your Best Seller Prospects
We'll show you how to use all the best online data sources for building your initial prospect list. We'll show you how to find the sellers using the FFIEC, FDIC, and NCUA websites like a pro. You'll learn how to craft the perfect target list for your business
​Week 3: How to Find the Right Decision Makers for Your Deals
You'll learn secret Google strategies and tactics to get high level decision maker contacts. You'll learn how to find and verify almost any decision maker's email address and phone number. You'll learn about the 3 best free (and premium) sites for finding company contacts with phone numbers plus expert-level LinkedIn strategies and tactics.
Week 4: How to Ensure Your Credibility So That Lenders Will Work With You
First you'll set goals for your prospecting sessions and your year. Next you'll learn how to position yourself for success so that you look credible to decision makers. You'll learn about licensing, incorporation and other business setup. You'll learn how to setup professional looking phone and email systems for cheap or free.
Week 5: Launch Your Prospecting System
You'll learn how banks make the "sell" decision. You'll get a complete list of good (and bad) titles for decision makers. You'll learn how to implement a top-down prospecting approach including calls, emails, and LinkedIn – all with proven templates and scripts. You'll get a direct mail campaign swipe file that just works. You'll launch your 8×8 prospecting system.
Week 6: How to Sign Up Secure and Close Deals (and Make Sure You Get Paid)
You'll learn about the different types of representation and when you can use them. You'll learn how to be an effective buyer's rep and seller's rep. We'll provide you with all of the forms and paperwork you need with complete instructions on how and when to use them. We'll walk you through a "tape" and show you how to do due-diligence on bulk assets.
We quietly started releasing this new training to new students over the last few months and the response has been fantastic.
New Enrollment Process
We like working with winners.
The bottom line is that when we get people into our training programs who don't belong there they are a drain on our resources, they require excessive support and the worst part is they're not successful. Why? Because they just don't do anything.
The number one indicator that we've found that points to a successful person is activity.
Our new enrollment process and policy is designed to help us make sure that we're devoting our time and resources to the people who are most likely to succeed.
We've added an application process.
Should you apply for the Bank Direct Mastery Academy?
We can answer that with a couple of questions.
Do you want to do more note and REO deals?
Is it important to your business to have a regular flow of new opportunities?
Do you finish what you start?
Are you willing and able to devote some time each week to your success?
If so then you should apply.
Application is a 2-step process
Enter your name and email below (step 1)
After you enter your name and email you'll be asked to answer a short series of qualifying questions (step 2)
Our staff reviews each application (yes, really). You'll have an answer as to whether or not you're invited to enroll within 2 business days (if you're not invited please understand that this isn't a indictment on you or your character simply an indication of perhaps a bad fit at this time for this program).
Once your application is accepted your enrollment window will begin and you'll be invited to a free on-demand training and overview where we will explain in detail everything that is included in the Academy.
You'll have 7 days to attend the on-demand training and make a decision about enrolling.
If you're someone who is dedicated to your own success, who finishes what you start, and who isn't afraid to push gently out of your own comfort zone  in order to achieve great things then I invite you to apply.
Ready to Take Your Business to the Next Level?