California banks reduced their total volume of reported REO by $77MM or just over 4% in the most recent reporting period.
Bank owned construction projects continue to dominate the bank's OREO balance sheets representing just over 45% of the total volume and being reported by 132 of 245 banks.
Commercial REO came in at 30% of the pie with 110 banks reporting some volume.
Fewer than a third of banks are reporting residential reo making up up 15.4% of the total.
Bank owned multifamily properties came in at just 8.3% with only 11% of banks having problems and farmland made up the remaining sliver.
The sum total of reported REO from California's banks currently sits at $1.74B.
Fewer Commercial Properties Headed to Foreclosure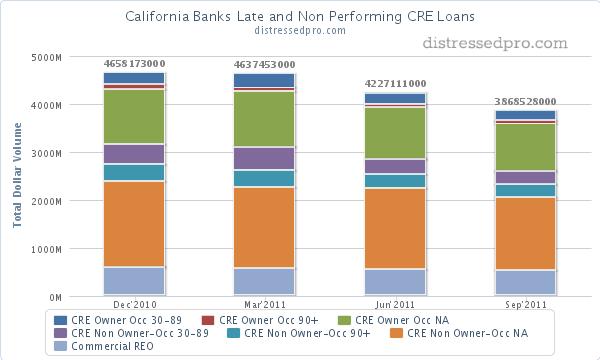 California banks saw a reduction in the total volume of early stage commercial real estate defaults (30-89 days late) of about 8.4% from the previous quarter which is just slightly better than the US average for Sep 2011. Later stage non performing commercial real estate loans (non accrual) fell by a similar amount.
Even as S&P is downgrading banks nationwide, banks are reporting improvements in CRE loans. It is interesting to note, however, that the commercial REO only represents about 13% of the total volume of distressed CRE assets currently reported.
This points to a LOT more bank owned commercial foreclosure inventory showing up on the market in the not-too distant future or else broader non performing loan sales. The assets have to go somewhere…
Construction Loans Still a Plague, But Less So…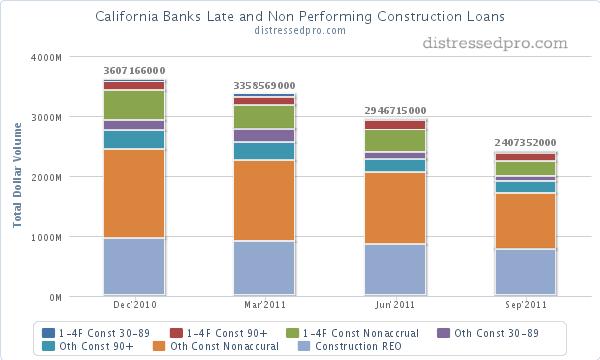 Construction loans collapsed early in the cycle and if you've been trying to get one you know that banks aren't giving them. Banks in California have been steadily reducing their construction loan exposure and consistently writing down losses but we're not seeing much in the way of sales. Of course financing is the reason there aren't substantial construction REO sales at this point, on both sides, meaning end product residential loans are difficult but construction loans are near impossible. Sort of self fulfilling isn't it… Late and non performing construction loans and REO topped $2.4B for CA banks for Sep 2011.
Early Stage Residential Default Soars
Residential first position loans 30-89 days late, the first stage of default, jumped by 23.8% for CA banks. Residential REO bumped up slightly, and over all distressed residential loans and bank owned property rose about 4%.
Right now only 7% of the trouble has actually made it's way to market as 0REO. Another way to say this is that there's potential to see 14X the current volume of bank owned residential properties on the market with CA banks… Fifty banks reported $1.38B in residential loans in the process of foreclosure.
Multifamily Continues as a Bright Spot
Everywhere you look it seems multifamily (5+ residential units) is the big winner right now. California banks are seeing substantially reduced early stage defaults (30-89 day lates). Fewer than half as many banks reported 30-89 day late loans as they did non accrual (late stage non performing). Roughly 22% of the total volume of problems already found it's way in as REO.
Next quarter we hope to start to take a look at where lending is increasing, or decreasing.
As we look across the stats for the US it seems pretty clear that we have a long, long way before we're out of the woods and California's banks are no exception. At the same time if you're well positioned right now it's these circumstances that produce serious wealth one or two decades from now.
When I got my start in this business, a little more than a decade ago (seems like yesterday), I remember working with investors who had bought during the 'RTC' days, or I should say trying to work with them … They'd turn up their noses at a lot of the returns I'd show them and tell me about the old days… of course I was sure (until 2006) that they were reminiscent dreamers who were missing the boat, we'd never see RTC type discounts again… right?