Loss Sharing detail for each asset type has been added to all applicable banks. BankProspector members can now see loss share details for any bank in the system. If you don't know what loss sharing is or how it affects a bank's ability to sell please see this Loss Sharing Podcast Episode. Portfolio level loss share details are available for commercial, construction, multifamily, residential, and land assets.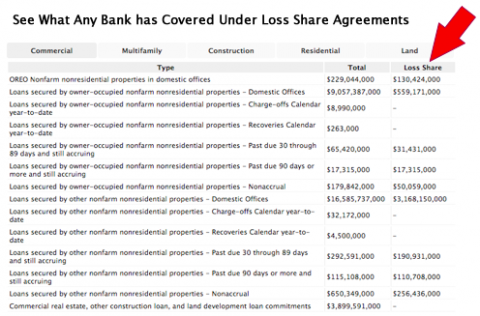 Coming Soon: I've had a demand for a broader look at different kinds of debt. To that end we're presently looking at adding details for consumer and business credits including:
Late and non performing auto loans
Late and non performing credit cards and other revolving loans
Commercial and Industrial (non real estate) debt – asset backed etc.
Feedback from our members is definitely driving the direction of the product. Keep it coming and good luck with your distressed debt deals.