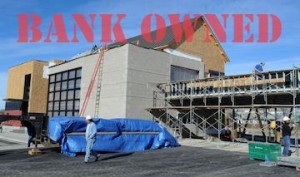 Evolving trends are demanding professional real estate investors switch up their strategies to maintain volume and returns. For those seeking a new niche there are impressive opportunities awaiting among distressed construction REOs.
Why Construction REOs?
It's common knowledge that farmland and multifamily REO inventories have been seriously drained over the last two years. Following this, residential REOs make up the next smallest segment of the pie at just 27% of the distressed REO pool on U.S. banks' books, as of the end of the first quarter 2013. Many are turning back to non-performing commercial real estate and notes for opportunities which offers a slightly larger pool to choose from, but it is still construction REOs which make up the bulk of real estate owned on banks' books today at almost 40% of all the distressed property they are holding.
At the same time the construction industry and new developments are making a big comeback. One of the nation's largest private equity firms recently announced switching up strategy to go after new homes to keep up transaction volume instead of chasing single family REOs. They also credit consumer appetite trending towards new properties with the move. Home builders have also seen this trend impacting their businesses in a very profitable way. While there have been many stories in the news recently, KB Homes stands out with having recently reported a whopping 74% increase in revenues.
Meanwhile, in areas of the country like Florida, developers are dusting off old projects to put them back on the market and rushing new plans to market. In Southwest Florida you'll see custom home builders restarting work and marketing on a whole line of oceanfront properties. On the east coast in Doral a slew of new communities are going up featuring mixed use commercial and residential projects and high end ultra-modern luxury single family home communities like Oasis, IVI, and Modern Doral.
So what we have right now is huge demand for the end product, distressed construction properties making up the largest segment of the distressed REO bank, and apparently the least competition for this distressed inventory. This suggests impressive spreads and investment returns to be had for those tapping into this market.
Making it Work
As of the end of March 2013 there was over $11 billion in construction REO on U.S. bank books. Following right behind is another almost $10 billion in non-performing construction loan notes considered non-accrual. This offers huge opportunities for both taking down the brick and mortar as well as buying distressed notes from banks.
Those with access to this data and contact information for the right deal makers can either acquire the paper and hold or flip it, or take over the physical property and reposition them for substantial paydays.
You can also simply broker these construction REO deals themselves if you don't have the capacity to do the deal or want the hassle. Or work in between. Get code issues fixed, permits or zoning changes cleared away, even draw up new plans and simply sell the project.
If you're planning on keeping the project get extremely good at due diligence and have a team you can trust.
If these opportunities weren't profitable and tasty enough already they're what local governments want too.  Find additional spreads in these deals others have missed out on by working with the city and county, perhaps getting funding, tax breaks or even help promoting a new or revived project for an all round win-win.
BankProspector shows you every community, regional, and national bank with construction REO and non-performing construction loans.