Sorry! The post has members only content. Learn more about our training and software by clicking here
There are five asset categories that we track, all are real estate, namely they are: Commercial, Multifamily, Construction, Residential, and Farmland.
Commercial late and non-performing loans are separated into 2 groups, Owner Occupied, and Non-Owner Occupied.


Multifamily properties consist of income properties with 5 or more residential units.
Construction is broken into 1-4 family residential construction and then all other construction which would include land development loans, commercial development loans, busted condo conversions, etc.


Residential = 1-4 family properties. Residential distress is broken into First Liens, Junior Lines, and Open revolving lines of credit (HELOcs for example). you'll notice that we have the 30-89, 90+, and non-accrual categories for all 3 of these loan types. Residential has the additional distinction of showing what volume of loans are currently in the process of foreclosure. That data is not available for the other asset types.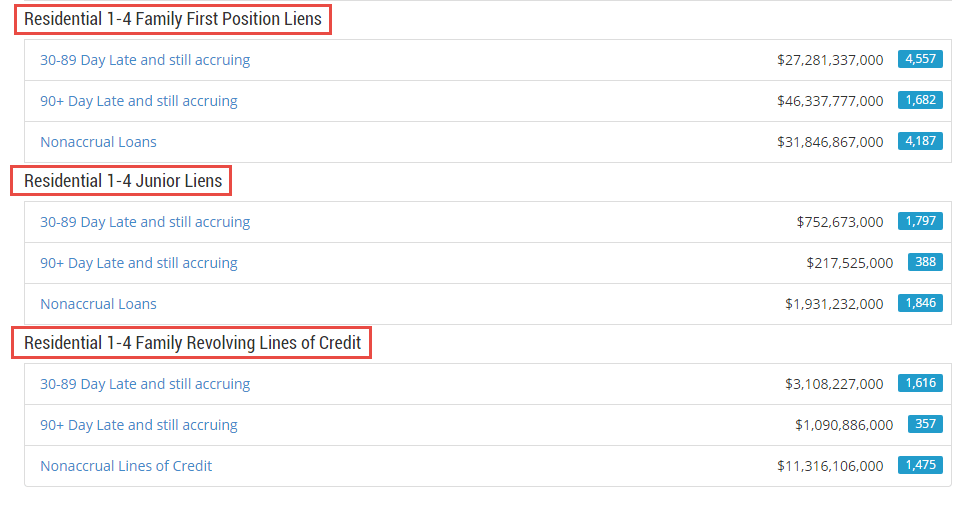 Farmland land is exactly what is sounds like.
Commercial & Industrial Debt (C&I) is business debt not secured by real estate like 'Asset Based Lending'.
Consumer Credit Card Debt – just as it sounds.
For each asset type and for each category within that asset type (commercial, construction, and residential) we track 30-89 day late loans, 90+ day late loans, non-accrual loans (non-performing), and REO.