Click image to enlarge directions for BankProspector Advanced Search
Advanced search lets you put a fine point on your searches. Advanced search works as an active filter. Once you set up and save that filter the list of banks that meet the criteria you set will be dynamically updated as conditions at the banks evolve.
Advanced Search supports most of the commands you might expect
[ +, -, >, < , <=, >= ].
Dollar amounts can be entered with or without commas or dollar signs.
The 'City' search uses a broad match.
States should be entered in a 2 letter format and multiple states should be separated by a comma. (Example: FL, NY, MI, CA)
Percentages (ratios) are expressed as their decimal equivalent, for example, 8% is .08
Example Searches:
* 1000+ , >1000 are both greater than or equal to 1000
* .08- , < .08 search for percentages of less than 8% * 1000 - 2000 searches within a certain range
The more criteria you select the more limited your search results will be.
Make your selection from the search criteria, add your limiting factor (as described in the help text) and click 'Add'.


After you've made your selections click 'Submit Search'.


If you repeatedly use the same criteria you can click 'Save Search'. Enter your saved search name and click 'Save'.


Once the page refreshes your saved search will appear in a drop down on the panel under 'Saved Searches'.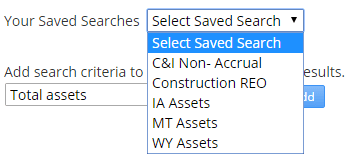 You can save as many searches as you like. When you select a saved search from the dropdown you'll automatically be redirected to the results for that search.