We get a lot of questions about bank data and prospecting, and we try to answer them all within 24 hours every business day. In order to better facilitate communication between staff and subscribers, and between subscribers and subscribers, we're happy to introduce an all new support forum for distressedpro.com.
New Support Forum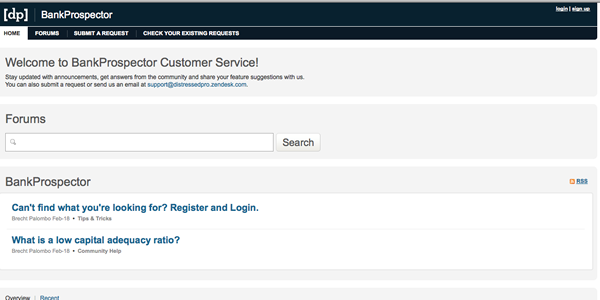 Rather than just your sort of mundane account management questions etc. we're really hoping that subscribers and prospective subscribers will use the forum to ask and answer questions about prospecting best practices, buy or sell indicators, the implications or meaning of the different data available. Whatever it is. If you're looking to do business direct with banks, you have questions about how to do it, or if you're a subscriber and you have BankProspector or account specific questions, in all cases this is the place.


You do not have to be a BankProspector subscriber in order to ask questions and get answers on this forum but you do have to register. Subscribers to BankProspector now see a new 'Questions' button when they are logged into the application as well as on certain pages throughout the site. When you have any sort of question, please don't email us, rather use the support forum to submit a question or if you're a full subscriber use the 'Questions' button. Rest assured we will receive an email with your question and moreover you and we will have the ability to track and respond to the question and others who have the same question will find answers posted, over time, in this knowledge-base.
New User Guide
We are also rolling out a new User Guide section of the website. The info in this guide is just roughed out for the moment but we'll be adding to it and updating it to give subscribers as complete a reference as possible. To access these pages you will have to be a paid, logged in, subscriber.
The vision for the User Guide is that it will be a complete text/image/video guide to all things BankProspector, bank data, and bank prospecting.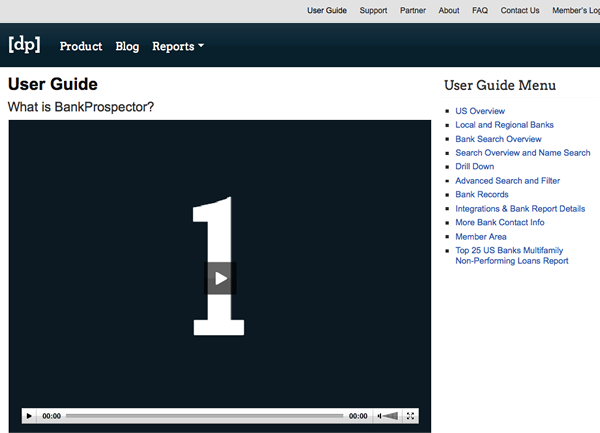 We appreciate all of our subscribers and your willingness to grow with us as the service grows an improves. We're already looking forward to some changes and upgrades in the core BankProspector data scheduled for this spring. Don't hesitate to contact us with any type of questions and we hope you find the new resources we're releasing very helpful.
UPDATE
We've moved everything to the Knowledgebase, our User Guide, and our chat which you can find on the bottom right of every page (the little blue circle).