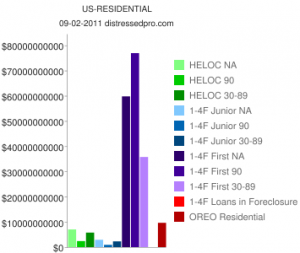 Late and non performing residential loans and REO continue to be a problem for the nation's banks into the second half of 2011. Although the total dipped modestly the fact is that banks have only moved the very tip of the iceberg through the foreclosure process.
About 58% of banks are currently reporting some residential REO. The total for the US stands currently at $10.58 billion. At first blush this number seems very, very manageable. The challenge comes from the fact that the total for all residential loans in some stage between 30 days late and bank owned is almost a quarter trillion dollars or $223.46 billion.
The chart for the current quarter shows residential REO on the far right in dark red with all of the late and non performing loans immediately behind.
Residential loans "in the process of foreclosure" stand at just under $91 Billion. This represents an impending 866% increase in residential REO.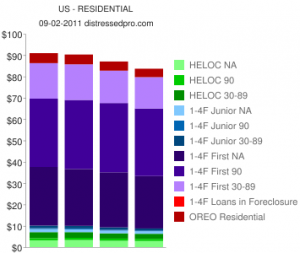 While the top 20 banks hold about 90% of the loans in the process of foreclosure there are still 4,570 smaller community and regional banks reporting non performing residential loans. These banks represent a real opportunity for local investors, REO brokers, property preservation companies and the like.
A report including a list of the banks with the top residential REO, non performing first position loans, and loans in the process of foreclosure is now available for download.
This data is supplied by BankProspector 2.0 a hosted, online, software application designed to accelerate the process of prospecting banks directly for distressed assets. This data is deemed accurate but not guaranteed. All data sourced directly through the FFIEC's CDR and compiled and analyzed by BankProspector. Current data set includes some 94% of banks but does not include banks regulated by the Office of Thrift Supervision (now the OCC).