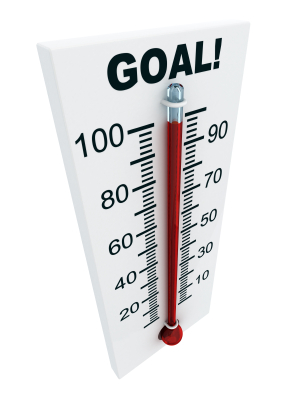 Are you thinking about your goals this time of year?
I am. I do every year. In fact I start getting obsessed with my year end numbers and goals for the upcoming year as soon as we get past Thanksgiving. Maybe you do too.
I made a recent discovery that has really driven home the almost unbelievable power of written goals and I'll share that here.
This year I've decided to do a 2013 goal setting series here on the blog.
If you haven't ever (really) set goals then I hope by the end of this you'll have a framework you can use to set, and reach, your goals.
If you're in the habit of setting (and achieving) goals already then I hope we can give you some tips and insight into how to improve your process.
Goals aren't for everybody. They're only for people who have things they want to achieve. If you're 100% satisfied with your station in life, this isn't for you.
Goal Setting Basics
If you've read any success literature you know that there are some rules guidelines for setting goals properly.
But, before you begin setting goals you need to identify your reasons for even setting a goal to achieve something.
You need to identify your WHY.
Your goal setting has to start here. It's necessary because if you're setting goals that are worth achieving then you are probably going to have to stretch as a person.
Stretching is hard.
I've heard people say "I don't want to have to be a slave to structure enforced by goals" … "I like to be more spontaneous"… "writing goals doesn't really work"…
Formulating Then Writing Your Goals Works
I recently found one of those black and white composition notebooks that you're no doubt familiar with while I was de-cluttering my office. When I first opened it I was a bit confused because it was dated one month earlier… but it didn't look familiar… even though it was in my handwriting.
As I read on I realized that what I was looking at was a list of "long term" 5-year goals that I had written 5-years earlier but dated in a proper present tense fashion.
As I read through I realized that 90% of the goals I had written on that list I had achieved in one way or another… and the other 10% were things I didn't want anymore or weren't important because I had changed course due to evolving priorities.
I didn't read these obsessively. I didn't have them posted on a wall. I didn't share them with the world. I simply thought long and hard about them, wrote them down, and let it work.
Writing down goals works.
But First You Need a WHY
Your WHY is what is going to help carry you through and make you push on when you might rather fold, or more commonly, when you simply keep doing what you're doing (the rut) and keep getting what you've always got.
Simply saying "I want more money" is a weak why.
Why do you want more money? What will you do with it? Why is that important to you? How will that change your life?
Your why needs to be a big enough motivator that you will break through inertia and take action in order to move towards (or away) from something.
The Negative Why
You might be more driven by fear than opportunity. If your circumstances are such that failing to act boldly could bring dire consequences to you and your family (ex., if I don't close a deal by next month then I'll go into foreclosure… ) then feed off that, that ought to be enough.
There are few things more motivating than a continuous personal fiscal cliff
'Doing alright' is Where Dreams and Goals Go to Die…
Demographic insight from my site says that you're probably doing alright. You might even be doing pretty good compared to most. Chances are if you're reading this you probably make more than average, you own a decent home a couple of cars…
The problem is that pretty good is the enemy of great.
If you're sitting behind your desk surfing aimlessly and you know that you can do this for 80% of your week and you'll still get an OK paycheck every two weeks, then you're too comfortable. You'll keep sitting there, you'll keep getting paid just enough, keep surfing, playing Words With Friends or whatever and nothing will change.
Get uncomfortable. Decide that a meaningless grind of an existence is intolerable. Loathe it.
Does this mean that you should quit your comfy job and go pursue something high risk – high return just to get moving? Could be… but you'll have to decide if you have the stomach and the resources for it.
The Positive Why AKA Get a Big Hairy Audacious Goal (Dream)
The opposite of the negative motivator is the Big Hairy Audacious Goal.
This is the personal long term vision that you set for yourself that you can just get obsessed with, that you think about night and day, that is worth pursuing no matter the cost.
This can include a vision for your family and living arrangements, for your professional status, for your health, for those key factors that make your life more full and more enjoyable.
If you don't have a vision for this right now then think about what that looks like for you. I bet you have pieces of it that have been bouncing around in your head for a long time.
You might want a bigger/better/different place to live, a car, maybe you've got a bucket list, maybe you want to put your kids through private school, maybe you want to travel, live on a boat, I don't know.
It's your vision.
Define it.
Once you've laid  out your vision you have to make an honest accounting of what it is going to take to get there.
Realistically how much money, or time off, do you need to achieve your dream? What other resources do you need to get there?
Do the Math
What is it going to take to get what you want?
Let's suppose you there's a particular neighborhood or area that you want to live and you don't live there now.
What does the kind of home that you want in that location cost?
What does that mean you'll need for a downpayment?
What would you need on a recurring monthly basis to pay for it all?
Do the math.
Suppose you want to travel to Europe to ski for a month.
What is the actual air fare? Resort rates?
How much cash would you need to have in reserves to be comfortable with your financial obligations back home while you're there?
What would your employment situation or business have to look like for you to take that much time?
Now you have some numbers. Now you have reality.
There are a basically 2 reactions you could have to the reality of what it's going to take to achieve what you've just laid out for yourself.
I can't afford this.
How can I afford this?
In the next part(s) of this series I'm going to talk about
answering the question that you should be asking yourself
how to write your goals so they work
reserve engineering a plan to achieve your goals
Follow along with me
In the mean time if you're going to follow along with me then I'm going to ask you to do 2 things.
Write down, work on, your big hairy audacious vision, at least on part of it.

If you're in a position where you might be in some financial trouble and you're looking more at survival than vision then get real clear on how much trouble you're in and what it's going to take to get out of it. Even beyond that get real with yourself about what your life is going to look like if you don't… and make sure you "own" that. Hopefully that's ugly enough that its motivating.

Analyze and quantify with real numbers what resources are going to be necessary to get what you want.
For example, if you want to live in a place where homes that you like are going to cost you $500,000 what's it going to take to get there?
Well in this case its going to take about $100K down, then you'll need to furnish it, and then you'll need to be able to make a PITI payment reliably so go ahead and follow it through.
If the housing-payment/income ratio today is 28% then you need to show $130k-ish income for a couple of years, etc… or you can pay cash.
Whatever your future holds, you decide, and make an honest accounting of it now.