Despite optimism in the housing market banks reported a modest reduction in their REO balances to close out 2013.
Each quarter FDIC insured banks file call reports disclosing the amount and type of assets they have on their books including non-performing assets like non-performing real estate loans and REO. This is a summary of those REO reports.
Banks reduced the total amount of all REO on their books in 2013 by  20.8% from $29.1B to $23B.
REO Balance Percentages by Type Q4 2013
Banks reported a little more than $23B in REO on their books across the 5 REO types
Construction REO continues to hold on as the top reported REO type as banks work though and write down a backlog of failed subdivisions, condo conversion projects etc, most all of which were funded in the run up through 2007.
For those investors and contractors equipped to fund and complete these failed projects there are some major opportunities due to the fact that now, some 5 years on, banks have adjusted the value (write downs/charge-offs) of the assets on their books to the point where they're able to be more realistic about release prices.
In some cases banks are seeking to complete these failed projects themselves which is more often than not a mistake.
The volume of residential REO is still dwarfed by residential non-performing loans which implies that either:
Banks are reluctant to foreclose on delinquent borrowers due to legal/regulatory pressures/fears
Banks are stalling foreclosure in hopes that the asset's values increase further in the short term
Banks are opting to sell the non-performing residential debts to investors in favor of more rapid re-capitalization with lower legal and regulatory risks
Nationally its likely a combination of all three.
Bank REO Portfolio Percentages by Asset Type
Number of Banks Reporting REO by Property Type
Residential 3,613
Commercial 3,221
Construction 2.955
Multifamily 506
Farmland 451
While the top 5 banks still own most of the non-performing debt and REO there continue to be thousands of local, community, and regional banks carrying and disposing of these distressed assets.
One of the big opportunities for 2014 is going to be the small balance distressed commercial real estate notes and properties with smaller lenders.
During the boom the smaller banks went long into construction and local commercial real estate lending because it was impossible for them to compete with the larger residential lenders.
Now as regulators turn up the heat on our nation's smaller banks, strangling them with the burden of increased regulations, it has become even more important for them to shed their most criticized non-accrual and the easiest place for them to do that is in their commercial portfolio.
2013 REO Balances Reported by Quarter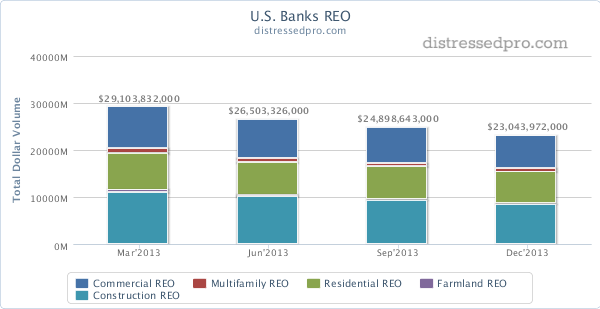 While banks report $6.64 billion in residential REO they're currently reporting 28X ($188.4B) that in late and non-performing residential loans. Thats a substantially higher ratio than in the commercial and construction categories which implies a longer tail on the challenges in the residential market.
The current pace of workouts liquidations and foreclosures, evaluated against the newly late and non-performing debt and the current inventory implies that barring unforeseen derailment of the recovery we still have several years of discounted distressed debt and REO.
If you're like me and you think that this recovery is due more to short term monetary policy and less to improving fundamentals then I think you can count on this opportunity extending for perhaps years more, probably in waves.