First, I believe that this nation should commit itself to achieving the goal, before this decade is out, of landing a man on the moon and returning him safely to the earth. – JFK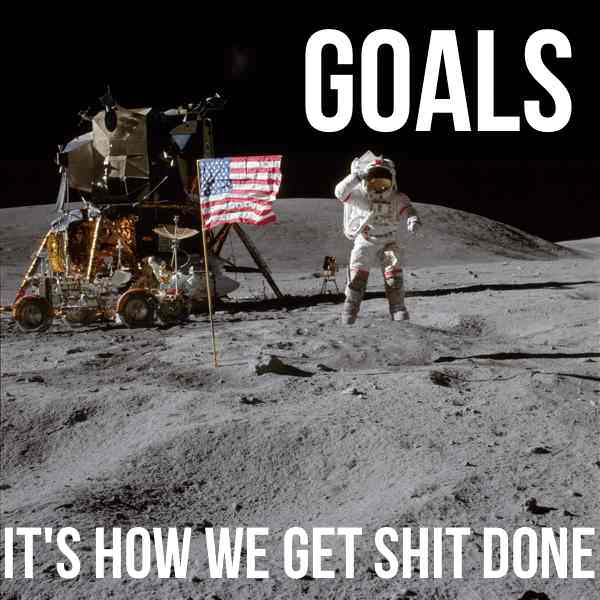 This quote from JFKs 1961 Address to Congress is one of the most well known and impactful goals ever announced to mankind. It is specific, measurable, apparently achievable, relevant and time-bound. But he doesn't stop there.
We propose to accelerate the development of the appropriate lunar space craft. We propose to develop alternate liquid and solid fuel boosters, much larger than any now being developed, until certain which is superior. We propose additional funds for other engine development and for unmanned explorations-explorations which are particularly important for one purpose which this nation will never overlook…
He also laid out the HOW. No, he didn't know exactly how – liquid fuel? solid fuel? We don't know but this is the goal and here are some ways we believe we're going to get there, we're going to allocate the resources, and we're going to try then adjust… not in so many words.
It's not enough to simply say you want something you need a plan to get it.
Setting your goals is extremely important to get you going in the right direction but it's not enough. You need a plan of action.
This is the 3rd and final post in the goal setting series for this year. In the first post you gathered together your information from last year. In the second post you analyzed your past performance and learned how to structure the goal that you set for the year.
In this post you'll walk through how to make a plan of attack to achieve that goal.
For the purpose of this post I'm going to use a fictitious goal. You may be well beyond this goal already or it may sound like a wild stretch… This goal is just for example purposes. You should use your numbers and niche.
By December 31st 2015 I earn $100,000 wholesaling residential properties to cash buyers. I make an average of $10,000 per transaction. I do 10 transactions for 2015. I have 6 really strong cash buyers and I'm always able to find what they want. I have 5 banks who send me deals on a regular basis…
I'm using round numbers obviously.
I think you'll agree this goal is specific, measurable, attainable, relevant, and time-bound. Its also positive, personal, and present tense.
How to Make Your Goals Reality
Reduce your larger goal into small achievable bit sized goals.
The problem that most people run into with their goals is that they become overwhelmed and unfocused. The way you get past that is to break your big goal down in to little manageable pieces. Here are the critical numbers in the above goal statement.
$100,000 revenue
10 transactions
What if instead of staring down a $100K goal we broke this down into quarters?
$25k revenue
2.5 transactions
1.5 cash buyers
1.25 repeat sellers
WOW that's not so bad. Now divide by 3…we're talking about doing fewer than 1 transaction per month. Finding 1 new real cash buyer every other month and finding real sellers slightly less frequently than that.
You Need An ACTIONABLE Plan
If you have your ratios from the worksheets then this next part should be easy to figure out. You need to determine how much OUTPUT, how much effort, you have to exert this month and this week – NOT this year – to achieve your goals.
What do you need to do to find your cash buyer this month? Are you generating real estate leads online? How many of them turn into real buyers? How many visitors of a certain type do you need in order to find the one?
What do you need to do this month and this week to dig up a real seller?
How many emails, LinkedIn connections, and phone calls do you need to make in order to get to the right people so that you can turn over JUST 1 good one?
Time to Set Your Activity Goals
It's not enough to just set results goals. That's a dream with a deadline. Your activity goals are what bring it all together and makes your wish a reality. If you don't know your ratios (calls or emails to contacts, visitors to leads, etc) then you need to make some reasonable assumptions and then adjust once they're disproven.
I make 5 solid connections to sellers each day. To do this I make 25 dials, I send 10 emails, and I make 10 LinkedIn connections.
Are these real numbers? Only your efforts over time will tell.
If you did this each business day then at the end of the first week you'd have made:
125 Dials
50 emails
50 LinkedIn connections
After 1 month you'd have
600 Dials
200 emails
200 LinkedIn connections
In 1 quarter, 3 months, you'd have made
1800 Dials
600 emails
600 LinkedIn connections
Remember the goal for the quarter was 1.25 real solid repeat institutional seller connections. Do you think after 3,000 "touches" you'd have found 1 or 2 real sellers? I'd suggest to you that if you even set a goal for half this activity (and you executed) then after a single quarter you'd be on a first name basis with more than half your goal for the year.
If all you can give is an hour a day to finding new business then commit:
I prospect for 1 hour each and every day. I make 10 calls, I send 10 emails, I make 10 LinkedIn connections
Thats 5 hours a week, 20 hours a month, and 60 hours over the course of the 1st quarter.
If you simply have no idea how you'd begin with this or what you'd say then you need some training. Otherwise make a commitment to yourself that you're going to exert a certain amount of effort each day, document it, then review your results after a month and determine if the RESULTS goals you have will require more activity or not.
If you have a goal to make 20 dials a day then you don't worry about the results. You pick the best time of day and you get out your script and you dial the phone (decision makers only please) 20 times. Then you're done.
Once you come up with your email template (script) you dutifully send it out to 10 new contacts – EVERY business day.
Commit to Daily Activity Goals – Take Action – Review Results Monthly – Adjust – Repeat
This is the secret to succeeding with your goals. I'd like to say "It's not magic". but the fact is that it is….
It starts by writing down quite clearly what you really really want. Then you bring that desire into reality with MASSIVE ACTION.
You now have everything you need in order to set achievable goals this year that could change your life forever. The only questions are whether or not you're going to use the tools you have and if your going to implement and execute a plan.
Here's the Final Real Estate Goals Worksheet
This worksheet is your Daily Prospecting Tracker.
The way you'll use this is you will set goals for your prospecting volume. You may want to add direct mail and other avenues but the point is that you want to be prescribing and then executing a specific plan against which you can measure your own performance.
Want to really make a difference? Announce these goals. Tell your partner, your spouse, your associate, someone exactly what you're committing to and then DO IT and be accountable to someone for your activity.
To get this worksheet, all 3 posts in PDF format and the preceding 2 worksheets enter your information below and we'll send it to you immediately.
---
Get Your Real Estate Goals Worksheets and Video
Enter your name and email to the right →
You will immediately receive the worksheets and a link to the other resources that were mentioned PLUS we'll send you an email when the next part in this series is available