Q3 2009 FDIC bank data was released today. As you know if you are a member or your follow this blog this is where base of information that BankProspector runs on. The new numbers are currently being processed and we expect to have them available for members (hopefully) before the weekend.
Predictably the number of "problem" institutions jumped by a third from 416 to 552 problem banks representing about $345Billion in assets.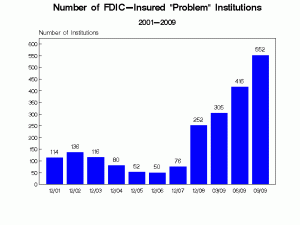 Construction and development loans continue to go bad at an accelerated rate now showing a non-current rate of 14.99% nationally. Through 2006 these loans had a default rate of less than 1%.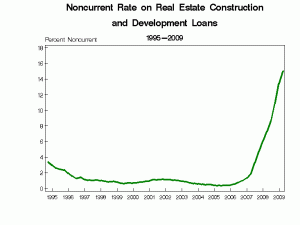 Residential loans continued their persistent march towards higher default rates and banks are now tackling an 8.56% non-current first mortgage rate. Thats right, nationally nearly one of ten whole loan first mortgages held at banks is now non-current. This figure is more than double the 3.91% form one year ago.
If you aren't already signed up for email updates, do so now and you'll get first notice when the new data has populated to the site.
These graphs come directly from the FDIC Graphs Page