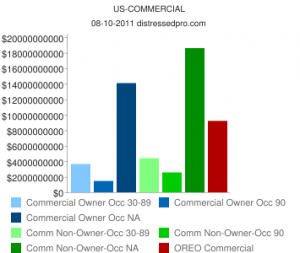 The commercial REO report was updated today and for the Q2 (second quarter) reporting period in 2011 3,543 banks are reporting commercial REO for a total of $10.14B. The numbers represent a 1% increase in the total number of banks reporting said property with the total dollar volume of commercial REO remaining about the same as the previous quarter.
So far this year 63 banks have been closed by the FDIC. Many of these banks were suffering with high levels of non performing commercial real estate loans or bank owned property. Most of those assets were absorbed by the acquiring banks, however, in some cases the FDIC will take in the most troubled assets rather than the acquiring institution. This report also does not account for distressed CMBS balances and is therefore not an accurate representation of all of the CRE distress in the United States. It is however an accurate report for the selection of some 6,876 banks that are tracked in BankProspector.
Bank owned commercial property currently represents about 17% of the total distressed commercial real estate balances which for our purposes is made up of 30-day late, 90-day late, non accrual, and bank owned commercial property totals held at (non OTS regulated) US banks as of this release.
Look for report downloads available by state by the middle of August.
This data is supplied by BankProspector 2.0 a hosted, online, software application designed to accelerate the process of prospecting banks directly for distressed assets. This data is deemed accurate but not guaranteed. All data sourced via web services from the FFIEC's CDR and compiled and analyzed by BankProspector. Current data set does not include banks regulated by the Office of Thrift Supervision.