While the overall rate of delinquencies and foreclosures being reported by banks seems to continue to decline, almost $71B in residential loans remain in some form of default.
However, loan defaults appear to be sliding back to pre-pandemic norms via stimulus and through new mortgage servicing and CFPB rules or a recovering economy.
Yet, financial institutions are still holding a substantial pool of distressed loan notes and properties – all of which present opportunities for hungry investors.
Let's dive into the latest bank data from Q2…
$23B First-Position Residential Mortgages Fall Into Non-Accrual Stage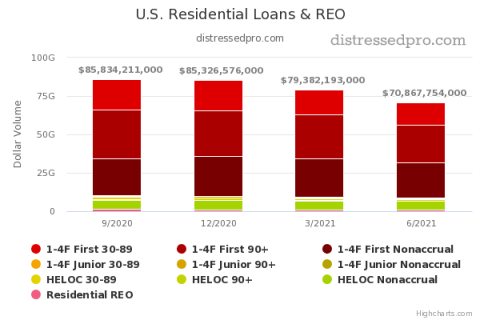 Despite defaults falling across all categories since Q3 2020, there are now almost $23B in just first mortgages on 1-4 family properties which banks have moved into the "non-accrual" category. These are loans on which lenders are not expecting to collect as agreed. They will be sold as non-performing loans or may be sold as foreclosures or REOs.

For now, the FHFA and Consumer Financial Protection Bureau's combined new rulings have effectively created a new foreclosure moratorium on federally backed loans until at least 2022. This is on top of the latest eviction ban.

For investors, there are some exceptions. Private mortgages, non-federally backed loans, vacant properties, and where borrowers have defaulted on trial loan modifications are areas of exemption from these rules.

However, many new defaults could be moderated by these rules placing new loan modification requirements and terms on mortgage lenders and their servicers.
Residential REOs
Just under $850M in residential REO is being reported for the end of the second quarter.
That's just 1.2% of the entire pool of distressed loans being reported.
Most properties won't make it to this stage, given the current environment. However, should policy change in the future, this pool could be supersized quickly.
Non-Performing Residential Loans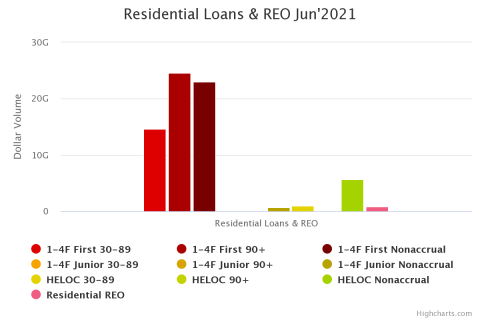 The bulk of distress is in the 90 day plus late stage of default among first-lien mortgage notes – a point from which few borrowers may be able to get back on track.
As of Q2, this category of non-performing first liens is made up of:
$15B in 30-89 day late loans
$25B in 90 day plus late and still accruing loans
$23B in non-accrual loans
Discover the 1,070 banks with REOs and 3,000+ banks holding non-accrual loans inside BankProspector.
Junior Liens
This quarter there are still almost $6B in non-accrual revolving lines of credit. That's in addition to over $700M second mortgages in the non-accrual stage. Over $1B more 30-89 day late revolving lines of credit are coming behind those.
Already a member? Dive into the BankProspector dashboard to find out which banks are reporting the most distressed residential junior lien loans.
Agricultural
Total non-performing agricultural debt also fell slightly to just under $2B in Q2.
The most significant pool of these loans is the $1.3B in farmland non-accrual debt. This may be partially attributed to lagging impacts of pandemic lockdowns, speculation, and failed or stalled construction projects.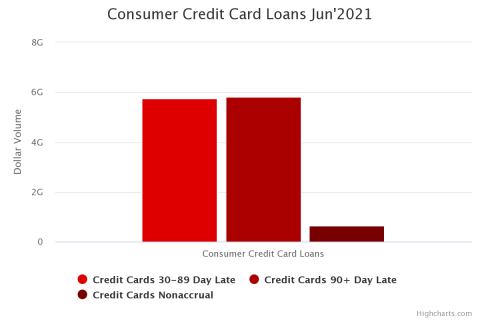 Consumer Debt: Auto Loans & Credit Cards
Defaulting auto loans spiked in Q2, largely thanks to a new surge in new 30 to 89 day late car loans. This pool now exceeds $6B, despite rocketing used car prices, which some have reported are up over 50%.
US consumer credit card debt performance has continued to improve in the first half of 2021. Yet, over $11B in debt sits in the 30 to over 90 days late category in Q2.
Looking Ahead
While the total value of non-performing 1-4 family mortgage loans may have continued to decline through the first half of 2021, there are still over $70B in distressed loans on banks' books.
Exemptions from new foreclosure rules may allow more distressed assets to slip through to the REO stage though the bulk of non-performing loans are more likely to be sold off as loan notes.
While asset prices may not have been cheap in recent years, fast growing home prices and rents continue to fuel great gains in the new normal.
What the rest of the year holds may depend a lot on the wider economy, jobs and wages, inflation, and new spending packages.
Log in now to see which banks are holding the most distressed loan notes…