Over $1.3B in multifamily mortgage loans are in the non-accrual stage in Q2 2021 as banks give up on collecting on some loans.
Dive into BankProspector to find out which banks are holding these non-performing debts.
Multifamily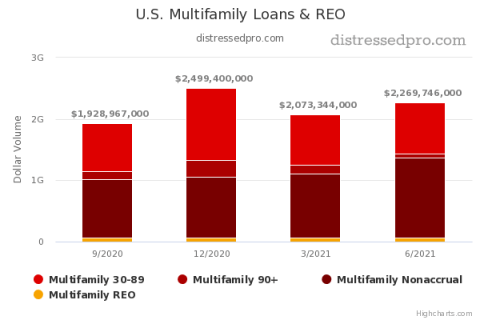 Total non-performing loans in the multifamily debt space spiked again in Q2, after appearing to have plateaued last year. $200M more distressed loans are on banks' books than in the first quarter of this year.
There are notably few loans in the 90 day plus late and still accruing stage now – just $74M as of July 2021. Yet, many of these loans have continually failed to perform and are now in the non-accrual stage.
There are currently more than $800M newly defaulting multifamily loans that are 30 to 89 days late on payments.
Multifamily REO
As in the residential sector, few multifamily loans have been repossessed by banks and have remained there without being resold this quarter.
53 banks are reporting they are holding $61.2M in multifamily and apartment REO.
Looking Ahead
After a false sign that the performance of this sector may be improving, defaults have rebounded and compounded.
Both new defaults and loans ending up in the non-accrual stage are on the rise.
This could be an indicator that landlords are finally running out of money. Though, others may likely be throwing in the towel.
New eviction bans instituted in Q3 2021, and more politicians aiming to use private landlords as a proxy for mass government-provided public housing could easily result in far more defaults through the end of 2022.
At the same time, rents are rising, and demand for performing income property investments is strong. Those who can insert themselves in the middle to help both parties could be big winners over the next couple of years.
Log in now to see which banks are holding the most distressed loan notes…