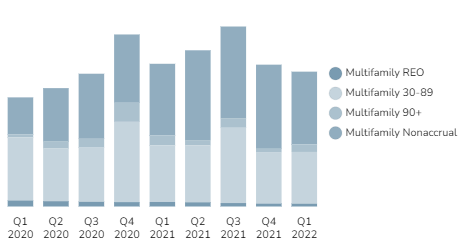 Banks are reporting they have almost $2B in multifamily mortgage loans in some form of distress. This pool has declined slightly from the recent high of Q3 2021, though is still higher than the volume of non-performing MF loans seen in the years leading up to the pandemic.
Dive into the BankProspector dashboard to find out which banks are holding the most of these non-performing notes.
Multifamily
There has been tremendous demand for multifamily assets over the past year, which has certainly helped moderate the amount of distressed debt banks are holding in this category. Still, the most recent data shows that we still haven't returned to pre-COVID levels.
Banks report that they currently hold a little over $1B in non-accrual stage multifamily loans.
Behind that is around $850M in newly defaulting, 30 to 89 day late loans, and 90 day plus late loans which are still making their way through the process of default.
Multifamily REO
The volume of multifamily REOs appears to have continued to shrink, down to around just over $41M, which is down from around $43M in Q4 of 2021, and $61M in Q2 of 2021.
More investors and funds appear to be favoring and loading up on MF income properties as a recession-resilient asset, in the face of what many believe is a new recession, or period of stagflation – especially in more affordable Midwest locations.
Looking Ahead
Multifamily properties are in high demand. While there are not many REOs available, there is still a good sized pool of nonaccrual stage loans in this asset class.
Experienced buyers are still being selective about the assets they buy, and are building in a correction and inflation. However, rocketing interest rates could make it tougher to make the numbers work, including for those with multifamily loans that are maturing soon.
Ongoing increases in rental rates and more efficiency being created by tech startups and new software in this space are going to be key in balancing profitability.
Log in now to see which banks are holding the most distressed multifamily loan notes…