Over $16B worth of 1-4 family first lien mortgages fell delinquent in the first three months of 2021.
This is just a portion of around $60B in first lien mortgage loans progressing into new stages of default in Q1 2021.
While the mainstream media seems to continue to only report how strong the market is, with new sales volume and price records being set, there are clearly fractures in the market behind those headlines. So, just how big is this opportunity?
Let's find out…
Residential Non-Accrual Loans Still Surpass $25B
Although overall mortgage loan distress levels appear to have plateaued in the second half of 2020, many loans are only just now defaulting.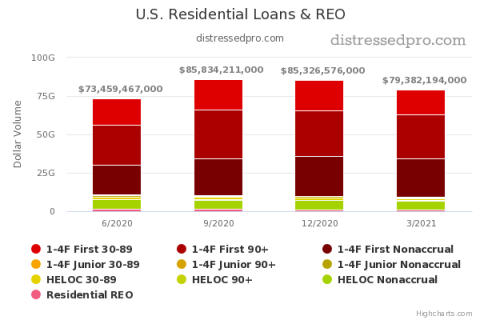 With stimulus measures potentially over, states ending federal enhanced unemployment payments and requiring people to find work again, and states like NY have given renters extended periods of non-payment without having to worry about evictions, there is likely far more distress than meets the eye. Forbearance programs are also likely substantially masking distress behind the scenes at banks.
For Q1 2021, banks reported overall distressed residential mortgage loans at just over $79.3B. That's down slightly from over $85B in 2020. Though keep in mind that there are substantial new first-time defaults happening.
Residential REOs
REOs are still a very small part of these distress figures.
Only just under $1B is being reported as residential REO for the end of the first quarter.
Several factors are contributing to this seemingly small category. In addition to the above, this also includes fast-rising house prices and sales volume, which may be allowing more distressed owners to sell their homes before they end up as REOs.
Non-Performing Residential Loans
The bulk of distress is in the 90 day plus late stage of default among first lien mortgage notes. A point from which few borrowers may be able to get back on track.
As of Q1, this category of non-performing first liens is made up of:
$16.5B in 30-89 day late loans
$28.5B in 90 day plus late and still accruing loans
$25B in non-accrual loans
Use BankProspector to discover the 1,190 banks with REOs and 3,100+ banks holding nonaccrual loans.
Junior Liens
Revolving HELOCs considered in the non-accrual stage are the next largest area of distress in the residential space. They are far surpassing any defaults in non-revolving second mortgage loans.
There were just $786M in nonaccrual stage second mortgages as of the beginning of April 2021 versus $6B in nonaccrual revolving lines of credit. There are over $1B more late revolving lines of credit behind those.
Already a member? Dive into the BankProspector dashboard to find out which banks are reporting the most distressed residential junior lien loans.
Agricultural
Total non-performing agricultural debt rose again in Q1 2021.
This sector bucked or could be leading the overall trend line in loan distress.
The most significant pool of these loans is the $1.5B in farmland non-accrual debt. This may be partially attributed to the lagging impacts of pandemic lockdowns and harsh weather, as well as speculative plays which have no paid off.
Consumer Debt: Auto Loans & Credit Cards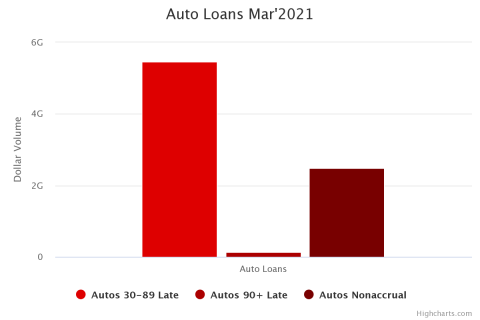 Total auto loans in default fell in Q1. This is largely thanks to fewer loans in the 30-89 day late stage. This may be the result of stimulus and repos taking defaulted loans out of this pool.
Meanwhile, non-accrual auto loans have stayed steady at around $2.5B since mid-2020.
Over $8B in US consumer credit card debt remains over 90 days late in Q1 2021. Not much of a change over the past year.
However, newly late credit card debt up to 89 days late has declined to just over $6.6B.
Looking Ahead
While the total value of non-performing 1-4 family mortgage loans may have settled slightly in early 2021, there are still over $60B in distressed loans in this category.
Temporary stimulus from last year and early 2021 may have helped some borrowers stave off default, but that may not hold when Q2 data comes out.
There may not be much in the way of REO for investors to bid over, but there are tens of billions of dollars in non-performing first lien loans to be acquired as debt or for owners to be approached for help.
What the rest of the year holds may depend a lot on the wider economy, jobs, and wages, as well as any extensions of foreclosure moratoriums.
Log in now to see which banks are holding the most distressed notes…