Over $1B in multifamily mortgage loans have moved into the nonaccrual stage in Q1 2021 as banks give up on collecting on some loans.
Dive into BankProspector to find out which banks are currently holding these non-performing debts.
Multifamily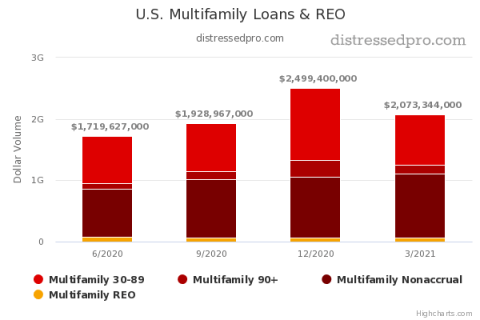 Although total non-performing debt in the multifamily debt space may appear to have plateaued in Q4 2020, there are now still more distressed loans on banks' books than throughout Q2 and Q3 2020.
There are notably few loans in the 90 day plus late and still accruing stage now – just $144M as of April 2021. Yet, many of these loans seem to have continued to fail to perform and have become nonaccrual loans.
There are also over $800M in recently defaulting multifamily loans, which are 30 to 89 days late on payments.
Multifamily REO
As with the residential sector, few MF loans have been repossessed by banks this quarter.
59 banks are currently reporting they are holding $65.5M in multifamily and apartment REO.
Looking Ahead
Overall distress might have plateaued at the end of 2020. Though it is quite possible, there will also be more defaults ahead as renters run out of stimulus money.
New eviction ban extensions and sweeping rent controls in states like New York, along with a new tsunami of taxes and tax hikes, could mean localized spikes in this data in the months ahead as well.
Those who can build the right connections and relationships now will be best positioned to take advantage of new inventory.
Log in now to see which banks are holding the most distressed loan notes…