While investors in other sectors may have recently been frustrated with a lack of inventory, commercial REOs appear to have grown by over 20% over the past six months.
Borrowers in this category may be suffering from inflation, including fast-rising construction costs and difficulty in finding workers.
The K-shaped recovery could well continue to show up here as some areas benefit from big investments and a return to work, while others can't hold on any longer, and stimulus dries up.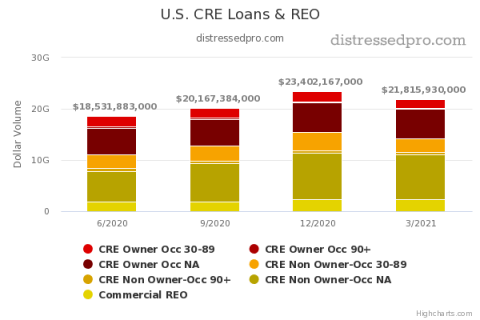 At the beginning of Q2 2021, 1,098 banks reported they held a cumulative $2.36B in commercial REOs. These figures are up from $1.8B in Q3 2020 and more than in Q4 as well.
This is likely a more accurate picture of the health of the US mortgage market due to a lack of regulation preventing CRE loan lenders from taking over collateral.
Behind this are far more in defaulting commercial mortgage loans, including:
$2.6B in 30-89 day late non-owner occupied loans (down almost $1B from Q4)
$8.7B in nonaccrual stage non-owner occupied CRE loans
$1.6B in 30-89 day late owner occupied loans
$5.8B in nonaccrual stage owner-occupied CRE loans
There is a notably thinning in CRE loans classified as 90+ days late and accruing, suggesting both a surge in new delinquencies and lenders fast tracking more seriously delinquent loans through to the REO stage.
A new round of PPP loans for businesses in early 2021 may have helped stave off more defaults for now. However, the K-shaped recovery could push far more into default, while others expand business.
Find out which banks have the most non-performing commercial loans inside BankProspector.
Construction Debt
Defaulting construction debt is one of the few areas of the mortgage debt market which seem to be growing. Banks are now reporting almost $5.2B in non-performing construction loans and REO.
Over $1.1B of this is newly defaulting loans. Over $2.2B of this pool has been moved to the nonaccrual stage. There are also almost $900M in construction loan REOs.
Rising construction costs, labor shortages, and a shift away from office work and physical retail are likely playing a role in these defaults.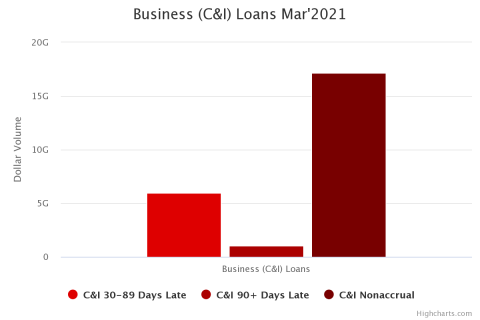 Business C&I Debt
Non-performing business C&I debt has continued to decline since mid-2020. This trend line is likely partially thanks to new rounds of PPP loans, as well as economies reopening.
Still, there were $17B in nonaccrual stage loans in this category as of Q1 2021.
Looking Ahead
Although other defaulting debt may be down, non-performing commercial mortgages still appear to be a significant area of opportunity for investors.
It is still unclear whether these are outliers from the rest of the debt market or early leading indicators of what will happen in the residential market once foreclosure moratoriums and stimulus run out.
Log in now to see which banks are holding the most distressed notes…