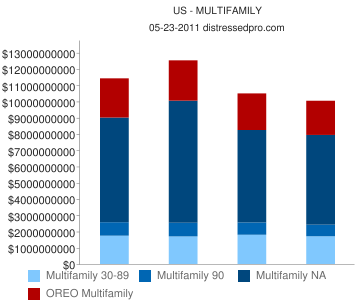 The total volume of distressed multifamily impacting US banks decreased approximately 4.28% from Q4 2010 to Q1 2011 according to data compiled from the FFIEC repository by distressedpro.com (BankProspector).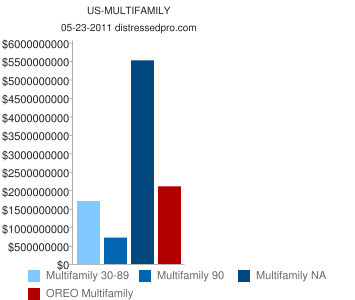 Numbers shows that the nation's banks shed more than 6.4% of their multifamily REO from Q4 2010 to Q1 2011.
While the number of banks reporting multifamily REO remained unchanged at 678, 2% more banks reported non accrual (non performing loans) than last quarter even though the total volume of non performing MF loans was reduced by 2.9% or about $181 million.
All told US banks worked through, wrote down or sold just under a half billion dollars ($494 million) in distressed multifamily including 30-89 day late, 90+ days late or non performing multifamily loans and REO.
Citibank topped the list reporting $710 Million in multi-family REO for the quarter ending March 31st, 2011
A free download of a list of the US banks with the Top 20 Multifamily OREO Balances is now available.
This data is supplied by BankProspector 2.0 a hosted, online, software application designed to accelerate the process of prospecting banks directly for distressed real estate assets. This data is deemed accurate but not guaranteed. All data sourced directly through the FFIEC's CDR and compiled and analyzed by BankProspector. Current data set does not include banks regulated by the Office of Thrift Supervision.